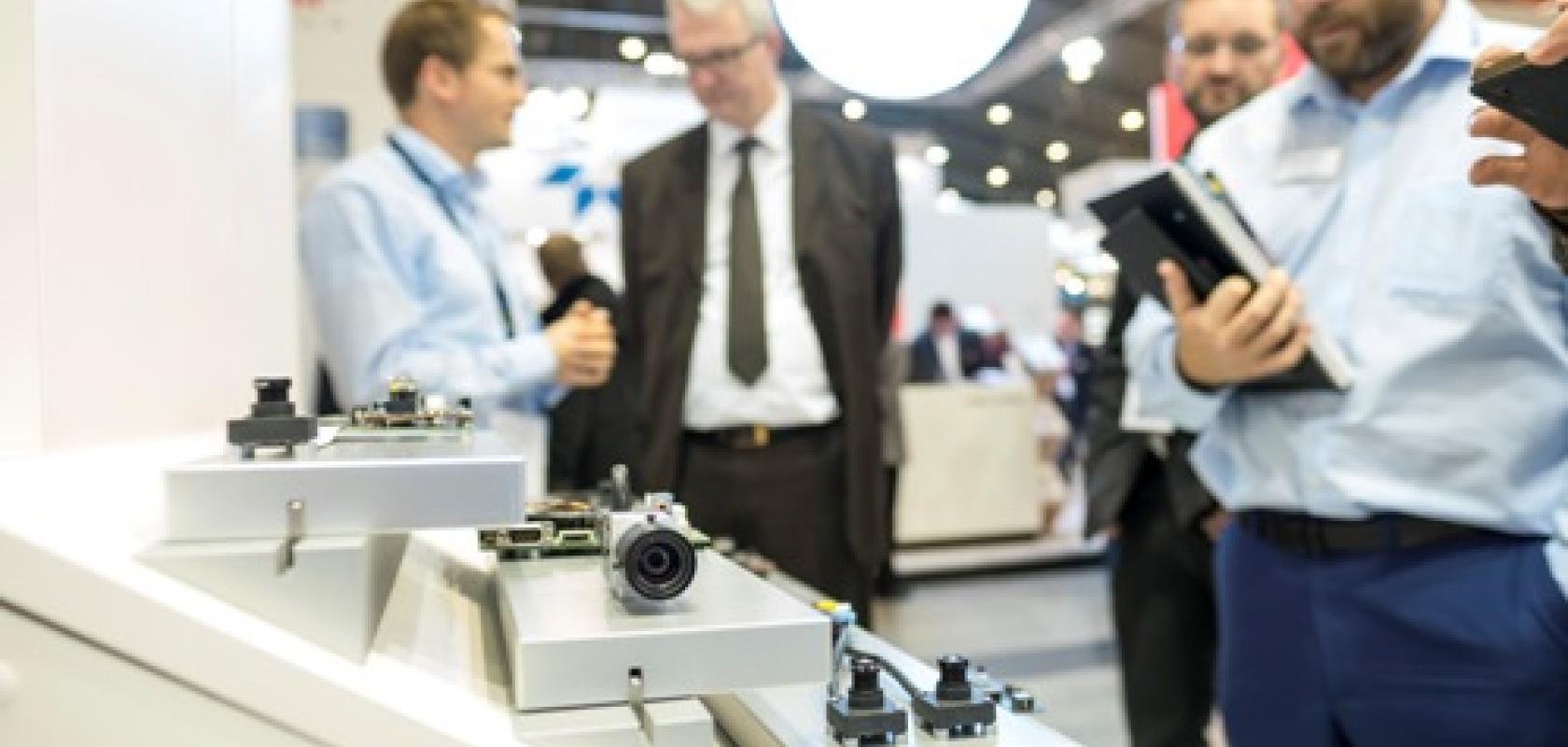 Greg Blackman sums up some of the main talking points at the recent Vision trade fair in Stuttgart
Almost 10,000 visitors from 58 countries attended Vision 2016, the trade fair for machine vision held in Stuttgart, Germany from 8 to 10 November. Visitor numbers were up 13 per cent on the 2014 event; there were 441 exhibitors (up two per cent from 2014) with 57 per cent coming from outside Germany.
Various companies were celebrating anniversaries at the show: Framos turned 35 this year, Matrix Vision 30, while MVTec Software and Vision Components both started 20 years ago. There were numerous product launches on the show floor and more than 90 presentations took place over the three days as part of the Industrial Vision Days. So what were the lessons learnt from this year's trade fair?
Is the future embedded?
According to hype from the show, yes it probably is, with the caveat that factory automation might not be the fastest to adopt embedded vision. Embedded computing platforms, such as boards from Arm or those running FPGAs or GPUs, are opening up a whole new low-cost, low-power-consumption approach to developing vision applications. Factory automation might continue to rely on high performance cameras sending images to PCs in the short term, but embedded computing makes vision applications affordable for many non-industrial areas. Retailers, for example, are using the technology to gather data about their customers.
Basler, Nvidia, Xilinx and industrial computer manufacturer Advantech, have recently launched an online embedded vision platform called Imaging Hub, for engineers and software developers building embedded vision solutions.
Eastern promise
'We are seeing striking growth, particularly with companies from the Asian region, specifically from China, who are ever more confidently showcasing their products on the European market,' Florian Niethammer, the show's project manager, commented in a statement, speaking about the composition of exhibitors at the show.
Video surveillance giants, Huaray and Hikvision, were both exhibiting for the first time at Vision. Zhejiang Huaray Technology, based in Hangzhou, China, is a subsidiary of Dahua Technology, one of the top three video surveillance companies in the world with total sales in 2015 of US $1.6 billion and around 10,000 employees; Hangzhou Hikvision Digital Technology, also with headquarters in Hangzhou, has sales of US $20 billion and more than 18,000 employees. Hikvision has recently partnered with embedded vision company, Movidius, to develop a line of smart cameras that use deep neural networks to perform higher accuracy video analytics.
Fifty seven per cent of exhibitors came from outside Germany; the USA had the highest number of exhibitors at 34.
Firsts in Vision Award
Continuing the theme of innovation from Asia, the Vision Award, the prize for applied imaging, was won by Japanese firm Machine Vision Lighting, the first time the award has been presented to a company from Japan, and also the first time an innovation in lighting has been recognised.
Shigeki Masumura, who has worked for Hitachi and lighting company CCS, as well as spending five years as a Buddhist priest, accepted the award. The company's VISA-Method Lighting is able to give uniform illuminance of light irrespective of distance from an object, and can expose features that would otherwise be difficult to detect, such as faint dents and scratches on sheets of material.
Industry 4.0 ten years' away
Dr Olaf Munkelt, managing director of MVTec Software and chairman of the board of VDMA Machine Vision, told Imaging and Machine Vision Europe that it is likely to be 10 years before the vision market and most factories start to operate in line with Industry 4.0. That said, there is plenty of activity surrounding the concept, including the VDMA Machine Vision's work on a vision companion specification for the OPC Unified Architecture (UA) standard.
Pushing boundaries with driver assistance
Investment in advanced driver assistance systems (ADAS) has the potential to change machine vision technology substantially, through embedded vision, machine learning algorithms – companies like MVTec Software are starting to incorporate these in their software offerings – and image sensors.
Richard York, VP embedded marketing at Arm, said during a VDMA panel discussion on embedded vision at the show 'those that ignore machine learning do so at their peril', pointing to the amount of investment being made in developing ADAS with machine learning technology.
FPGA maker Xilinx, exhibiting in Stuttgart, has seen its ADAS unit shipments increase threefold in the last two years to 24 million units, with its FPGAs used in more than 80 models of car in 2016. It expects its vision system shipments to be worth $350 billion over the next five years.
Image sensor companies like On Semiconductor have said that ADAS is a big market for CMOS devices, while French neuromorphic sensor startup Chronocam, also at the show, has recently signed a deal with Renault to develop ADAS technology.
Spectral and 3D
Other major trends apparent at the show were the wealth of 3D vision technologies, from time-of-flight to stereovision, and hyperspectral imaging, which is now finding more use in areas like food inspection. There were also virtual reality systems on display – Point Grey and Ximea were both showing camera systems used to create the immersive environment, as was Framos through its partner Sphericam – along with high speed and high resolution cameras.