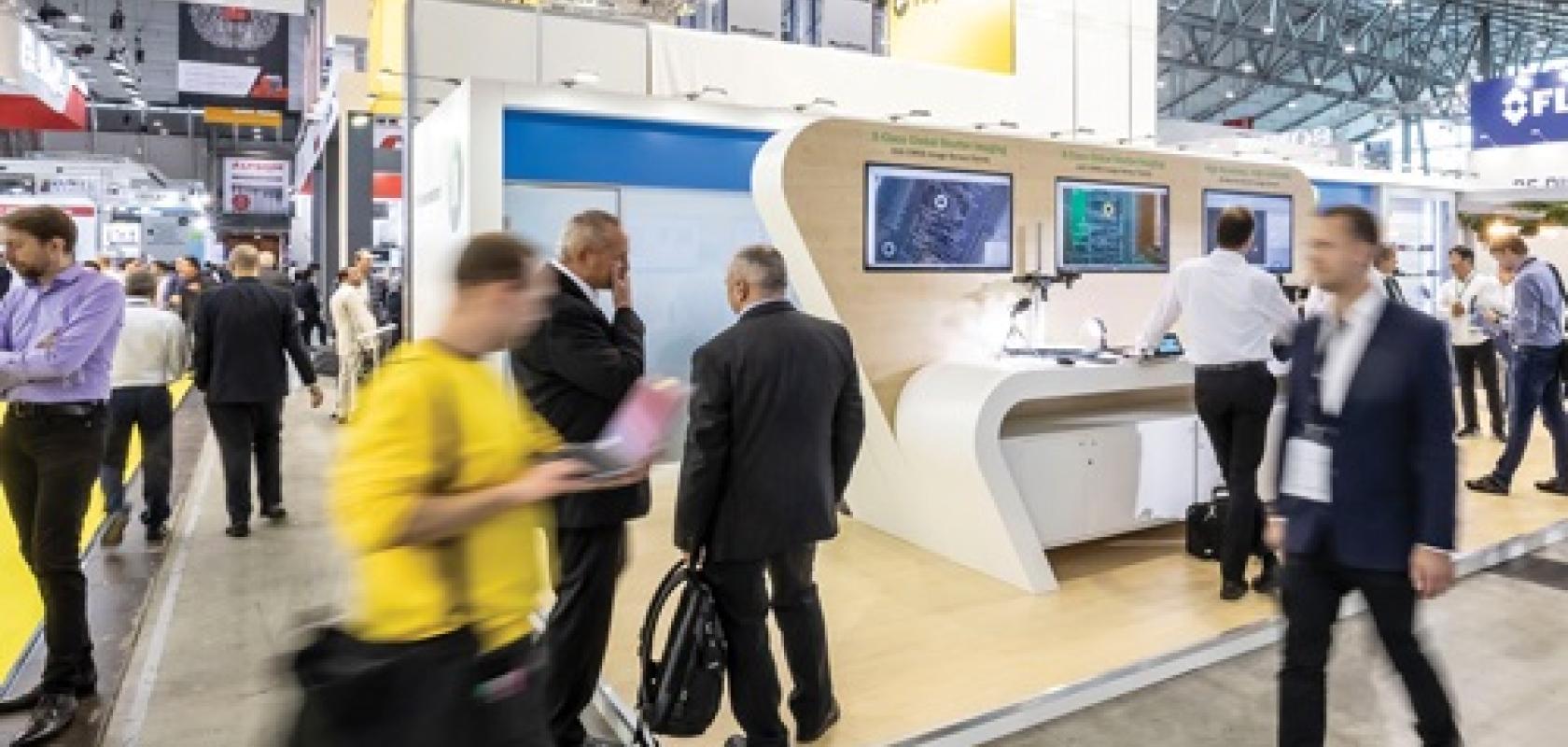 More than 250 companies are expected to take part in the Vision trade fair when it takes place from 5 to 7 October in Stuttgart.
This will be the first major live event for the European vision sector since the pandemic began. 'After this enforced break, we the exhibitors and Messe Stuttgart can jointly send a positive signal to the international market and the economy, and show that the machine vision industry is looking to the future with optimism,' said Alexander van der Lof, chief executive of the TKH Group.
'Face-to-face meetings at trade shows are, and will remain, immensely important for interaction and networking. That is why Vision 2021 is an indispensable platform,' added Martin Grzymek, director sales Europe at Teledyne.
Messe Stuttgart believes around one in two exhibitors will be from outside of Germany. The show will be smaller – 472 exhibitors from 31 countries presented technology at the 2018 fair, with 11,106 visitors attending – and the assumption is the fair will have a much more European character this year.
In addition to the joint stand for young companies from Germany, funded by the German Federal Ministry of Economics and Energy (BMWi), Messe Stuttgart will premiere Vision Start-up World.
Christoph Garbe, managing shareholder of HD Vision Systems, one of the Start-up World exhibitors, said: 'The trade fair will not only provide us with a platform for our products and solutions, [but] it will also be a valuable channel to understand and examine the needs of our customers.'
HD Vision Systems, which was named Vision Start-up of the Year in 2020, and is shortlisted for the Vision Award, is planning to present its latest generation of 3D camera based on light field technology in combination with AI algorithms.
The trade fair will also feature an integration area, with integrators like Compar, Euclid Labs and ISW exhibiting. Technology presentations will be held during the Industrial Vision Days forum, organised in combination with the VDMA and will be streamed live and on-demand for the first time.
Exhibitors
The latest telecentric lenses from Opto Engineering (hall 8, D48) will be on show, including the TCEL series featuring optics with integrated liquid lens technology. Also shown will be the firm's 360°-view PCHIAF lenses, which are optics with adaptive lens focus for hole inspection, as well as its PCBPN boroscopic probes, suited to diameters down to 5.5mm.
Lighting is also a fundamental part of Opto Engineering's offerings from its years as a manufacturer and supplier of LED illuminators. The latest in this field include the LT2BC series, a continuous high-uniformity LED backlight, now also available with an optional integrated collimation film. Lastly, the firm will also exhibit its LTBRZ3 series, LED bar lights with integrated drive electronics.
Vision Components (hall 8, C31) will present VC PicoSmart, which it says is the world's smallest, complete embedded vision system, having now equipped it with new functions for 3D profile measurement. This enables OEMs to develop low-priced triangulation sensors with less effort.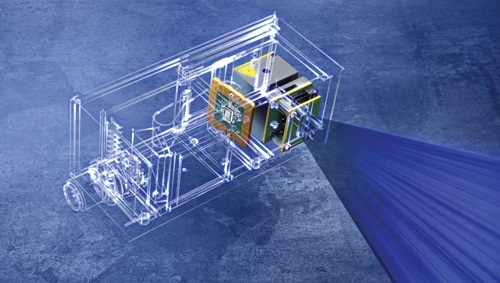 Anyone who used to be put off by limited cable lengths when connecting Mipi camera modules will also appreciate VC Coax, Vision Components' new cable solution being exhibited, optimised for high-speed data transfer and allowing transmission paths of over 10 metres. This expansion of the manufacturer's Mipi range increases flexibility in application development.
Vision Components also offers various Mipi camera modules up to 20 megapixels that are compatible with all major single-board computers, as well as developer kits for industrial applications. Further innovations are in preparation – such as: an FPGA-based hardware accelerator for image processing.
On display from Matrix Vision (hall 8, C30) will be the new MvBlueNaos product family for embedded vision. The camera modules have a PCI Express interface, which is also responsible for direct access to memory, computer processors and on embedded processor boards. The cameras are equipped with GenICam software support, which ensures compatibility with existing image processing programs, thereby also guaranteeing platform independence on the software side.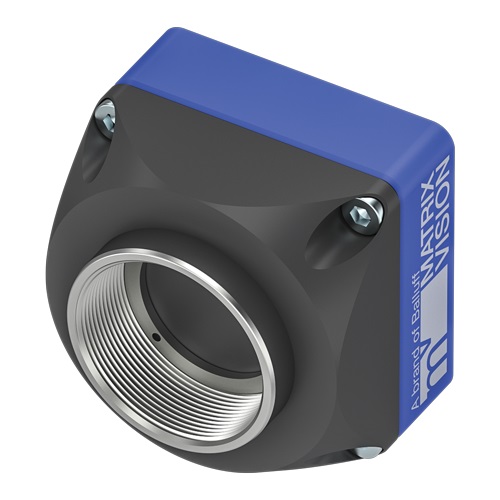 The first models, with Sony Pregius and Pregius S sensors, offer resolutions ranging from 1.6 megapixels to 24.6 megapixels. The PCIe x4 interface enables transmission rates up to 1.6GB/s, providing enough space for higher bit depths, simultaneous image pre-processing and future sensors with higher frame rates.
Visitors will also be able to see in action a smart 3D camera for robot applications from Matrix Vision's partnership with Roboception, as well as the new 10GigE camera series MvBlueCougar-XT. They can also witness AI-based anomaly detection, and get a glance into Matrix Vision's quality management via a test system for filter cleanliness.
Helping customers take imaging 'from concept to production' is the theme of Framos' booth (hall 10, E50). The booth will be divided into three key areas: firstly, a variety of off-the-shelf components; secondly, support and solutions for customised products; and finally, live demos.
In the component section, Framos will highlight its Sony sensor portfolio, including the latest time-of-flight and SWIR products, along with the Framos' modules and optics that make use of many of these products. Visitors are invited to take a closer look at the Sony ECX335SN live demo and the SLVS-EC IP core from Framos.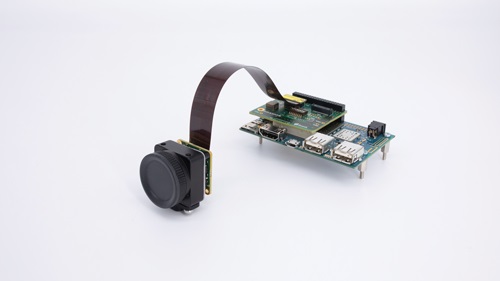 The area focusing on support will show how the firm's custom solutions team mitigate risk and accelerate vision projects. Framos can help customers with optics selection, or to create custom-designed modules, which it can build in a dedicated vision production facility.
Technologies from key partners will be showcased in the demo area, including Sony's latest sensor lines, as well as Prophesee's event-based sensors.
Some examples that will be highlighted in the demos include: the new Sony IMX570 time-of-flight sensor, alongside Sony's visible-SWIR IMX990 and IMX991 sensors; SLVS-EC over GMSL2; and 3D technology with Framos' industrial D400e series cameras, which bring Intel RealSense stereo depth sensing technology into an industrial environment.
Teledyne (hall 8, B10 and A10) will showcase its vertically integrated portfolio of industrial and scientific imaging technology from its Dalsa, e2v, Flir, and Lumenera business units.
Visitors to the booth will be able to learn about the firm's latest innovations in embedded vision, including the Quartet Solution for multiple cameras with AI and machine learning capability. Also on display will be Teledyne's newest high-performance line and area scan cameras, with data capture rates up to 67 megapixels and innovations in global shutter backside illumination or SWIR sensors. MicroCalibir, a compact, low-power, uncooled thermal camera platform, featuring one of the smallest VGA IR core modules on the market, will be shown as well.
Teledyne will also present its advanced sensor platforms, including: the new Emerald 67M; the latest time-of-flight sensors; Tetra, a low-cost, high-performance quad linear CMOS sensor family; and the Z-Trak series of 3D profile sensors.
Ace 2 cameras will be among the products on display by Basler (hall 8, D50). The two product lines – Ace 2 Basic and Ace 2 Pro – are equipped with CMOS sensor technology offering excellent image quality. The Ace 2 features sensors from Sony, including the latest Pregius S sensors, and from Gpixel, and offers resolutions up to 24 megapixels. At the same time, the cameras retain their compact format and are available with C-mount and GigE or USB 3.0 interface.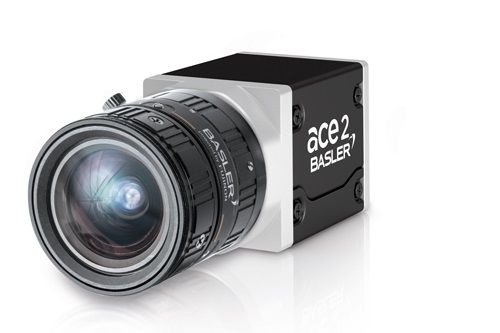 The difference between the two product lines lies in the integrated features: a powerful computer vision feature set for standard vision needs, or Basler's 'Beyond' features for more demanding tasks with maximum performance. This means customers will only be paying for what they really need.
The cameras also stand out for their compatibility with Basler's extensive accessory portfolio and easy integration into individual applications, thanks to the firm's Pylon camera software suite.
Alkeria (hall 8, C36) will be exhibiting a new USB3 line scan camera, featuring a high-resolution Necta S short-wave infrared InGaAs sensor. The Necta S comes in two resolution versions: NS05K, with 512 x 1 pixels, and NS1K, with 1,024 x 1 pixels. Both can be equipped with a C-mount lens adapter.
The cameras can reach 40kHz line rate with a 14-bit A/D converter; they offer advanced I/O, and a compact and rugged aluminum case.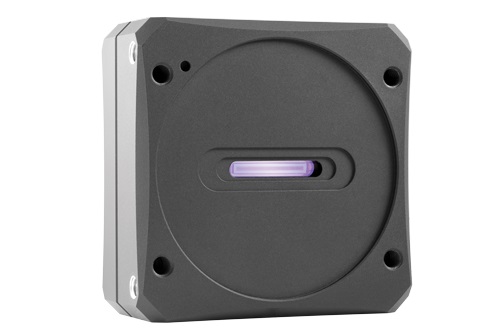 Alkeria has also developed a laser triangulation extension. Thanks to an algorithm running on an FPGA, Alkeria's cameras can define and extract the line position in every column of the acquired frame, with sub-pixel precision. In particular, the profilometer extension enables on-camera acceleration of the line position detection algorithm. The cameras can extract and calculate profile 
co-ordinates by themselves, greatly reducing the amount of data sent through the USB3 interface. In this way, users can easily reach maximum sensor frame rate and collect only the data useful for the measurement.
Ximea (hall 8, B36) will present new models of the XiX and XiC camera series, equipped with Sony's CMOS Pregius S sensors. The initial lineup starts with models based on IMX540, IMX541, IMX542 and continues with other sensors from the Sony fourth generation Pregius family.
The newest features of CMOS sensors have been integrated into the new cameras, which measure 26 x 26 x 33mm and weigh 38g. They each offer high-resolution, high quantum efficiency, can be customised, low noise and a dynamic range of 71dB in combination with backside illumination technology.
All the sensors offer global shutter readout, making them ideal not only for scientific applications, but also for systems where objects move at a high speed. New x-ray models, larger format cameras, detached sensor heads and cooled sCMOS cameras will also be on display on Ximea's booth.
Zebra Technologies and Adaptive Vision (hall 8, B30) will be showcasing Zebra's new suite of machine vision smart cameras and fixed industrial scanners. The products use Zebra Aurora, a unified software platform designed for easy set-up, deployment and operation of both cameras and scanners. The industrial scanners and smart cameras are targeted at manufacturing, warehouse and logistics environments.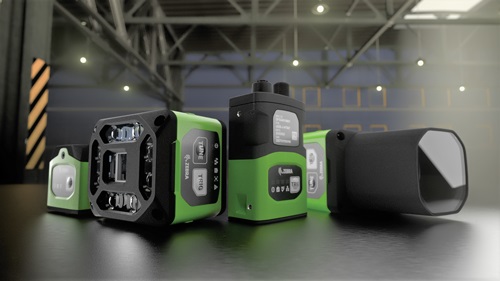 Version 5.1 of Adaptive Vision's software will also be presented, which includes new deep learning features and tools – OCR, automated model training, rectangle detection and a new version of the anomaly detection tool – improved template matching, and program breakpoints. Its intuitive visual environment is suitable for creating both simple applications and complex machine vision projects.
www.zebra.com; www.adaptive-vision.com
TKH will exhibit its vision technology companies as a group in a single booth (hall 10, F30) at the trade fair.
The group has launched the TKH Vision umbrella brand, combining the vision technology companies Allied Vision, Chromasens, LMI Technologies, Mikrotron, Net, SVS-Vistek and Tattile with the reselling company TKH Vision Italy.
The creation of TKH Vision represents the first major step in creating a one-stop-shop for customers looking for specialised machine vision technologies including vision components and pre-integrated vision systems.
The booth at Vision will highlight both the depth and range of the solutions offered by the companies within TKH Vision. Representatives from each company will be present to demonstrate not only products, but application knowledge and expertise.
Alexander van der Lof, CEO of TKH Group, commented: 'Vision is the right setting and time to launch the TKH Vision brand and present new technology trends as well as new products to a live audience. This event will show how the companies of TKH Vision are all aligned around a common mission to create innovative machine vision solutions and build long-term partnerships with customers by being a reliable partner that provides the best technology with excellent support.'
For users with particularly high demands on resolution, image quality and transmission speed, IDS (hall 8, C60) will launch industrial cameras with a 10GigE high-speed interface and various sensors under the name uEye Warp10. The cameras excel in sports analysis as well as in high-precision surveying and inspection tasks. The company plans to implement large-format sensors up to 45 megapixels.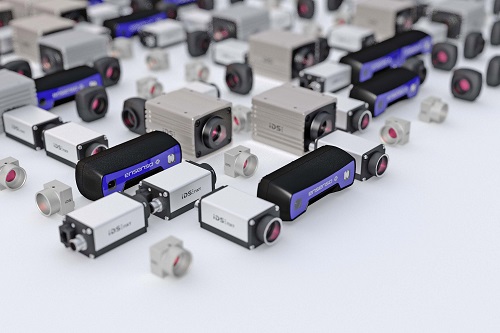 Also on show will be models in the uEye XCP and uEye XLE lines, offering cost-effective USB3 cameras. The Ensenso S 3D cameras will also be displayed, with a 1.6-megapixel Sony sensor and an infrared LED laser, while software updates for the IDS NXT smart camera with AI will shown.
All innovations will be presented at the trade fair, and IDS will also be running a virtual tour of the booth at www.ids-vision-channel.tech.
Photonfocus (hall 10, E30) will show its new Photon3D high-speed laser triangulation camera, the MV4-D2048-L01-3D06-GT. It is equipped with the Luxima LUX2810 sensor featuring a scan rate of up to 100kHz. The camera includes the firm's LineFinder algorithm for secure laser line detection even on highly reflective materials like metals.
Emberion (hall 10, B10) will showcase its Emberion VS20 VIS-SWIR camera. The VS20 is suitable for various machine vision tasks, such as sorting plastics and food quality inspection, as well as surveillance applications. The camera is built around a nanomaterial-based VGA sensor array, developed in-house, and provides a wide spectral range from 400 to 2,000nm with excellent dynamic range. It offers an attractive alternative to existing SWIR cameras.
Emberion has shipped its first evaluation cameras to customers and is now taking orders for its next production batch.
www.emberion.com/products/emberion-camera/
First Light Imaging (hall 10, G58) will be exhibiting its C-Red 2 Lite SWIR camera with optimised form factor and sensor stabilisation. The model is suitable for hyperspectral imaging or thermal monitoring, and offers 600fps full frame for 32e- readout noise.
The company's extended range InGaAs camera C-Red 2 ER is now available in a version with a sensitivity range from 1.1 to 1.9µm, and a version with sensitivity ranging from 1.3 to 2.2µm. With 600fps full frame and 50e- readout noise, the InGaAs VGA cameras are ideal for industrial and research applications.
Finally, C-Blue One will be shown, which offers a cooled stabilised sensor to reach ultra low noise, 660fps, and a global shutter sensor.
The HSML-E series of compact laser diode line modules will be on display from Frankfurt Laser Company (hall 10, E90) The diode modules deliver an ultra-thin line. The laser head and laser driver are separated, enabling a very compact head size of 12.6mm x 44mm. The driver is 200mm away from the head, with dimensions of 12.6mm x 40mm, and can be operated at 24V.
The beam line can be focused too – for example, a thickness of 10µm at 40mm distance. Standard fan angles are 10° to 90°. The wavelength range is from 405nm to 1,060nm with output powers up to 50mW. The power stability is typically less than ±5 per cent over eight hours at an operating temperature range from 10 to 50°C.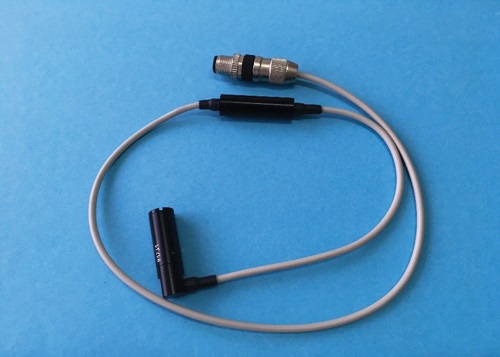 As an option these modules are offered with potentiometer for power adjustment, external TTL modulation up to 1MHz, and analogue modulation up to 100kHz. The housing is electrically isolated and satisfies the protection class IP67, making these modules ideal for use in industrial applications with harsh environmental conditions. The major applications are machine vision, scanning, profiling and laser triangulation.
Andanta (hall 10, H51) will show the QVGA (320 x 256) and VGA (640 x 512) InGaAs matrix sensors, now available with the spectral range of 0.6 to 1.7µm. They include the uncooled and cooled versions. The quantum efficiency of these sensors is guaranteed to be greater than 70 per cent (often greater than 80 per cent) in the spectral range of 1.0-1.7µm, and still around 30 per cent at 600nm.
The InGaAs sensors can also be supplied with a spectral range of 1.2 to 2.2µm. Noise properties and signal homogeneity across the pixels (subject of cross-hatching effects) have been improved over the past few years, thanks to new InGaAs epitaxy processes and a two-stage thermal cooler, which is standard for 2.2µm InGaAs matrix sensors.
QVGA and VGA sensors with a spectral range of 1.1 to 1.9µm are also in development and will also come with a two-stage cooler. Noise and uniformity of sensitivity from pixel to pixel are even better here than with the 2.2µm variants.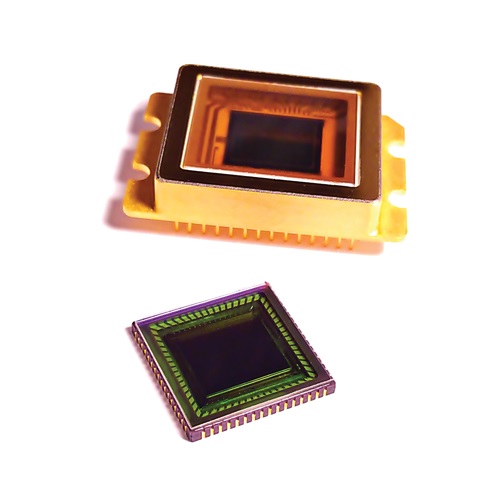 Also at Andanta's booth will be its low-resolution InGaAs matrix sensor, FPA64x64-C, which has a spatial resolution of 64 x 64 pixels with a pixel size of 40µm. The spectral range reaches from 1.0 to 1.6µm. The readout rate is up to 350Hz with an integration time of 5.5µs, and up to 15Hz with an integration time of 1ms.
BitFlow (hall 10, H46) will exhibit its latest Coaxpress and Camera Link frame grabbers. The company will show its entire portfolio designed to meet demanding imaging needs within diverse industries such as machine vision, quality control, defence, medical research and robotics.
In addition, BitFlow will join with several of its camera partners to present live demonstrations of its high-speed frame grabbers, including the new line of fan-cooled Cyton CXP4-V Coaxpress models engineered for use with small form-factor fanless computers, like the Nvidia Jetson Xavier Developer Kit.
Highlights at Euresys' booth (hall 10, D70) will include demonstrations of the latest Coaxpress-over-fibre frame grabber, the Coaxlink QSFP+ compliant with 40Gb/s optical modules.
The company will also feature the CXP-6 and CXP-12 Coaxlink cards to interface high resolution, high frame rate cameras. Also on display will be the eGrabber software for image acquisition and recording, including Gigelink for GigE Vision cameras.
The latest libraries of Open eVision will also be demonstrated, including deep learning inspection libraries and 3D libraries.
Sensor to Image will demonstrate the latest versions of the GigE Vision, USB3 Vision and Coaxpress IP cores. On the frontend side, it will demonstrate solutions to interface sensors with output according to the Mipi CSI protocol and Sony IMX Pregius imagers.
Visitors to MVTec Software's booth (hall 8, C56) will be able to learn about the latest features of its Halcon standard software, its deep learning tool and its Merlic software. In particular, the new Merlic 5 version will be released just in time for the show, with numerous technical features having been added.
Two interactive demos at the booth will provide in-depth insight into a wide range of machine vision applications, while also creating an opportunity to engage in deepened discussions. The first demo allows visitors to experience topics such as anomaly detection, deep OCR, the subpixel barcode reader, and an agricultural application relating to 3D plant inspection.
In another live demonstration, MVTec experts will show how images can easily be labelled with the aid of its deep-learning tool to optimally prepare it for training.
MVTec will also participate in the Industrial Vision Days, the lecture forum taking place alongside Vision 2021, with a presentation on deep learning.
Kithara Software (hall 8, C12) will show its latest technologies for image capture and processing in real time. For example, the most recent developments of Kithara RealTime Vision, a PC-based software solution, will be shown. Among these is support for 10GigE Vision cameras, including link aggregation for combining multiple 10 Gigabit Ethernet streams into one, thus achieving even higher image data rates. Furthermore, the Kithara real-time system enables implementation of PLC2's PGC-1000 frame grabber card, which allows the CPU to be almost completely offloaded during image acquisition processes within machine vision applications.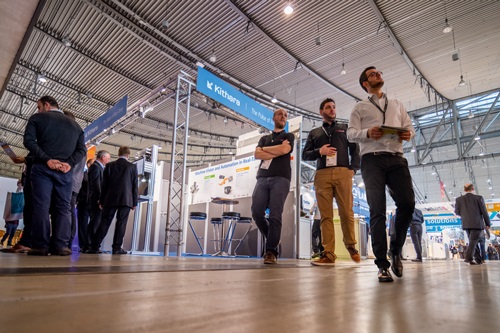 Macnica ATD Europe (hall 8, D30) has organised a series of conference sessions with its distribution partners. Ambarella, Caeleste, Corning, InnerEye, Lattice, and Prophesee will hold 30-minute presentations highlighting new product demonstrations. Entrance to the presentations in conference room W1 (Congress West) is free of charge for all visitors.
Corning will be talking about its Varioptic lenses; Ambarella about edge AI SoCs for machine vision; Caeleste about advances in industrial vision sensors; Prophesee about event-based vision; Lattice about its mVision product; and InnerEye about AI.
https://www.macnica-atd-europe.com/post/macnica-atd-europe-with-own-con…