Winning investment in 2020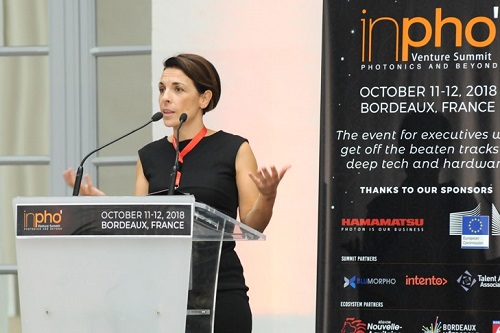 Géraldine Andrieux, CEO of Blumorpho
Ahead of the Inpho Venture Summit in October, Blumorpho CEO, Géraldine Andrieux, discusses how startups should approach pitching for venture capital funding in these uncertain economic times
It is hard to deny that Covid-19 has become one of the worst plagues of the last 100 years. As well as health, it has had a drastic impact on the economy with repercussions on investment capacities. If you are a technology startup you might ask yourself how you can still get venture capital funding in this unprecedented crisis. Actually, one word could summarise the best approach to raising capital at the moment: adaptability.
By adaptability, we do not mean turning your company into a Covid-19-focused firm. That would be a very short-term strategy, not in line with investor expectations in terms of the bigger picture. By adaptability, we mean embracing the speed at which the economy is evolving as a result of the Covid-19 pandemic. Indeed, over the last seven to eight months health systems, global logistics, education, working environments, production capacities and entire vertical businesses like aeronautics have been dramatically affected. At the same time, Covid-19 is accelerating digital transformation, change in human interactions and habits, as well as increasing awareness of climate change and its impact on our future.
Covid-19 has shuffled the cards and, more than ever, high-tech startups will have to adopt a bigger stance to raise capital.
Let's take the area of healthcare as an example. Everybody agrees that when it comes to Covid-19 and its biomolecular mechanisms there are a lot of unknowns. Huge sums of public and private investment have been dedicated to supporting research to develop efficient therapies. The Covid-19 crisis will therefore generate new knowledge about biomolecular and cellular interactions. It will lead to a new era in biology and biotechnology to cure and treat Covid-19, but it will also push the existing limits and contribute to the improvement of therapies in infectiology, as well as oncology, neuroscience, endocrinology and many other fields. Any high-tech startups addressing such challenges while being on the edge of technologies including imaging, data mining, machine learning and computing that lead to accurate diagnoses, biomarkers and treatment will find interest from private investors.
Moreover, through Covid-19, disease diagnostics and treatments are now being made in large volumes and for fast delivery. Covid-19 does not only have a huge impact on research, but it generates new needs to accelerate clinical validation, and to adapt production and delivery processes. It will generate new opportunities of growth and investment for companies supporting such evolutions while building new models for optimising the existing processes.
It is also interesting to note that the Covid-19 crisis came at a time when the world of investment, and many corporates, started focusing more on sustainable practices and those with a positive impact on society. Impact investment is becoming a key trend illustrated by the emergence of new funds. More traditional funds are also starting to adopt investment criteria in line with the United Nations' Sustainable Development Goals.
Impact investment should not be considered another VC category focusing on social investment and not dealing with technology. The investment thesis of deep tech private investors is evolving. High-tech startups will definitely have to consider such changes while working on their investment strategy - they will have to demonstrate their contribution to sustainability and positive impact.
The increased interest of deep tech private investors to address climate change and its consequences is illustrated by the core focus of the Inpho Venture Summit 2020, a four-week event starting on 6 October for startups to learn and interact with deep tech private investors and key executives. George Ugras, general manager of AV8 Ventures and chairman of the Inpho Venture Summit, aims to address the question of how deep tech can contribute to tackling some of the biggest challenges our world faces. Key executives and investors will gather to explore this paradigm and to meet entrepreneurs who are working on positively impacting the world via technologies such as machine learning, quantum computing, imaging, nanotechnology, automation, machine vision, space technology and sustain tech.
In addition to raising capital investment, high-tech companies will have to demonstrate their adaptability to become the Enterprise 4.0 firm to invest in. Quoting Eric Benhamou from Benhamou Global Ventures, Enterprise 4.0 firms are startups solving business problems in specific vertical industries. These startups are expected to be customer centric while offering the best value in exploiting cutting edge technologies and digitisation. To raise capital, high-tech companies will have to be able to demonstrate their value proposition with the right product market fit and their ability to scale fast and internationally. Moreover, to face these turbulent times, investors will invest in excellent teams that they can trust, with an experienced board, presenting a strong understanding of their markets, high agility, and the ability to make the right decisions at the right time.
Covid-19 will not make the job easier for high-tech startups to raise private investment, but as illustrated by the four-week Inpho Venture Summit format, private investors are committed to building closer relationships with startups, and to invest in companies that will contribute to the economic recovery and benefit from it.
At Blumorpho, we really believe that there is no chaos without a positive butterfly effect attached to it, and we will continue to push even further to generate some new and additional value from this unprecedented period of turbulence.
--
Blumorpho helps accelerate technology innovation in the field of digital, deep tech and smart systems. The firm is a partner of Inpho Venture Summit, a four-week technology investment event starting on 6 October that will combine hard talks and startup pitching sessions.
Write for us
Are you a startup working with imaging technology? Tell us about your experience running your business: greg.blackman@europascience.com