Headcounting traffic cams to hit the streets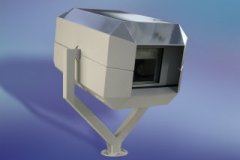 Traffic cameras that can count the number of people in a car through thermal imaging techniques are set to begin global trials and enter production.
The dtect system has been developed by Loughborough-based company Vehicle Occupancy over the past five years, with worldwide trials due to begin over the next month. Trial sites include regions of the UK, as well as areas within North America, Asia Pacific and the Europe.
The system could be used to catch lone motorists who abuse car-sharing lanes, which are special lanes designated for vehicles with more than one person inside and are usually less congested than traditional lanes.
Some drivers even put human-like dummies in the car, to create the illusion of a passenger, but such attempted evasion will be caught out with the dtect system, which detects passenger numbers from their body heat.
Tim Ballantyne, business development manager of Vehicle Occupancy, told imveurope.com : 'There is no method currently of automatic enforcement, but there is a move worldwide to occupancy charging.'
Ballantyne added the dtect system could help catch car-sharing lane cheats and even be used within car parks, where cars with a number of passengers could be charged less, or even nothing, compared to those vehicles with fewer people.
When a car passes the dtect system, it illuminates the windscreen of that vehicle with two beams of low intensity infrared light of different wavelengths – one wavelength at which the human skin absorbs IR radiation and the other at which it reflects it.
Two digital pictures are taken – one for each wavelength – using cameras specifically designed to image at the two IR wavelengths.
These pictures are then compared and processed using dtect algorithms to produce one enhanced image of the occupants' skin and effectively complete a headcount.
Any non-facial features in the scene are discarded using software-based algorithms and the software then counts the number of isolated faces. This count is overlaid on the image, along with a timestamp, location information and any other information required.
The output, in the form of the people count and the pictures used to determine that count, is then transmitted using an encrypted internet interface. This output can either be integrated into a larger automated traffic management system or transmitted to a remote terminal for human post-processing – with the photos from dtect modified by putting green dots over the detected faces to preserve driver and passenger anonymity.
The system has been developed to target human skin, independent of its ethnicity, and work at any temperature and with any vehicle, but as yet can only count passengers in cars travelling at 80mph or less.