Asia and markets outside factories key to European vision success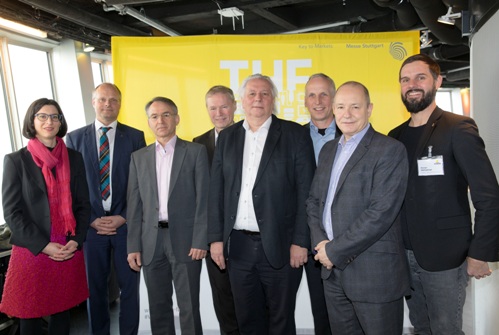 Matthew Dale reports from a VDMA CEO round table event, where European vision firms were warned that they must adapt to compete in emerging markets
Globalisation and competition from outside the machine vision sector both have to be addressed for European vision companies to be successful, a panel of industry leaders has warned during an event hosted by VDMA Machine Vision and Messe Stuttgart.
The CEO round table event was convened in Stuttgart on 6 February to assess the state of the European machine vision sector ahead of this year's Vision trade fair, set to take place from 6 to 8 November in Stuttgart.
Dr Dietmar Ley, CEO of Basler, commented during the discussion that to grow, European vision companies cannot remain regional players, but must operate across the globe, including in the big Asian markets.
Asia remains a huge growth area for machine vision. The region is seeing greater demand for factory automation, firstly because of the higher salaries of workers, and secondly the need for inspection technologies in mobile device production.
Sales from European vision companies to Asia grew by 22 per cent in 2016, according to VDMA Machine Vision statistics. In addition, the turnover of Chinese companies participating in the VDMA's survey grew by 32 per cent.
The German vision sector made €2.6 billion in 2017, up 18 per cent on 2016, the VDMA found.
The 2016 Vision show had 25 Chinese exhibitors, and this is expected to increase for the 2018 trade fair. There are predicated to be around 450 exhibitors at Vision 2018; 300 companies have already registered.
China is working towards becoming a manufacturing powerhouse – as detailed in its five-year plans – with support from government, universities, the country's finance sector, and its large industrial players. With this support, the number of Chinese vision suppliers will only increase.
'The bottom line is that we have to confront reality, that foreign [European] suppliers and technology partners will only be tolerated for as long as they have a significant technological edge over the domestic [Chinese] suppliers,' Ley remarked. 'European companies urgently have to confront this reality in order to make sure they understand the kind of business conducted in Asia and make sure that they learn about it and accept it. Because one thing is for sure, if you do not participate in the Chinese and neighbouring Asian markets, then you won't have a growth perspective in the mid-term.'
This endeavour to understand and join the Asian markets will take at least five years, according to Ley, and will require European companies to change their behaviour, habits and the attitude of their management teams.
'Right now we have an excellent position to build on,' Ley commented. 'It's time to recognise and acknowledge the Chinese challenge.'
Multi-billion-dollar enterprises
Another challenge for the vision industry is the threat posed by companies with multi-billion-dollar revenues, not initially of an imaging background, moving into the machine vision market. The vision sector currently consists of mainly small-to-medium sized enterprises, with the average VDMA member having around 60 employees.
'These [billion-dollar] companies can pour a lot more revenue into new business than all of our members here,' Ley said. 'While this doesn't necessarily mean that they know about our market and customer needs, they can invest as much as the biggest companies in our market typically do. This needs to be confronted, because if it isn't then it's only a matter of time before these companies build product portfolio and market access, and find ways to move into our customer base.'
European vision firms therefore need to adapt and confront new markets to compete both with Asia and the larger new players entering the industry, according to Ley. If this can be achieved early on then European firms will be successful, as they are still seen to be the current leaders of vision technology.
One of the ways firms can adapt to be competitive, particularly for Asian markets, is to begin building solutions in the least expensive format possible, rather than using the most expensive, premium approach.
'It's very important to make a product that simply fulfils the needs of the customer; we need to not over-engineer the product,' Ley explained. 'If you do not learn to make a frugal product that is just good enough to satisfy the demand of the customer, then the risk is very high that a domestic competitor [as opposed to a European exporter] takes your position and replaces you.'
The European vision industry therefore needs to continue to build on its pre-existing strengths and assets moving forward, according to Ley, such as the reliability of its products, trustful business relationships and its innovative and technological edge.
'One other strength that the European industry has is the flexibility of its relatively small companies,' said Dr Klaus-Henning Noffz, CEO of Silicon Software. 'We have the ability to – and this is a difference to the big players [entering the industry] – react quickly to changes and adaptions in the market. This is something that we need to push going forward, and this will be a continuing strength of our industry.'
Outside manufacturing
The flexibility of European vision firms will become increasingly important thanks to the many non-manufacturing applications that machine vision is moving into, such as traffic management, agriculture, autonomous driving, drones, and cashier-less supermarkets powered by hundreds of ceiling-mounted cameras, as demonstrated in the Amazon Go store in Seattle, which opened in January.
'The new applications that we see arising are enabled by new technologies originally developed for consumer applications,' said Ley. 'This is fascinating because it opens up entirely new application spaces for our industry, but the challenge is that the structures for these new markets are not necessarily the same as in the established markets. Customers are different, partners are different, technologies are different; to the existing vision industry that means ... letting go of certain success recipes because they are not going to work in these new spaces.'
Vision firms must therefore be prepared to take risks and bring on new people who aren't already established in the existing markets.
'We need to establish new teams within our own companies that recognise these opportunities, because the older colleagues used to hardcore machine vision won't recognise these opportunities and instead want to optimise their business,' commented Ley.
If these opportunities aren't seized, however, then vision firms run the risk of allowing other firms, particularly those unburned by a history in traditional machine vision, to enter these new markets.
'There will be companies leveraging these business opportunities, so the question is: are we going to be among these companies, or are we going to leave these hunting grounds to other people?' Ley said. 'If we stay in standard industrial cameras then we miss a big opportunity. We want to participate in and ideally shape these transitions to new markets.'
Ready to pop
Many of these new applications areas of vision will rely on embedded systems offering onboard processing, an ongoing trend in the vision industry that has entered the spotlight in recent years because of a decreasing cost of entry, according to Mark Williamson, director of corporate market development at Stemmer Imaging.
'What we are now seeing is modules coming out and software tools that allow you to create [embedded] systems at a far lower entry point,' he said. 'We are opening up this new market where we are making embedded vision accessible.'
Williamson continued by explaining that because of this lower cost of entry, the margins of embedded systems will be considerably smaller while the volumes sold will considerably higher. Therefore different business models will be required to be competitive in the markets featuring them.
Despite now being more accessible, embedded vision has still not been widely accepted throughout the industry, as, according to Ley, a current lack of business surrounding the technology has resulted in many machine vision players holding off on investing in it.
'Embedded vision can be compared to a popcorn machine that hasn't started to pop yet,' he observed. 'But this is going to change. The structures in these markets and the foundations of ... how embedded vision is going to be done are being laid out right now. They are being developed for these consumer-related applications. The whole cost structure for these systems will be significantly below what is the standard in the machine vision business right now.'
By not being prepared for the uptake of embedded vision, companies run the risk of being steamrolled by those who are doing so, according to Ley. 'We would like to therefore encourage the entire industry to see that popcorn machine and ensure that they get themselves into it, as long as it hasn't started to pop.'
Easing integration
Although the cost of vision has come down significantly, much of the cost associated with imaging systems still remains in the integration because of the many hours of engineering work required to programme, install and test them, according to Lou Hermans, partner of venture capital fund Capital-E. Bringing this cost of integration down will therefore be another vital step in remaining competitive in new emerging markets.
'It has been commonly and widely accepted that we will only be successful if we reduce the effort of integration through standardisation,' added Dr Heiko Frohn, CEO of Vitronic. 'If we are able to cut down the burden of integration by 50 per cent it will already be a huge advantage and help our market to grow.'
New standards such as OPC Vision, the machine vision adaption of OPC's Unified Architecture, are therefore being worked on by the VDMA to enable communication between systems and smart cameras using one software interface. Around 50 companies are actively involved and driving the standard forward.
In addition to standardisation, Hermans thinks that integration costs can also be reduced through the use of innovative software. 'We see investment opportunities not in the hardware, but in the software that supports an engineer in developing an application quickly.'
A generational shift
With the average price of vision technology coming down, larger system volumes will have to be moved if firms wish to stay competitive in modern markets.
Scaling into new regions will require access to new markets. However, achieving this under traditional management initiatives could be challenging, according to Ley. This could all be set to change in the coming years.
'There is a generation shift underway; many founders of the industry are approaching retirement,' he explained. 'Looking at the digitisation and embedded vision challenges that lie ahead, making a company future-proof is going to be strenuous. You need to find a new successor and get access to good management capacity.'
To access the new markets and customers being opened by vision technology, companies will therefore have to consider hiring management from a non-vision background, an approach that has been gaining increasing interest recently, according to Ley.