Stemmer Imaging wins machine vision award for Bloodhound SSC imaging system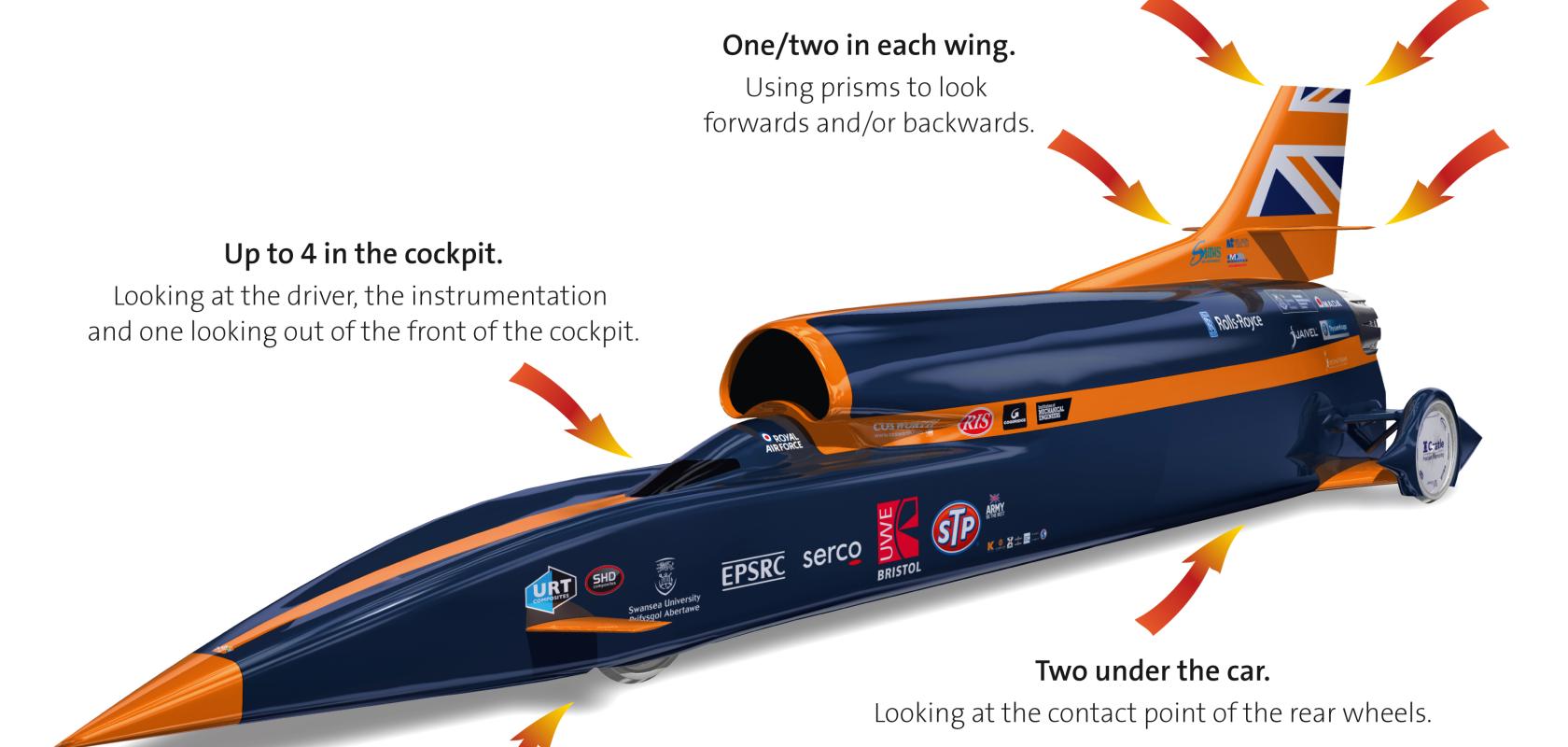 Stemmer Imaging has won the prestigious award for the 'Most Innovative Vision Project' at the PPMA (Processing and Packaging Machinery Association) Group Awards. The winning project was for the supply and integration of 25 cameras on the Bloodhound Supersonic Car.
The Bloodhound Project is a British endeavour to inspire the next generation of scientists and engineers by showcasing these subjects in the most exciting way possible, by building a jet and rocket powered vehicle capable of reaching 1000 mph, for a new world land speed record attempt. 25 cameras are located at strategic points on the car. Forward facing cameras must deliver live streamed video for broadcast purposes, while rear-facing cameras look at the output from the rocket and jet engine exhausts. Other cameras monitor critical engineering parameters such as the wheel-ground interface. In-cockpit cameras monitor controls and driver actions.  
Bloodhound SSC will travel faster than a bullet fired from a Magnum .357 gun, covering the length of four and a half football pitches in just 1 second. Video data must be acquired from the cameras at HD resolution and managed through an Ethernet data communication bus. The vision system provides performance data during test runs for the vehicle as well as the world record attempt. Every frame from each camera must be recorded and time stamped so that individual frames can be related back to specific control events and linked with the engine management system. In addition video has to be compressed in real time for streaming. Reliable live video transmission has to be achievable at speeds up to Bloodhound's target of 1000 mph. 
In making the award, the judges commented: "The STEMMER IMAGING project demonstrates ground-breaking innovation. It is a complex undertaking, involving several aspects of machine vision technology from optics through to data handling."
Mark Williamson, Director – Corporate Market Development at STEMMER IMAGING, said: "We are delighted to win this award for a project that is pushing vision technology to its limits. We have had to identify the optimum GigE camera for each location in terms of its size, weight, robustness viewing angles and performance based on the particular imaging job it needs to perform. For example, we have had to develop a system that can image the rocket oxidiser connection hose and the rocket plume itself which is critical to ensure the correct ignition of the rocket has taken place."
"With cameras in 25 locations we have had to solve the digital I/O requirements needed for linking them to Bloodhound SSC's engine management." He continued. "Five of the 25 locations are safety-critical and these camera feeds will be used on all runs, with a further 7 cameras being driver selectable for any given run. The software for realtime video streaming and compression was rewritten specially for Bloodhound to encode the video directly to an MJPG format, so that the huge volumes of data generated can be recorded to hard disk."