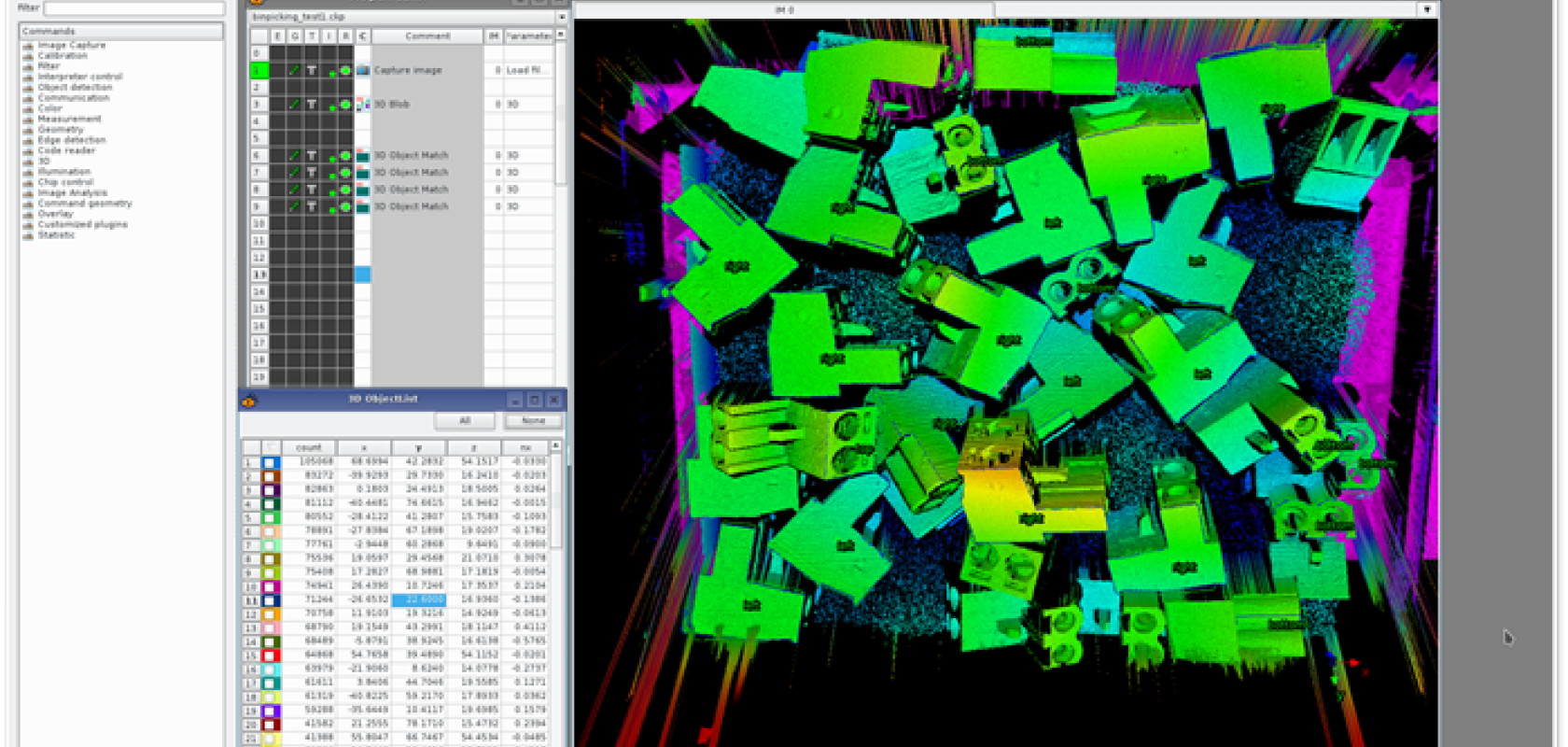 In case the evaluation of two-dimensional images in not sufficient, the task can probably be solved easily with a three-dimensional application. With EyeVision 3D EVT offers a multifunctional software solution, which in the field of 3D can solve a broad spectrum of tasks, e.g. the so called "bin-picking". 
The base is besides the supported 3D sensors of the EyeScan 3D series, the evaluation of the EyeVision 3D software using a depth image, which then can be used to operate a robot gripper. Furthermore additional information for e.g. identification of the stack height or to recognize foreign material, which is often abdicated in normal image processing, is available with the EyeVision 3D software. 
EyeVision 3D is an option for various 3D applications, such as e.g. the inspection for defects, errors or damage of blister packages in the pharmaceutical industry or the volume measurement of e.g. luggage. With EyeVision 3D it is possible to integrate various different laser sensors and to extract the required information via the already known evaluation process.
EyeVision 3D is especially suitable for "bin-picking", which is one of the most required application in the industry to automate the production process. It is possible with EyeVision 3D to locate unsorted parts in a box and then for example pick the part up with a robot gripper and feed to a production machine. Also the picked-up part can be sorted into the machine in an exact determined position and rotation.
With EyeVision 3D a extremely fast image capture of the surface of the object is carried out and 3D point clouds can be used directly in the EyeVision 3D user interface to locate the respective position of the several parts.
With the 3D-Matching of the EyeVision 3D it is now possible to recognize with only one 3D sensor the shape and position of any object, which has been taught-in previously. Therefore even the gripping of complicated shapes and component parts is possible. 
These data is necessary e.g. in the automotive industry and robotic, not only for bin-picking but also for pick-and-place applications. When the 3D evaluation is carried out, the user can also measure geometrical characteristics on complex 3D objects. 
The handling and installation of the EyeVision 3D system is carried out completely without programming, only via the graphical user interface and is entirely uniform, as already known from the EyeVision image processing software.