Robots get to grips with laundry automation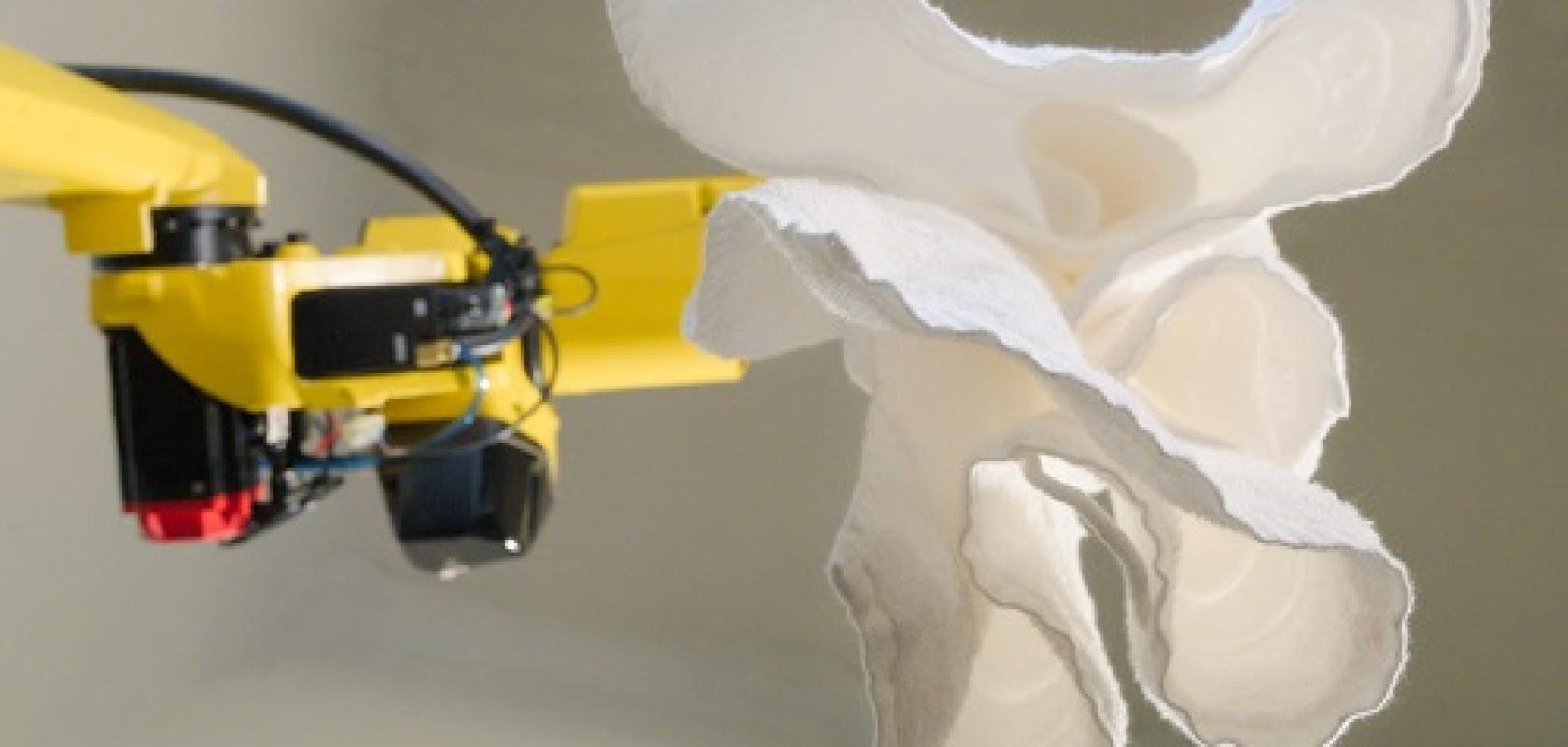 German start-up Sewts has built a robot cell to automate the process of loading industrial laundry folding machines.
The Velum robot system is able to pick individual laundry items – towels and similar linen made of terrycloth – and feed the folding machine thanks to 3D and 2D imaging.
According to Sewts, 90 per cent of the process steps in industrial washing are already automated. However, people have to feed the folding machines by spreading out laundry items without any wrinkles. This accounts for 30 per cent of labour costs; it is also a monotonous and strenuous task.
Clean laundry arrives at the folding machine either in containers or on a conveyor. A combination of 2D and 3D images is used to locate the hems on a towel and from that where the corners are.
Tim Doerks, co-founder and CTO at Sewts, explained: 'We match the images from the 2D and 3D cameras to have a higher 2D resolution together with the 3D data. So we use the respective advantages of the 2D camera, in this case the higher resolution, and the 3D camera, i.e. the precise depth data.'
Depending on customer requirements or configuration, two to three uEye 2D or Ensenso 3D cameras, both from IDS Imaging Development Systems, are used.
The Ensenso S10 uses a 3D process based on structured light: a narrow-band infrared laser projector produces a dot pattern which is captured by a 1.6-megapixel Sony sensor to give a point cloud with up to 85,000 depth points. Velum extracts the coordinates for the gripping points from the point cloud.
Doerks added: 'We are experts in preparing the generated data, which is especially important when working with 3D point clouds. This pre-processing is an important component of our systems in order to generate suitable input for our artificial intelligence.' 
The data supplied by the uEye CP (5MP) or Ensenso S cameras is processed via convolutional neural networks and classical image processing. The software analyses the topology of the textiles using features such as the course of the seam, local elevations or the relative position of seams, classifies them according to textile type and class using various textures and embroidery patterns, and translates these findings into robot commands.
'By closing this significant automation gap, we can almost double the productivity of a textile washing line,' noted Sewts CEO Alexander Bley.
Sewts is also working on systems to handle clothing such as shirts and trousers in the future. 'It is important to understand the properties of these materials in order to implement robust processes. We achieve this through sophisticated material simulations,' added Bley.