Robot with 3D vision assembles Ikea chair in nine minutes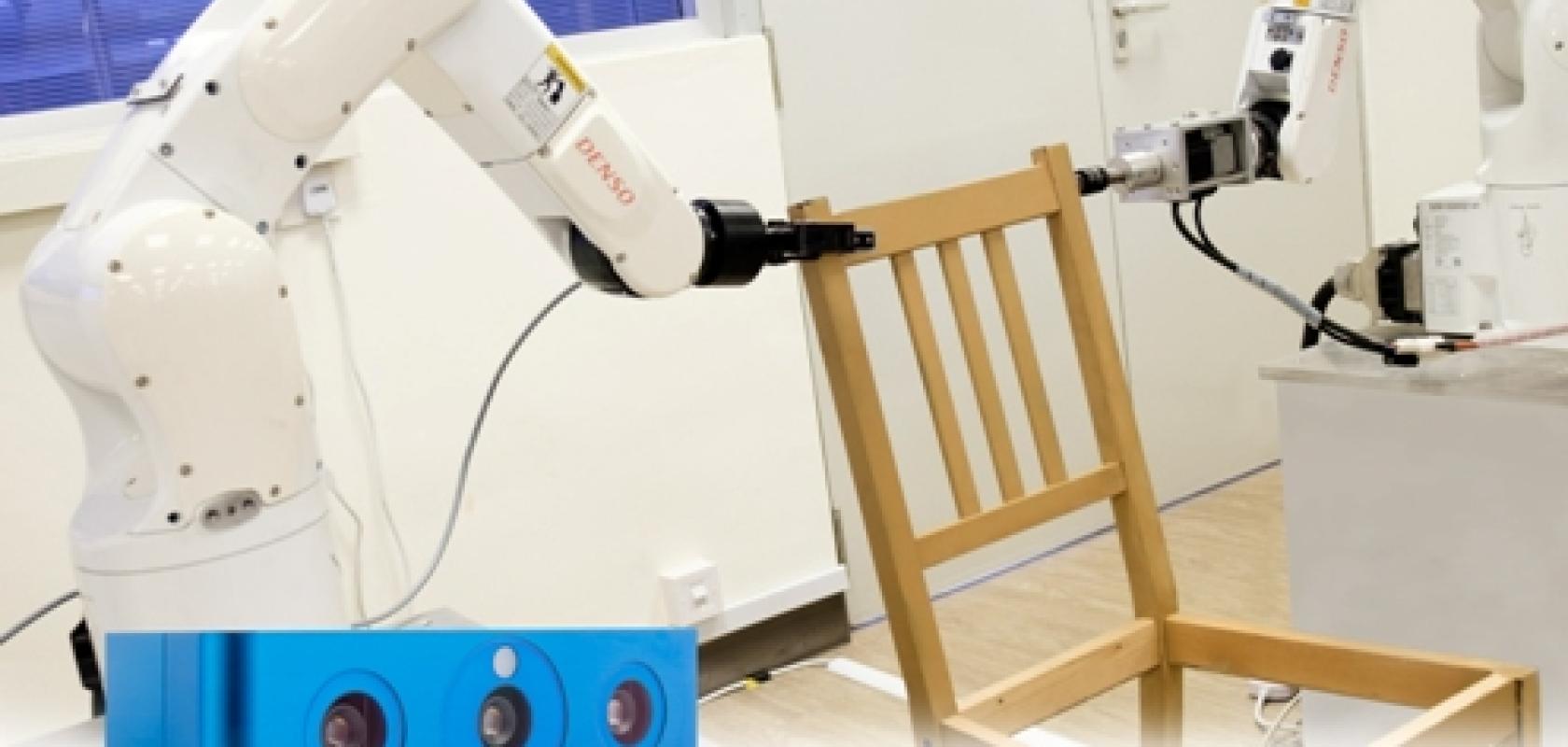 Scientists at Nanyang Technological University (NTU) in Singapore have built a robot that can assemble an Ikea chair in less than 10 minutes.
The robot uses a 3D camera to identify the chair parts for its two arms to pick up and manipulate.
NTU Singapore engineers are using the robot for research into clever manipulation, an area of robotics that requires precise control of the forces and movements of robot hands or fingers. This requires perfect interaction of all hardware and software components.
The robot starts the assembly process by taking 3D images of the parts lying on the ground to create a map of the estimated positions of the various components. This task is performed by an Ensenso N35 3D camera from IDS. The stereo camera projects a pattern on the scene, which supplements the weak or non-existent object surface structure found on the components of the Ikea chair.
Two images of a scene are acquired from different positions, and matching algorithms visualise all point displacements in a disparity map. The Ensenso software can determine the 3D coordination for each individual image pixel or object point, in this case the chair components.
Acquiring multiple image pairs with different textures of the same object scene produces a lot more image points. Thus the components of the chair are displayed in 3D in a much higher resolution to make them easier for the robot to recognise. 
Each arm is equipped with parallel grippers for picking up objects. Force sensors are attached to the wrists to determine how strongly the fingers grip and how strongly they bring objects into contact with each other.
'For a robot, putting together an Ikea chair with such precision is more complex than it looks,' explained Professor Pham Quang Cuong of NTU. 'The job of assembly, which may come naturally to humans, has to be broken down into different steps, such as identifying where the different chair parts are, the force required to grip the parts, and making sure the robotic arms move without colliding into each other. Through considerable engineering effort, we developed algorithms that will enable the robot to take the necessary steps to assemble the chair on its own.'
The NTU robot can assemble the Stefan chair from Ikea in 8 minutes and 55 seconds. Professor Pham Quang Cuong added: 'We are looking to integrate more artificial intelligence into this approach to make the robot more autonomous so it can learn the different steps of assembling a chair through human demonstration or by reading the instruction manual, or even from an image of the assembled product.'