Israeli start-up's thermal camera to make driverless cars safer
An Israeli start-up firm has developed a far infrared thermal camera for autonomous vehicles that is able to detect people, animals or objects in the road using deep learning computer vision algorithms. The start-up believes that the new camera will solve some of the object recognition issues currently faced by driverless vehicles.
Yokneam Illit-based firm AdaSky's new Viper sensing and perception solution is able to detect, segment, and analyse objects, helping in so-called 'edge cases' in autonomous driving – problems or situations that occur at extreme parameters, where other sensors might fail.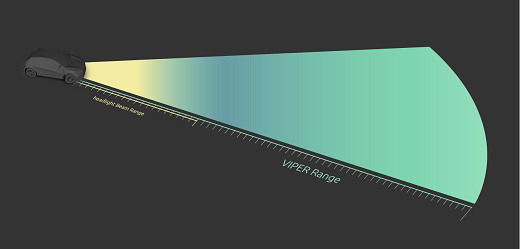 The new camera reveals objects at greater distances than the standard headlights of a car. (Credit: AdaSky) 
While automakers and their suppliers working on self-driving cars have previously experimented with forward-facing cameras, radar, and lidar, they are now realising that these systems are not quite able to address every type of situation encountered on the road, according to Eyal Madar, AdaSky's chief technology officer.
'The [automakers] are now beginning to understand it's not enough,' Madar said. 'They need a new sensor ... to help them with edge cases.'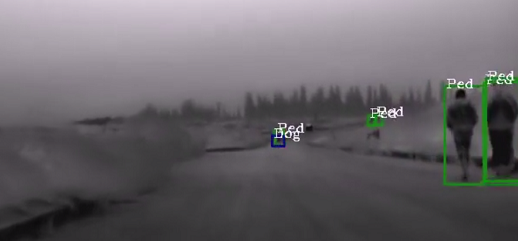 The Viper system can identify pedestrians and animals at distances up to 200m in complete darkness. (Credit: AdaSky) 
Self-driving cars are not always able to differentiate between real objects and their images, for example the image of a person in an advertisement on the back of a van could be interpreted as a pedestrian, which would cause the car to brake unnecessarily. In detecting the temperature differences between living and inanimate objects, however, thermal cameras could help avoid this scenario.
The Viper camera measures 2.6cm in diameter and 4.3cm in length, uses shutterless technology, and is able to identify pedestrians at a range of 200 metres, with larger objects such as cars being distinguishable from further away. The thermal camera is also expected to outperform traditional cameras in challenging conditions such as darkness, fog or rain.


A low light sensitive camera (left) featuring a Sony IMX174 CMOS image sensor, compared to the new Viper camera (right). (Credit: AdaSky)
AdaSky predicts a full self-driving prototype of the Viper to be ready within a year, with mass production of the system beginning in two to three years. The cost of this mass-produced system is expected to be a few hundred dollars, a price enabled by the increasing availability of thermal technology, Madar remarked.
AdaSky has previous experience designing and producing thermal cameras for civil and military applications; however, the company is now focused purely on applications for autonomous vehicles.
Related articles