EU project develops high-speed rail inspection system
A monitoring system that gives real-time information on the wear occurring on rail wheels to enhance rail safety is under development as part of an EU Horizon 2020 programme.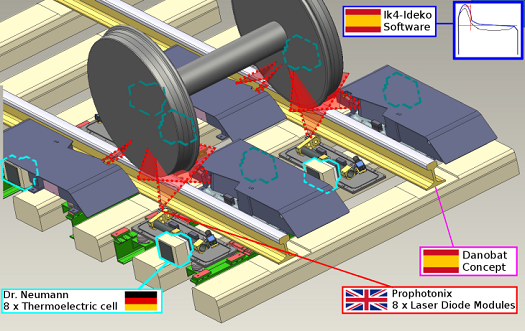 The Wheelwatcher system will provide real time information on the wear occurring on rail wheels. (Credit: Wheelwatcher EU project)
The Wheelwatcher system is designed to run on high-speed trains and give data on how the wheels are wearing so that engineers can carry out predictive maintenance.
According to the Wheelwatcher project, high-speed trains take a quarter of the time to accumulate the same number of kilometres as conventional trains. Automatic measuring systems in wayside locations have been postponed because of a lack of appropriate thermal insulation for laser systems.
The Wheelwatcher system can be installed on busy lines; it can measure wheels remotely while the train is travelling along the tracks at normal operating speeds, and the laser profiling method can scan the wheel at a resolution of 0.1mm. The project states that wheel life can be extended by up to 50 per cent in kilometres by employing predictive maintenance.
Partners in the Wheelwatcher consortium include: Euskotren, a train operating company in the Basque Country of Northern Spain; IK4-Ideko, a Spanish research centre specialising in machine vision systems; ProPhotonix, which provided its laser module design; Danobat Group, a high precision mechatronic system builder; and Dr Neumann Peltier-Technik, a thermoelectric cell manufacturer.
ProPhotonix has delivered an initial set of eight prototype laser modules for use in the wheel wear monitoring and control system. The system is designed to operate in extreme climatic conditions within a temperature-regulated enclosure. The laser module, designed by ProPhotonix, features thermo-electric control to maintain the laser diode temperature, ensuring that output power and wavelength stability remain constant.
Upon completion of extensive field testing and refinement, Wheelwatcher is expected to be commercialised in the summer of 2018 with ProPhotonix supplying laser modules for installations throughout Europe and worldwide in 2019 and beyond.
Jeremy Lane, managing director of ProPhotonix UK, commented: 'The various features and technologies developed for Wheelwatcher are intended for broader applications and customer requirements.'
Related Article