Turning systems into solutions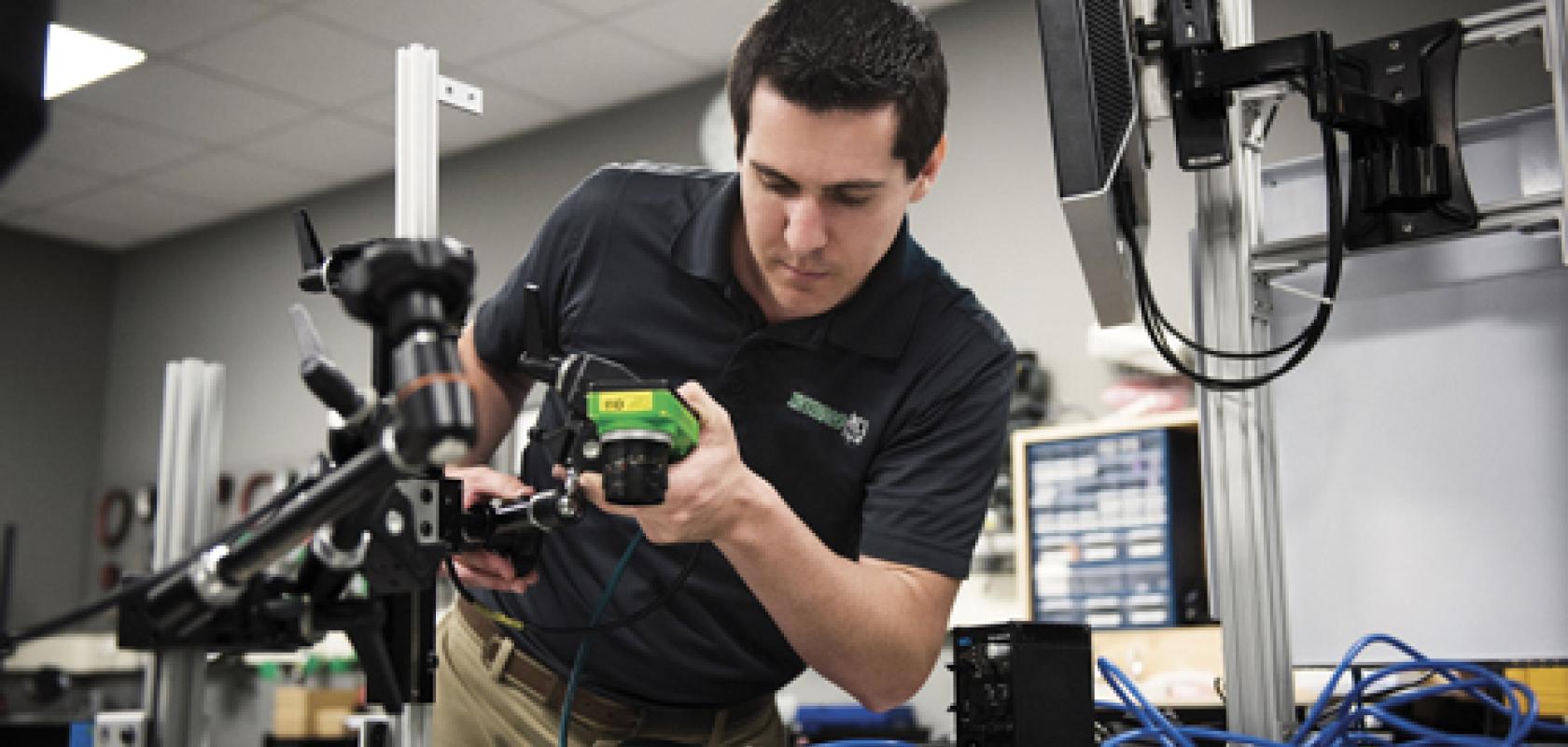 System manufacturers are continuously looking to encourage and increase the integration of vision technology. Companies such as Scorpion Vision and Integro Technologies are addressing this through offering complete out-of-the-box vision solutions of pre-configured hardware and software that can simply be unpacked and plugged together on delivery. System integration is also being aided by a new industry specification developed by the VDMA and OPC Foundation that facilitates better co-operation and information transfer within vision-based projects.
'Miniaturisation and embedded vision will foster the trend of "vision everywhere",' said Anne Wendel, director of the VDMA Machine Vision Group. 'The increasing spread of machine vision in mass consumer markets will further stimulate growth and use of vision systems. Visibility and awareness, along with natural use and familiarity with machine vision tools, will further stimulate growth.'
Standards for integration
Industry standards and regulations that govern machine vision projects are fundamentally important for easing system integration, as they define the mechanisms of co-operation and the information to be exchanged. Standards such as those in the VDI/VDE/VDMA 2632 series are examples of this, as they structure and facilitate communication between suppliers and users of machine vision.
According to Wendel, standards promote a better understanding and promotion of machine vision technology, increase the acceptance of machine vision among users thanks to compliance with a standardised approach, and reduce risk for system integrators.
New standards, practices and regulations are continuously being developed – in June 2016, the VDMA Machine Vision and the OPC Foundation signed a memorandum of understanding to develop a machine vision companion specification for OPC Unified Architecture (UA).
'The OPC UA companion specification for machine vision aims at the straightforward integration of machine vision systems into production control and IT systems,' explained Wendel. 'The scope is not only to complement or substitute existing interfaces between a machine vision system and its process environment by OPC UA, but rather to create non-existent horizontal and vertical integration abilities to communicate relevant data to each of the authorised process participants, for example right up to the IT enterprise level.' Wendel explained that through the OPC UA interface, relevant data now has a higher reach to IT systems within production lines and enterprises.
According to Wendel, today's integration of machine vision systems into production control and IT systems is characterised by the development of proprietary interfaces. In many cases, this means an interface development for every single machine vision project, which results in very time-consuming, costly and error-prone efforts. 'Currently, no generic interface for machine vision systems on the application or solution level exists,' said Wendel. 'With the OPC UA companion specification, there will be one.'
Because of the now higher reach of relevant data and a managed data flow by the OPC UA, users of machine vision will benefit from new application abilities and business models. Also, according to Wendel, a commonly accepted interface with global reach will reduce implementation times and lower development costs for system integrators and users of machine vision systems.
Out of the box
UK vision firm Scorpion Vision has eased the integration of its vision systems by offering them as a complete package of pre-configured hardware and software. This reduces risk to the customer and the amount of on-site testing that needs to be done before the system can be used.
Starting out as a machine vision software developer, Scorpion Vision used to recommend that its customers download and install the company's programs directly onto their individual PCs. This could be problematic, according to Scorpion Vision's managing director and newly appointed UK Industrial Vision Association (UKIVA) chairman Paul Wilson. 'No two PCs are the same; you'll get different performance and driver issues,' he explained. 'So what we've done is standardised on an industrial PC platform; we only ever ship the same hardware.' Scorpion Vision's software is now sold and delivered pre-installed on selected PCs. In doing this the company removes any risks of disrupted functionality because of differing hardware.
Scorpion Vision's Stinger family of products comprises both 2D and 3D cameras with integrated illumination and Smartcard, a circuit board inside the camera housing that links each of the system's components together. 'The Smartcard takes external triggers, it's got an encoder input and conveyor belt controls along with an LED light source charging circuit,' commented Wilson. 'It takes care of LED light control, power and synchronisation with other components.'
The Stinger Smartcard is designed to work alongside both Scorpion Vision's own 2D and 3D Stinger camera offerings, in addition to third-party cameras from suppliers such as Basler and Sony. 'We have a number of cameras inside our housing that we specify for each particular job,' Wilson said. 'The beauty of this is everything is off the shelf and doesn't have to be modified to incorporate the Stinger board – the Stinger board sits alongside the camera.'
For the physical integration of its vision systems, once Scorpion Vision has identified a solution to an application, it ships the appropriate suite of hardware and software to the customer readily configured. The company's integrator partner then visits the site and puts the system together. 'We then access the system remotely and set it up,' explained Wilson. 'In one fell swoop we get rid of days of work and massively reduce the risk. We think this is the best way of doing things.'
According to Wilson, when he started in the field, integration was mostly dependent on the strength of the machine vision software. While this is still fundamental, he said, now, 'when it comes down to integrating, you've got to make sure that you have the automation components ready, because if you don't, then you have to go and buy them from somewhere else and put them together and test them.
'I think robustness and reliability are really the key to this,' Wilson continued. 'Our end customers with our machine builders include companies such as Unilever, Warburtons and DHL. We have multiple systems on multiple production lines, and I think you can only achieve that reliably by having standard hardware and software suites.'
Scorpion Vision serves market sectors such as automotive, bakery, food and beverage, aerospace and logistics. Thanks to the company's standardised approach to vision solutions, there is little variation in its integration process across these sectors.
'The only difference is with food and beverage,' said Wilson. 'Here the hardware has to adhere to certain standards, such as not being able to use glass in the camera housing – the camera has to be ready to be washed down.'
Environmental and hardware factors such as this need to be considered by system integrators before designing a complete vision solution.
'One of the things we look at first is the environment in which the vision system is going to be installed,' said Starke Farley, senior sales engineer at US vision integrator Integro Technologies. 'From there, we determine the hardware that will be used.'
Operator interaction is also an important factor, according to Farley – defining what kind of human machine interface (HMI) should be built around the solution. 'There needs to be some way for the operator to get into the system,' he explained. 'The HMI covers the ease-of-use, what you're going to display and what you're going to give the user access to. We then look to see what the system will be communicating with – is the system going to be a standalone system, is the product going to be rejected right there, and is it going to be interfacing with someone else's programmable logic controller?'
Integro Technologies provides pre-configured solutions. 'We'll design the whole vision system, we'll select the hardware and we'll test the samples in our lab ahead of time, to ensure functionality. Then we build the enclosure, assemble and test the system, and perform a factory acceptance test at our facility. The hardware and software are then shipped to the customer and a field service engineer goes with it to perform the full installation and training.'
The factory acceptance tests performed by Integro Technologies are dictated by customer documentation to test a system thoroughly. 'All systems are fully tested prior to leaving our building, but the level of testing is contingent on the product being inspected, as well as the customer's industry,' Farley explained. 'For a medical device or pharmaceutical system, there is normally a full validation package followed line by line, and individual tests are run for each defect type and scenario that could arise. This ensures the system is ready for production, and that it is fully functional and ready for installation prior to shipping from our facility.'
Farley believes that increasing general awareness in the capabilities of imaging technology could also aid system integration: 'Most people aren't aware of what machine vision is fully capable of, they just know that they need a visual inspection. We have some customers who try and do it themselves.'
Integro Technologies has established seminars and training courses for those who aren't familiar with the technology.
Viewing the world in 3D
Twenty five per cent of Integro Technologies' business now incorporates 3D vision, according to Farley. 'The advances in 3D technology in the past two to three years have made projects that were impossible to do before completely possible with the right application of hardware and software,' he said.
The application platforms of 3D vision technology are still developing, Farley said. 'We see 3D vision technology being used in conjunction with robotics as the next evolution of machine vision integration,' he said. Robots guided by 3D vison are already being built. Ocado Technology's Dr Graham Deacon will give a keynote speech at the UKIVA Machine Vision Conference in April in Milton Keynes on the challenges of developing a 3D vision-guided robot capable of picking and placing fruit and vegetables for shopping orders.
Improvements in the speed and data transfer of sensors, along with the development of smart cameras, are also factors Farley believes to be responsible for increasing system integration in recent years. 'We have systems currently inspecting 10,000 parts per minute,' he said. 'In a six millisecond span we need to take a picture, make a decision and give them an answer. These days this is only achievable with the data transfer rates that have become available.
'From an ease of integration standpoint, the advances that have been made in smart camera software has also been a huge leap forward,' Farley continued. While this has made integration possible by customers without expertise, certain systems based on smart cameras lose flexibility in complex applications.
End-users also need to consider how flexible a system will be depending on the type of software they install. Spreadsheet-based software can offer large amounts of flexibility in complex applications, according to Farley, whereas icon-driven software is easier to use; however it becomes cumbersome when linking multiple tools together. 'When you get to a complicated application, the flexibility that you have in a spreadsheet environment becomes more difficult to follow in an icon-driven format. The ease of use is great when you have an easy application, but then most people try and force the difficult application programming into the icon-driven software, whereas they really need to be doing it in a more flexible environment.'
System interoperability
There are now more organisations supporting the OPC UA as the interoperability standard for horizontal and vertical information integration, VDMA's Wendel said. 'Each sector group is asked to develop a companion specification: i.e. to decide which sector-specific services and information is offered, and which information and data is to be transferred,' she said.
'In connection with Industry 4.0, the relevance of a machine vision system will increase as a measuring instrument for process data acquisition,' Wendel continued. 'The OPC UA interface will provide the basis for plug-and-play integration for a machine vision system within its process environment. These benefits will further enhance growth and use of machine vision systems significantly.
'The European machine vision industry has been reporting high growth numbers and record sales figures for years; sales within the industry have more than doubled between 2005 and 2015. Standards – both interface standards as well as 'soft' standards like the VDI/VDE/VDMA 2632 guidelines – will help add another successful chapter in the history of machine vision.'