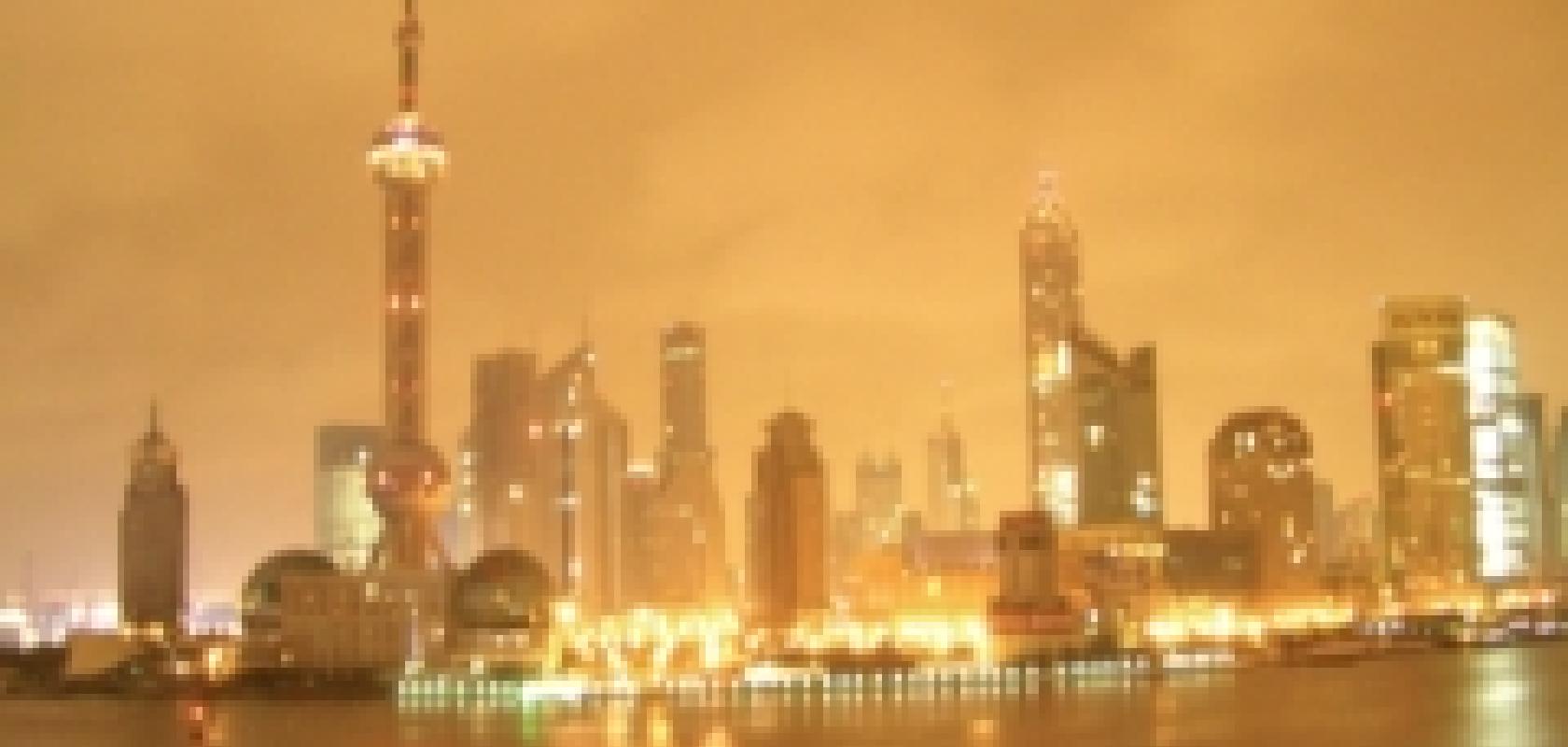 Any assessment of emerging markets in any industry at the moment – not just vision – will feature one word very heavily – China. Its rapidly developing economy has had a marked effect around the world, both in terms of increased competition with what's coming out of China, and also the increased market opportunity that the nation itself presents.
A major part of this economic development is a massive increase in manufacturing. Cheaper labour costs make large-scale manufacturing facilities relatively easy to build, and for the vision industry, that represents a major market opportunity.  UKIVA director Don Braggins says: 'It's pretty obvious that China has huge potential as a market for vision. Just recently, we had the Mattel toys issue, whereby several million toys were recalled due to quality control issues. That just illustrates that there are huge suppliers out there that have a need for quality checking.'




Pudong district at night, Shanghai's financial and commercial hub.

Mark Williamson, director at Firstsight Vision, part of the Stemmer Imaging Group, believes that the emergence of China as a manufacturing force has actually stimulated a fightback: 'As an industry, the application of machine vision is itself trying to hold back the tide of manufacturers heading to China. The use of a vision system at your manufacturing facility reduces labour costs which reduces one of the main drives for relocating manufacturing to China or similar. 
'Overall, we have found that while China has emerged as a market – both in terms of suppliers of vision components and as a place that needs vision for its growing manufacturing base – it has had an effect on driving down prices back here in Europe, in order for us to remain competitive.'
Paul Kellett, who sources and analyses market data on behalf of the Automated Imaging Association (AIA), says this perception is backed up by statistical facts: 'Geographically, China is a market that is clearly expanding, both in terms of sales opportunities and the number of domestic suppliers and international suppliers seeking customers. Many domestic suppliers are in start-up mode, and compared to Europe and the USA, there are relatively few established Chinese manufacturers specialising in machine vision at the moment. This means that the largest and most influential domestic players in the Chinese market are for the most part distributors, who represent the main route into the Chinese market for foreign MV companies.
'The market opportunity in China is set to grow significantly in future years. For example, the estimated market opportunity for PC-based machine vision systems is set to expand from $85.3m in 2007 to $205.9m by 2012. For smart cameras, those figures are $51.2m and $123.6m respectively. Such rapid growth is being driven by the explosive expansion of the Chinese economy, as China modernises its economic infrastructure.  Increasingly, China is perceiving machine vision as a key enabler to that modernisation. 
Arndt Bake, general manager at Basler Vision Technologies, says China is just one of many geographical regions that are emerging: 'Eastern Europe is growing – not spectacularly, but steadily.  There is some growth in South America, and of course China is a major market. The second tier of Asian countries, such as India, Thailand, Malaysia and Vietnam, are also emerging as markets worth looking at.'
UKIVA's Braggins echoes the feeling about India.  'I think it may take rather longer for them to rise to the quality challenge and more of their economy is in services rather than manufacturing,' he says.  'Some personal input also points to Mexico, with the benefit of the North American Free Trade area, being an area for growth.'
Applications
Just as China is synonymous with growth in geographical terms, so the phrase 'nonmanufacturing applications' is with growth in the wider market.
'Non-manufacturing applications will certainly increase for vision products,' says Braggins. 'Any application that requires intelligent surveillance will call on the expertise of those in the vision industry.  This could mean anything from a military system to help locate snipers, or bombs on the roadside, through to monitoring human movement in rail stations, for example.
'Some believe this takes the vision suppliers into direct competition with the security market, but actually the two are seeking to cooperate to mutually beneficial ends. The security specialists have the expertise in placing cameras and installing hardware, such as pan/tilt/zoom equipment, but it is vision that provides the technology behind those installations and adds the necessary intelligence.  'In short, any non-manufacturing applications where intelligent interpretation of an image is needed, without constant monitoring, is sure to become more important for the vision market in the future.'
Firstsight's Williamson adds: 'We have seen within the Stemmer Imaging Group quite a different market split in Germany than in the UK. In Germany, the market is still dominated – maybe up to 80 or 90 per cent – by traditional applications of machine vision, i.e. using cameras to monitor quality on manufacturing production lines. Much of this, of course, is to do with the strong automotive market over there. Here in the UK, we have seen significant growth in non-manufacturing applications, from areas as diverse as sports analysis to high-end security. Indeed the latter is a significant market, particularly where the application requires intelligent functionality. We will never compete with the low-end CCTV market, but the expertise that we can provide at the top end is paying dividends. 
AIA's Kellet has more facts to support the argument that non-manufacturing applications are on the rise: 'The major, new opportunities lay beyond the factory floor. The main areas here are: high end security (current value, $760m); medical imaging ($686.4m); laboratory automation and drug discovery ($290m); and transportation ($14.2m).
Basler's Bake says this is true of his own company: 'Growth in non-manufacturing areas is significant, particularly in intelligent traffic systems (ITS) and biomedical applications. For ITS, the applications tend to use pretty standard machine vision equipment, though there are some specialised requirements. For example, by default, many traffic applications are exposed to the elements, and also there are no controlled lighting conditions. This means that the cameras often need extra features, such as auto iris. The emergence of GigE has been very good for ITS applications, because of the lifting of restrictions on cable length that it provides. 
'The medical market is booming, particularly in bioanalysis and microscopy. Many of the big companies in this area are looking to automate process such as cell and sample analysis. From a technology point of view, it often means that specific solutions have to be developed for certain types of analysis. Mostly, the requirement is for high image quality and long exposure times. 
David Cochrane, marketing director at Dalsa, believes that there is still some room for growth within what might be considered a 'traditional' area of machine vision. 'Certainly the electronics marketplace has been and continues to be the largest growing area for machine vision for Dalsa,' he says. 'Electronic devices are becoming smaller and more powerful; inspection technologies continue to evolve to enable mass production of these devices with nearly flawless quality levels. 
'What is interesting is that, at the same time, vision technology is becoming more powerful and this spins off into new diverse applications for vision, as well as improvements to existing vision installations. It seems as though many existing customers are returning to improve their quality of inspection. The payback is high for goods and materials that are high in value. By improving the quality of their products many companies are even able to offer higher grades of product that realise higher prices and profits. This is true whether we are inspecting lumber or automobile parts. Some vision companies upgrade their inspection tools to realise future cost reductions in the vision technology itself.'
Basler's Bake also believes traditional markets have some way to go before saturation: 'In general terms, the machine vision market is significant in the flat panel and semiconductor areas. In both cases, the job for machine vision is to inspect homogenous surfaces, making them classic line scan applications. Both markets are cyclical, but the semiconductor cycle is so rapid now that the up and the down occur with a 12-month cycle.  The flat panel cycle is more prolonged – in fact we have been on a high for quite a while and it has only just started to dip. Some are beginning to suffer as a result of this dip, but it is our view that the markets will recover.
'We can also say that the volume of inspection data required is increasing. This is down to larger surface areas being inspected for ever smaller defects. There comes a point, then, when a physical barrier will be hit – customers won't be able to inspect at the same rate as their production line runs, simply because in order to gather the amount of data they want from inspection, there has to be a minimum exposure time – or a huge amount of light. This can be overcome, to some extent, by replacing line scan cameras with area scan, but the latter currently has insufficient image quality for this to be a realistic alternative for some customers.
Technology
There appears to be much less excitement over technology developments, as the AIA's Kellett confirms: 'We see no major breakthroughs on the horizon, but rather continuing development in existing areas. Machine vision will continue to benefit from computing advances, such as faster processors, higher bus speeds and more memory, which enable increased capabilities at lower cost.  For cameras, the trend is towards higher resolution (with resolutions of up to 10 Megapixel now available) and faster frame rates (up to 500fps). Also CMOS sensors are becoming more powerful, offering alternatives to CCD sensors in certain cases.  Finally, interfaces are providing greater bandwidth, with the ongoing use of Camera Link and the more recent GigE Vision option.'
Braggins agrees that PC power may be the most significant technological change: 'Moore's Law means that increased processing speeds are making much more possible without the need for dedicated hardware.
Bake says this increased speed may provide other benefits: 'Increases in PC processing power mean that colour cameras will increase in uptake, as previously the amount of extra data generated by a colour image has always made analysis too slow. 
As Kellett suggests, the two other areas of interest are GigE and CMOS. Bake says: 'GigE is already proving to be much more than "just another interface". The facility to have networked vision has massive implications, not just in cable infrastructure, but also in the way in which data processing can be shared among a number of PCs.  It has a positive benefit on the whole architecture of the system. We are certain that GigE will become the most important interface in the industry.'
Williamson agrees: 'GigE vision is really getting a hold – again, particularly in non-manufacturing environments where long cable lengths are desirable and more common. We do foresee a migration to GigE within manufacturing, particularly when manufacturers move to network-centric operations and the PCs move from the factory floor to air-conditioned server rooms.'
Braggins says: 'GigE is gaining in popularity, though analogue cameras still lead the way in terms of unit sales. We all thought FireWire was going to be much bigger for machine vision than it has turned out to be; it has certainly caught on, but perhaps not to the extent that many predicted when it first emerged.
'In more general terms, the development of worldwide vision-specific standards will help with acceptance of vision by the broader user base, as they illustrate it is an industry that has attained maturity.'
The advances in CMOS technology are causing excitement throughout the industry, but that excitement should be tempered, according to Bake:
'CMOS burst onto the scene a few years ago, but there was a lot of hype. For mass market, high speed applications CMOS has merit, but the image quality has always let it down in the past. CMOS is catching up as the developers of this technology iron out the problem areas. CMOS now appeals to a much wider portfolio of applications than ever before, and as the technology improves, that will continue to be the case.'
Williamson says that the sensor market is also the one that has seen the most change recently: 'For the first time in a long time, there has been some movement in the sensor market. Dalsa is one company, for example, which has brought out a new generation of sensors that can maintain the same quality we have been used to but at twice the speed and around half the price.'
Dalsa's Cochrane expands: 'We have increased speed and ultimately data and information available to the vision application. Our latest linear CCD sensors and HS (high sensitivity TDI) linear sensors easily scale to provide higher data rates, while our CMOS sensors increase data in area mode. Increased data is a highly important trend, which goes hand in hand with the increased processing available in today's PCs.
'Another emerging technology is that of adopting vision techniques and sensors to scientific and life sciences applications.'
For most then, the buzz areas are China, non-manufacturing applications, GigE and CMOS technology, but there is still a strong market in many of the existing 'traditional' uses of vision.