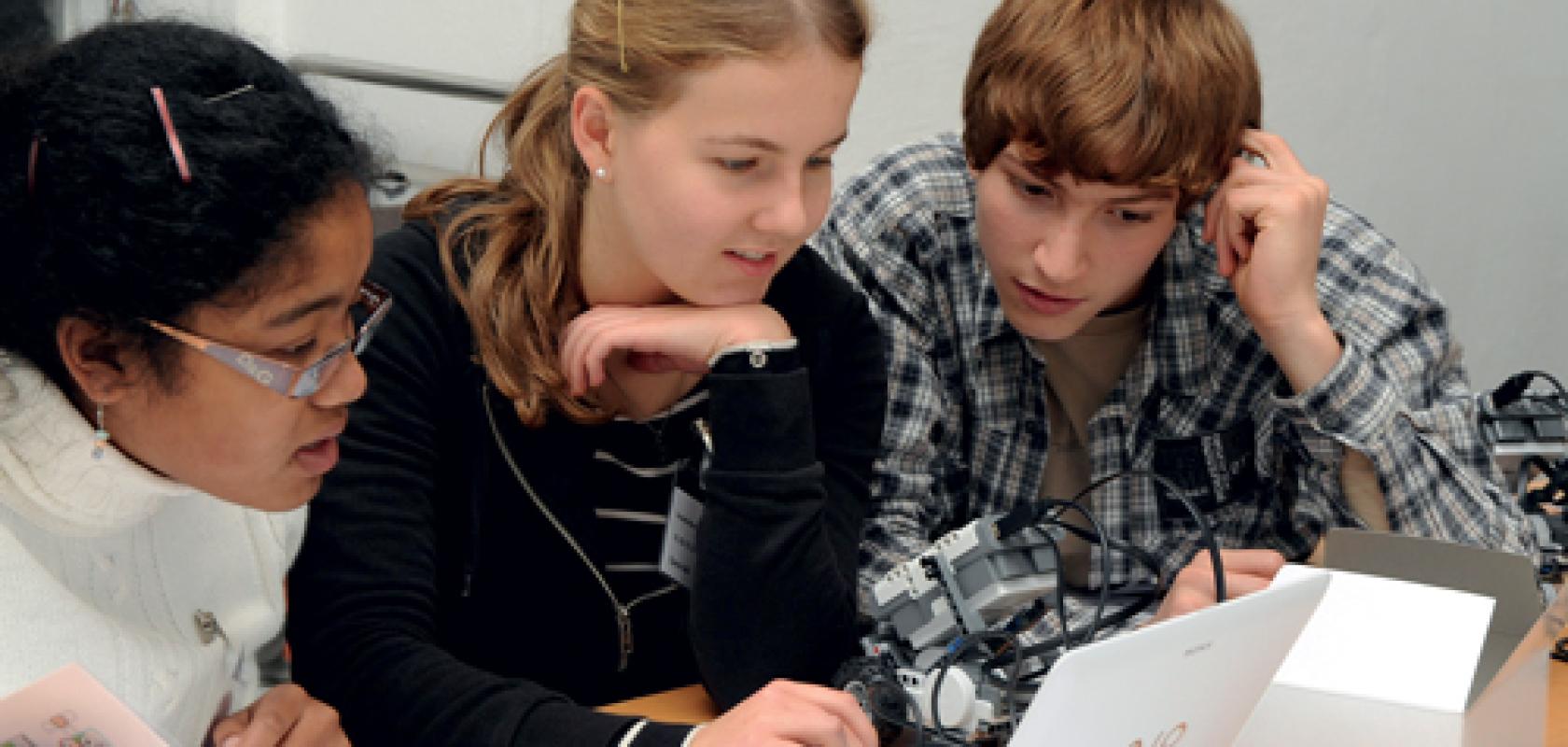 Is there an engineering skills shortage in Europe? In the UK, according to the organisation EngineeringUK, yes there is. It estimates that, between 2012 and 2022, there will be an annual shortfall of 69,000 skilled engineers in the UK; engineering companies will need to recruit 2.56 million people during those 10 years, 1.82 million of them with engineering skills, and there aren't enough students entering apprenticeship schemes or degree courses at the moment to meet that demand.
In Germany, though, the picture is a bit different. Thilo Weber, an education policy consultant at the German engineering federation, the VDMA, commented: 'Currently the VDMA does not see a general lack of engineers, but there might be regional problems, especially in the south of Germany.'
Internal VDMA calculations, based on the official unemployment statistics for Germany, see the demand for engineers in the mechanical engineering sector at around 6,000, according to Weber, although he added that this is not necessarily a lack of engineers, but the number of open positions that currently need to be filled.
Weber went on to say that an increasingly urgent problem in Germany is the declining number of young people starting technical vocational education. He explained: 'Vocational trained professionals are an important factor for our industry because of their application-related skills, their versatility and problem-solving skills. The interplay of engineers and skilled workers is the basis for innovation.'
Why is all this important? Well, the engineering sector creates wealth. According to EngineeringUK, engineering is 68 per cent more productive than the retail and wholesale sector, and every time a new job is created in engineering, two more jobs are made elsewhere in the UK. In 2014, engineering generated £455.6 billion GDP for the UK, and the organisation forecasts an additional £27 billion GDP per year if the sector could meet the demand for job vacancies.
Machine vision is a small subset of this much wider issue, and figures on supply and demand of engineers finding jobs in this area are hard to come by. What makes machine vision special, and consequently makes it quite difficult for companies to find staff with the requisite experience, is that it's multidiscipline. 'You're talking software, optics, electronics, automation, among others. Trying to find people that can cover all these disciplines is very difficult,' commented Peter Bhagat, CEO of UK machine vision lighting company Gardasoft.
Professor Christoph Heckenkamp, who teaches Bachelor of Science and Master of Science courses in optical engineering and machine vision at Darmstadt University of Applied Sciences in Germany, made a similar point, saying that the number of engineering disciplines that constitute machine vision is one of the reasons why the University's study programme starts with optics and machine vision in the first year. 'It's quite difficult if, for instance, you have an electrical engineer who is trained for three or four years in that field, to master machine vision easily,' he said. 'It's possible, but hard.'
The University has been offering courses in optical engineering and machine vision since 1997 and has close contact with industry; almost all the students do their theses in industry.
'It's always difficult to get reliable data about whether there's a shortage of engineers in Germany – particularly machine vision engineers – but I can say that all our graduates have no problems getting good jobs,' Heckenkamp commented. 'A lot of companies offer internships and positions where students can complete their theses, as well as positions for young professionals with qualifications in machine vision and optical engineering.
'All our students have roughly three job offers when they enter the market,' he continued. 'However, whether this is proof of a shortage of machine vision engineers is not necessarily true – companies will fill the positions with engineers from other fields like electrical engineering or mechatronics.'
Stemmer Imaging's Puchheim headquarters has ties with the Munich University of Applied Sciences (MUAS), which also offers machine vision Bachelor and Masters degree programmes. 'If a student's thesis is in a field that Stemmer Imaging is active in, students have an opportunity to conduct experiments and write their thesis at our company,' explained Peter Stiefenhöfer, marketing and public relations manager at Stemmer Imaging.
Each year Stemmer Imaging also donates money for two good theses at MUAS, one Bachelor and one Masters, as part of an award scheme. The company consults with the supervising professors at the University in order to give two awards to the students with the best theses.
'It's a problem – and has been for many years – to find the right people to employ, especially engineers that have some knowledge of machine vision,' commented Stiefenhöfer. 'Stemmer Imaging has around 250 employees in Europe, with 160 people at its headquarters in Puchheim, near Munich, Germany. There are so many big companies like Siemens and BMW based near Munich that seem to be more attractive for university graduates. As a smaller firm, it's really hard to compete against.'
Stemmer Imaging also organises transport and entry fees for around 30 to 50 students from MUAS to visit the Vision show in Stuttgart. 'We're working closely with a professor at the University who's keen on sending his students to the trade fair, not just to see the technology, but he sets tasks for the students to investigate and write a report or give a presentation, which is then marked and goes towards their final grade for their diploma,' Stiefenhöfer said.
Darmstadt University of Applied Sciences also organises trips to Vision in Stuttgart, but in this case taking local school children to the trade fair. 'We started this three years ago. It's quite successful,' said Heckenkamp. 'We have undergraduate students from our study programme guiding school classes around the trade fair. Companies will give presentations, which is great because they can describe in detail what it means to work as a machine vision engineer and what it means to enter this study programme.'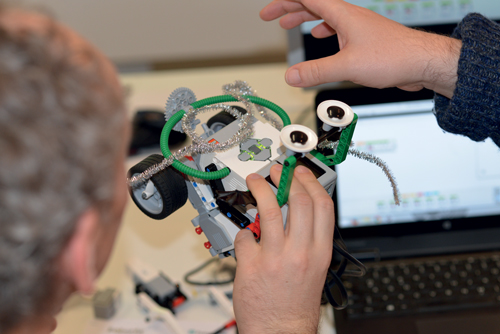 EngineeringUK runs various outreach programmes, including Tomorrow's Engineers, which links schools with local employers to increase awareness about engineering and give pupils an idea of what engineers do for a living. The F1 in Schools initiative is another good example of a social enterprise working with industry to get children interested in science, technology and engineering. F1 in Schools operates all over the world – not just the UK – and teams of students from nine to 19 years old compete to design and build the fastest racing car.
'The F1 in Schools programme is an example of giving the opportunity for younger people to experience what engineering would be like in a real environment, while having a commercial element to it,' commented Paul Downey, marketing manager at Gardasoft, whose son took part in an F1 in Schools scheme. 'Even at a young age in those projects they have to cost it; they have to get sponsorship. Not only do they have to create a fast vehicle to get into regional finals, it isn't just about purely the speed; it's about "let's put together a business programme for making it, designing it, the efficiency of certain designs" and things like that. That to me is a good example of giving some exposure to what engineering can be like, and if you had an inkling of how exciting it can be.'
Stemmer Imaging runs a foundation to introduce natural sciences to young children in schools and high schools. Stiefenhöfer said: 'The foundation tries to find schools – and especially teachers – who are willing to run technical lessons to raise the children's interest in technology.'
Weber at the VDMA would like to see more technology taught in German schools. He said there are several good examples of projects for different age groups – even for very young children in preschool – but there is still a lack of suitable opportunities for children to learn about technology. 'We [ the VDMA] recommended that the German ministries for education in the federal states adjust school curricula and – very importantly – teacher-training. This will lead to more interest in, and a deeper understanding of, technology,' he said.
Germany could arguably be said to have an engineering culture – more so anyway than the UK, for instance. However, Heckenkamp feels more can be done: 'It is true that getting school children interested in engineering is part of Germany's culture, but it's not enough. We could easily educate two or three times the number of students that we have now [studying machine vision] at the University and we could easily place them in industry.
'In spite of all the efforts made in advertising and going to schools directly, it's not possible to attract a huge number of young people to study in this field [machine vision],' he continued.
Darmstadt University of Applied Sciences has been getting in contact with machine vision companies to try and get them involved in education outreach programmes. 'Those [companies] are the players that really need these people, so we thought it a good idea if vision firms get in contact directly with schools in their local area and offer them an invitation to the Vision show,' he said. 'Usually if the children are in our vicinity we can talk to them and they are quite fascinated with this topic. But, unfortunately, even in Germany, among the wider public, technologies like machine vision – that are fundamental to how our society functions – are generally not well known.'
Practical skills
It's not all bad news though. 'In general the mechanical engineering companies in Germany are quite happy with the qualifications of the engineering students,' confirmed Weber. 'The low unemployment rate of engineers, the pretty good starting salaries of engineering students and especially the market success of the companies all support this.'
But what's needed, according to Weber, is for university students to learn more practical skills in engineering courses. '[Companies] miss practical experience in young engineers and want universities to incorporate more practical elements in their curricula,' he said.
Downey at Gardasoft also feels applied engineering training is lacking from UK universities. 'There are some very well qualified people, but understanding the real-world application of what they know in theory takes time, because they're not trained that way, certainly not in the UK,' he commented.
VDMA youth project at the Hannover Messe trade fair
He said a noted exception, though, was the University of Cambridge's Institute for Manufacturing, which trains its students in how to apply engineering theory to real-world problems. Courses like those run by Darmstadt University of Applied Sciences and MUAS, which have links with machine vision companies and where the students write their theses in industry, are also good examples of applied learning. German company Vision and Control has also set up an industrial image processing professorship at the Ilmenau University of Technology to help train engineers.
Downey said that this principle needs to be adopted by other universities in the UK. 'In many cases, certainly in the UK, that seems to be a missing gap to me, and maybe makes it less attractive to those students who find it easier to understand the technology when they're applying it to the real world,' he commented.
Gardasoft currently has two apprentices working towards BTECs in electronic engineering, one in production and the other in the design department. Downey said: 'I think it's great. We [the UK] seem to have lost our way for so long on apprentice schemes. The two people starting at Gardasoft have an opportunity to learn engineering skills in an applied fashion.'
The VDMA has a number of initiatives to promote engineering, including a campaign targeting young people – it involves collecting and sharing the best practice methods in recruitment and youth marketing; a recruitment platform; mentor training; and visiting schools; among other activities – and an initiative called Maschinenhaus or 'engine house', which looks at improving university teaching. 'Universities should focus more on teaching, not only on research,' Weber commented. This should lead to more and better educated engineers.'
But maybe there is already the start of a groundswell in interest in new technology in schools. 'Raspberry Pi and 3D printing are tools that anybody can pick up and play with and get a result out of,' Bhagat of Gardasoft commented, 'and they might just push things to some extent back the other way and inspire people in terms of engineering and electronics and design, just because they are easy to use.' Robotics is another area that's gaining traction in schools through the Lego education programme.
Downey commented: 'I think technology like Raspberry Pi is nearly in the category of the BBC Micro [an early microcomputer used in UK schools]. That was so exciting in its time that it made people want to try it out, and I think you need things like that to attract students and get them interested in new technology.'
Further information
Tomorrow's Engineers: 
www.tomorrowsengineers.org.uk
F1 in Schools: 
www.f1inschools.co.uk
Stemmer Imaging Foundation: 
www.wilhelm-stemmer-stiftung.de
VDMA Maschinenhaus: 
www.vdma.org/en/maschinenhaus
Lego education programme: 
https://education.lego.com/en-gb