Stemmer building on solution expertise as it turns 35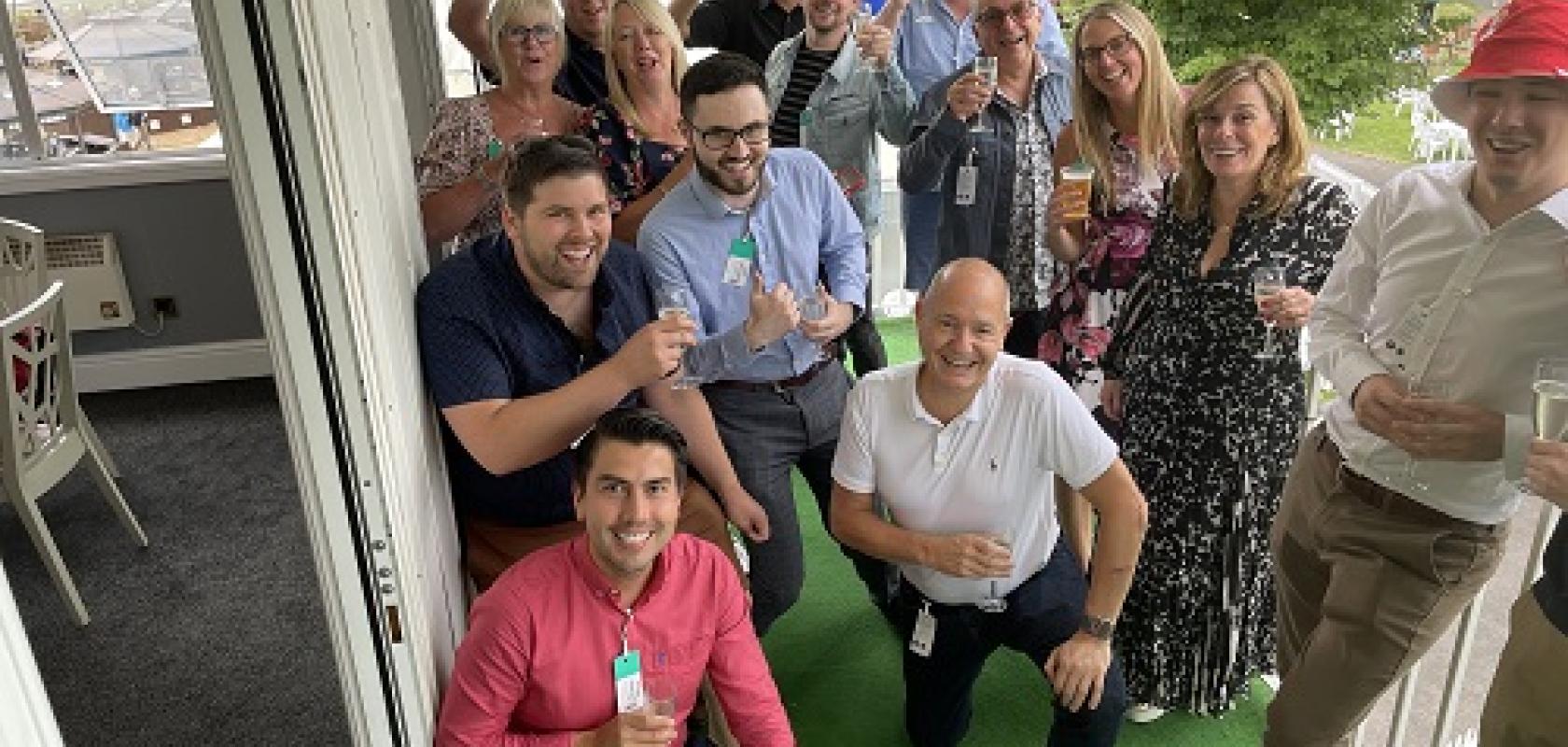 Stemmer Imaging is celebrating three anniversaries this year: it turned 35 in the summer; the origins of its UK branch is 25 years old; and its software suite, Common Vision Blox, has also reached the 25-year milestone.
All three have changed substantially since their inception, largely because they are now operating in a very different world to the one 25 or 35 years ago. Mark Williamson, managing director of Stemmer Imaging UK, said that there are now two strands to Stemmer's business: the solutions side, working with volume customers to devise a sub-system solution to a specific problem; and selling components to customers who are familiar with vision technology and know what they're looking for.
The solutions side is thanks in part to growth in markets outside of factory automation, which are becoming aware of the power of vision technology. Williamson said that factory automation is still growing, but that the faster growth from Stemmer's perspective is in other areas such as entertainment – companies, for example, setting up social gaming venues, an extension to bars and nightlife venues, and are using computer vision to track objects to create a fun, real-time interactive experience. It's these types of customer, who's core business has nothing to do with engineering, that value the services Stemmer can offer, Williamson said, such as consulting during the system design phase and manufacturing the vision sub-system for deployment. Building the sub-system can include component assembly, lens and camera set-up, along with calibration to make deployment in the venue easier.
'Selling components is very different to partnering together to create a bespoke solution to solve a specific imaging problem,' Williamson explained. 'That [creating a bespoke solution] is an engineering sale.'
Stemmer Imaging is still selling vision components into machine vision and factory automation, but here, the system integrators generally have the skills to build and configure their machines and also know the specifications of what they need in their systems. 'These integrators want us to have stock that's on the shelf and easy to deliver, and that was the original concept of Stemmer Imaging's European strategy in 2004,' explained Williamson.
The year 2004 was when Stemmer Imaging bought Firstsight Vision, the company Mark Williamson and David Hearn founded. Prior to this, Stemmer Imaging was only present in Germany, but the founder Willi Stemmer had ideas to have a central warehouse of stock – the machine vision market was still relatively small at this time, but there were thousands of potential products, too many for small regional companies to stock. The 'Stemmer Goes European' concept relied on this central warehouse and having regional offices in different European countries that could then offer next-day shipping on the widest number of products. Stemmer Imaging UK was established in 2004 as the first outside Germany, and by 2014 Stemmer Imaging had subsidiaries in 11 European countries. Expansion has continued, with more than 20 countries in Europe and Latin America covered by Stemmer's subsidiaries at the end of 2021.
The UK branch has its roots in the two companies Mark Williamson and David Hearn set up in 1997, Pinnacle Vision and Vortex Vision respectively. Willi Stemmer had a stake in Vortex Vision, and when Vortex Vision and Pinnacle Vision merged in 2001 to form Firstsight Vision, creating the largest distributor in the UK, his financial interest carried over to the new firm.
Stemmer Imaging UK after Vortex Vision and Pinnacle Vision merged in 2001. Four of the nine original employees are at Stemmer UK today. Credit: Stemmer Imaging
Stemmer Imaging was founded in 1987 from Stemmer Electronics, which originally provided data acquisition technology involving imaging and networking. Willi Stemmer eventually sold the acquisition and networking part of his business to focus on Stemmer Imaging. 'At that time the networking industry was probably like the vision industry is now,' Williamson said. 'Now networking is mainstream with different commercial drivers and a different business model.
'Networking has migrated to commodity component sales,' Williamson added, with few value-based solution providers that can create complex architectures. 'Vision isn't at that stage, as you do need technical knowhow to get the basic components to work together and hence require support,' he continued. 'Our market isn't a commodity market yet but is trending in that direction.'
Today, Stemmer Imaging employs around 330 people, with revenue in 2021 of €130.1 million. It's differentiating itself in terms of the solution side of its business by adding value for customers, with consultation, modification and component assembly, writing software modules or manufacturing sub-systems. Stemmer has always done customisations, but there is a subtle shift to focusing on projects where the vision expertise of its staff really pays dividends.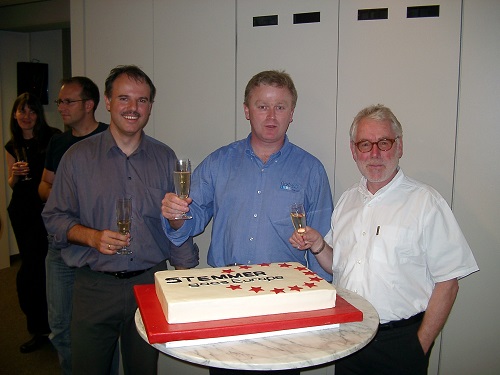 Celebration in 2004 for 'Stemmer Goes European', with (from left) Christof Zollitsch, David Hearn, and Willi Stemmer. Credit: Stemmer Imaging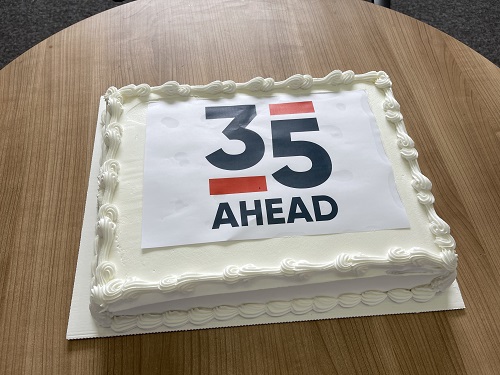 This summer's 35th anniversary celebratory cake. Credit: Stemmer Imaging
Meanwhile, the company still holds around 20,000 components in its central warehouse for shipping all over Europe. The component side of its business will continue to grow, and Williamson said Stemmer Imaging is working on a new website with a lot of functionality to help customers find the right components for their systems, and automate the transactional business to some extent.
'We're recruiting more people that have worked in more mature industries who understand the challenges, and restructuring how we do things to be more efficient enabling us to scale while delivering improved services,' Williamson said.
He said that one of the challenges facing machine vision companies is how to scale quickly. Depth of knowledge is important in the vision industry, Williamson said, adding: 'The best people are the people that have been in the industry for a while. To get good you need many years experience in the industry. This is a problem for all vision firms, as the modern trend is for young people to move jobs much more readily than they used to.'
Software building blox
Stemmer Imaging's Common Vision Blox (CVB) software suite dates from the same year Williamson started Pinnacle Vision, in 1997. At that time building a vision system required a custom cable, and each hardware manufacturer provided different APIs for different software packages. 'Vision software companies had to support lots of different hardware and hardware companies were struggling to get their boards supported by software,' recalled Williamson. The Common Vision Concept, the precursor to CVB, was originally a layer that allowed different software tools to be run with different camera and frame grabber hardware. CVB's image manager tool is still going, and is now included with every GigE Vision or USB3 Vision camera Stemmer Imaging sells.
When the first machine vision camera interface standard, Camera Link, was launched the cabling problem was simplified, but not from a software standpoint. CVB really made a difference, which led to the Stemmer's CVB developers being instrumental in establishing the GenICam standard – the generic programming interface for machine vision cameras – which is now adopted in all machine vision camera interface standards.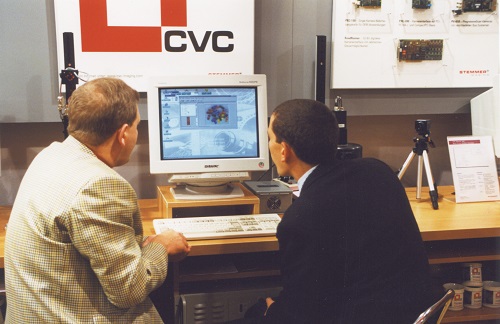 Common Vision Concept, the precursor to Common Vision Blox, being shown at the Hannover Messe in 1999. Credit: Stemmer Imaging
'We're tending to focus Common Vision Blox more on making [image] acquisition as easy as possible, while developing processing tools for specific unique use cases,' Williamson explained. As a distributor, Stemmer Imaging also sells other software such as Sherlock from Teledyne Dalsa and Halcon from MVTec in some regions – Halcon also celebrated its 25th anniversary this year. 'We recognise the need to recommend the right product for the right job to give the customer the best outcome,' Williamson said.
A bright future
Looking to the future, Williamson said machine vision cameras will continue to get faster and produce more data, requiring higher bandwidth interface standards. There's also a lot of processing inside of cameras now thanks to FPGAs and ASICS. Features such as JAI's Xscale, allow the user to define virtual pixels, making migration between sensors a lot easier. Meanwhile Allied Vision's Alvium ASIC delivers features such as 5 x 5 advanced image processing, and Dalsa's Turbo-drive allows camera data rates to exceed that of the camera interface.
'Where the [advantage of] expertise will come in is talking to new markets that are not factory automation, because they [factory automation customers] already know their technology,' he added. 'It's these new markets, where there is a steep learning curve to understand vision, where they need a consultant to say: "these are the components you need, this is the right algorithm to solve the problem", with the ability to write demonstrator software to accelerate the time-to-market.'
Williamson has a poster from Stemmer Imaging's 25th anniversary, 10 years ago, showing everyone working for the company at the time. While a significant number of staff remain the same, there have been lots of changes in the last 10 years: David Hearn sadly passed away in March 2020; Willi Stemmer sold his shares in the company to Munich-based AL-KO, now Primepulse, in 2017; and Stemmer Imaging is now listed on the Frankfurt Stock Exchange. Arne Dehn took over as CEO from Christof Zollitsch in 2019 – Stemmer's executive board is now made up of Dehn and Uwe Kemm (CEO), with a strong senior leadership team being a mix of old and new faces.
'I'm sure there will be further expansion for Stemmer Imaging at some point,' Williamson said. 'Stemmer Imaging after 35 years remains successful with the original business concept. However, it is building new initiatives, evolving its culture, and adopting modern working practices.'
In 2017, Imaging and Machine Vision Europe asked Willi Stemmer, who had recently retired, what advice he would give young vision engineers. He said: 'Come and stay in the industrial imaging business. A career in this sector is guaranteed for life. Industrial imaging has so many opportunities, because this market will find new applications. Whether you are employed or if you have the confidence to build your own business, the industrial imaging industry is a good one to choose.'