Flying the flag for vision engineering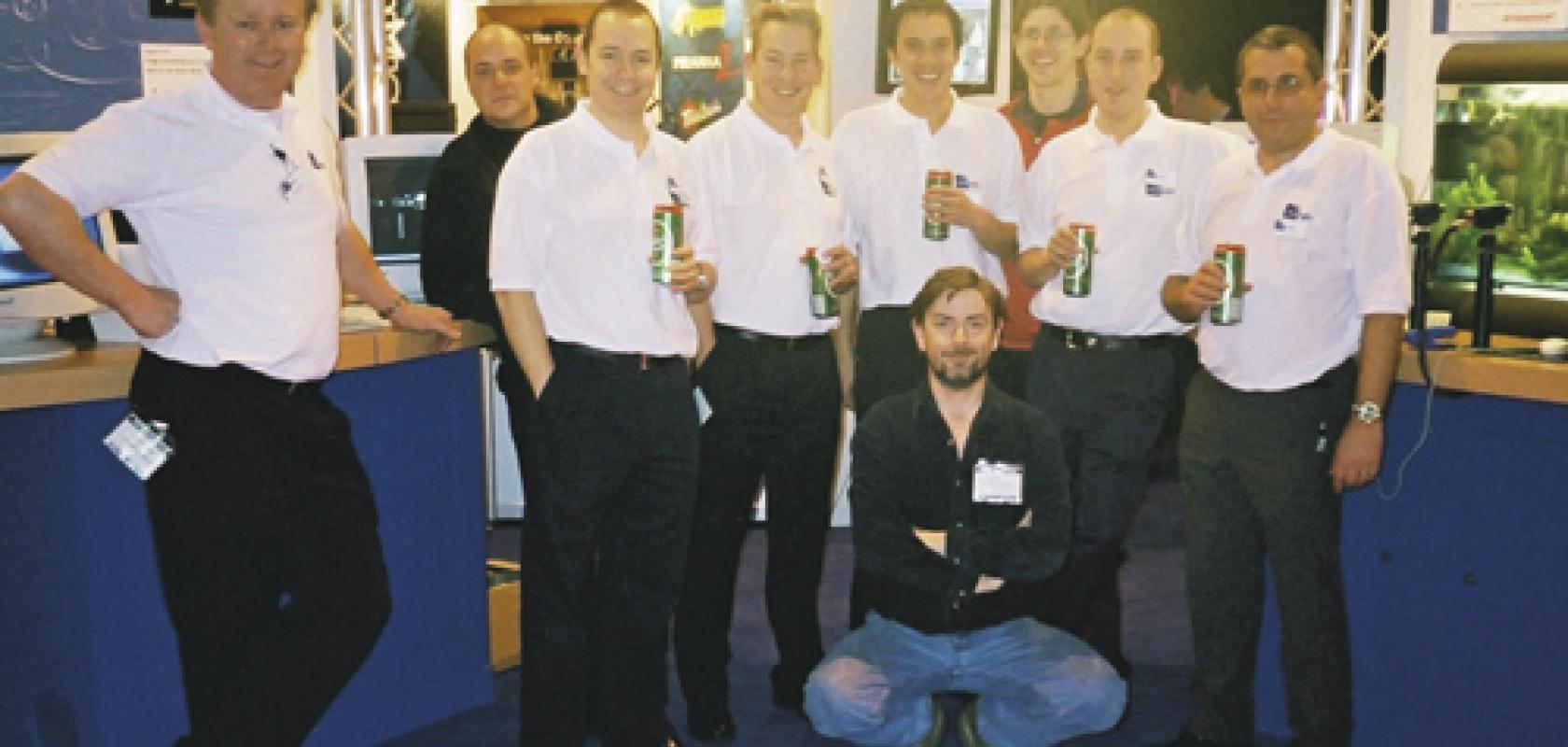 The Firstsight Vision team at UK show, IPOT, in 2002. Of the team members, six currently work for Stemmer Imaging in the UK and one for Teledyne Dalsa, one of Stemmer Imaging's suppliers
Twenty years ago, within a month of each other, Mark Williamson and David Hearn set up Pinnacle Vision and Vortex Vision respectively. Within four years they had joined forces and continue to work together to the present day within Stemmer Imaging, with Hearn as managing director of Stemmer Imaging Ltd in the UK and Williamson as director of corporate market development at group level. Although they did not officially become part of the Stemmer Imaging group until 2004, Willi Stemmer had contributed in a variety of ways in their early days. 
The early years
Hearn's first involvement with vision was working for Data Translation selling PC-based data acquisition and image processing hardware and software. He then became a director at Optimas, introducing Optimas image analysis software to the UK. Setting up Vortex Vision in 1997, his first products were from Imaging Technology and JAI.
Williamson came from a vision background at Data Cell, which had the franchise for Imaging Technology products many years before Hearn. In 1995, Williamson became general manager at Active Imaging, a subsidiary of Data Cell set up to design, manufacture and market network video systems. In 1997, the first products he offered through Pinnacle Vision were from Coreco, Sony and line scan cameras from Basler. Initially Hearn and Williamson saw each other as direct competitors, but when Coreco acquired Imaging Technology in 2000, the two were brought together and began to realise that their businesses were complementary, rather than overlapping, which led them to form Firstsight Vision in 2001. 
The Stemmer influence
Hearn first met Willi Stemmer in 1987 when working for Data Translation and Willi's company – then Stemmer Electronics – was the distributor for Data Translation products in Germany. When Hearn set up Vortex Vision, Willi Stemmer took a stake in the business and the first products that Hearn sold were very similar to those that Willi was selling in Germany, now as Stemmer Imaging. When Vortex Vision and Pinnacle Vision merged in 2001 to form Firstsight Vision, Willi Stemmer still had a financial interest in the new firm.
One of the challenges that both Firstsight Vision and Stemmer Imaging faced was that of being able to demonstrate all of the products within their portfolios to potential customers and offer rapid delivery, at a time when holding high levels of stock by a company was generally considered to be poor financial practice. Willi Stemmer, however, had other ideas. He was keen to expand into Europe and believed that having a large stockholding would provide a competitive edge, so he invested significantly in stock, much of which could be delivered the following day. In 2004, Firstsight Vision became the first company to join the Stemmer Imaging group, with a company in Switzerland following later the same year. Imasys in France joined in 2005. Initially, Firstsight Vision and Imasys continued to trade under their individual names, but at the beginning of 2009, a rationalisation saw all companies adopt the Stemmer Imaging name. Now Stemmer Imaging has offices in ten locations: Germany, UK, Ireland, France, Switzerland, the Netherlands, Denmark, Sweden, Finland and Poland. Even with Willi Stemmer's retirement in 2017, and the sale of the majority shareholding to Munich-based AL-KO, the Stemmer Imaging group continues to be managed by its long-standing management team (including UK founder Williamson), which owns nearly 25 per cent of the shares, to ensure that Willi Stemmer's legacy lives on.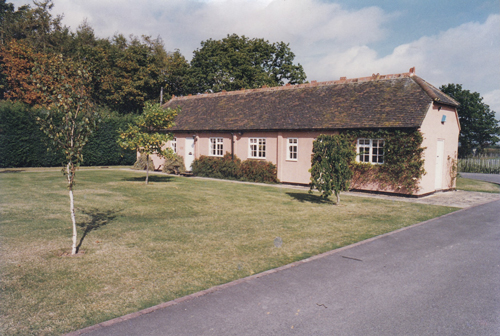 Vortex Vision's premises, which David Hearn set up in 1997
UK innovations
A number of Hearn and Williamson's innovations have been adopted throughout the Stemmer Imaging group. Williamson said: 'Back in our Firstsight Vision days we decided to produce the Machine Vision Handbook. This served two purposes. Firstly it allowed our customers to see details of the products from all of our suppliers in a common format, so that they didn't have to compare information from lots of different data sheets in different styles. Just as importantly, however, was the inclusion of several chapters of background technical information on all of the key technologies that make up a vision system. Engineers from all disciplines found this extremely useful and would keep the handbook for future reference, which meant that when they used it, there was also a good chance that they would consider buying components or systems from us. When we became part of Stemmer Imaging, the handbook was continued as the Imaging and Vision Handbook. The handbook is now also available electronically and most of the technical content is available in the Knowledge Base on Stemmer Imaging's website, but there is still a strong demand for the printed version.'
Other innovations have come from the pair. Hearn continued: 'In 2012 we celebrated the refurbishment of our premises in Tongham with an open day. The format for that included 30 seminars running over six concurrent tracks, a masterclass for our Common Vision Blox software, and an exhibition from 20 of our suppliers. So popular was this event that the format was expanded into what is now the Stemmer Imaging Vision Technology Forum, which this year has been run in five European countries including the UK.' Williamson has also been influential in the machine vision industry as a whole. For 13 years he was chairman of the UK Industrial Vision Association and currently he is chairman of the Processing and Packaging Machinery Association, and also serves on the Board of VDMA Machine Vision. 
Expansion and growth
When setting up Pinnacle Vision and Vortex Vision, Williamson and Hearn both had an entrepreneurial approach and both companies enjoyed significant growth. However, the formation of Firstsight Vision heralded a period of consolidation, yet by 2006 they were enjoying double digit growth and have continued to prosper. Williamson observed: 'We have traded through some volatile economic periods. Despite that, our sales have held up strongly, based partially on the expanding vision market and our sound financial base.'
The growth is reflected in the UK premises. The company moved into The Old Barn in Tongham in 2001 when Firstsight Vision was formed. In 2011 it expanded into the adjacent building to accommodate company growth. Then in 2016 the company acquired an additional two-storey building on the same site. This now houses a customer evaluation laboratory, a dedicated training room and a break-out area for general discussions.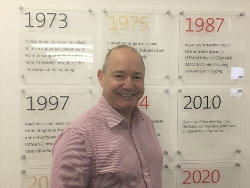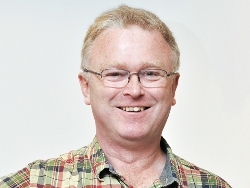 Mark Williamson (left) and David Hearn
The firm has enjoyed remarkable employee loyalty. Williamson's first employee still works at Stemmer Imaging. Hearn remarked: 'We have a number of photographs from company events through the years and a large proportion of people are either still with the company or have left and re-joined us. We strive to provide an enjoyable environment in which to work and reward our employees for company success.' 
The next 20 years?
'Neither David nor I would have predicted the rate of technological developments that have occurred over the last 20 years when we started out,' commented Williamson. 'This, in turn, has generated a robust and growing market. There is no doubt that embedded vision will be important going forward and there is great potential for vision applications as part of smart factories within Industry 4.0. We are also seeing the emergence of deep learning techniques.' Hearn agreed: 'We have enjoyed substantial growth over the last 20 years, but it is also good to see that other vision companies formed around the same time are also still around. We will continue to strive to be the best, but competition is always healthy and is a sign of an enduring market.'