The buzz at last year's Vision show in Stuttgart concerned USB3 Vision, a new machine vision standard based on USB 3.0. Greg Blackman looks at how it will fit into the connectivity landscape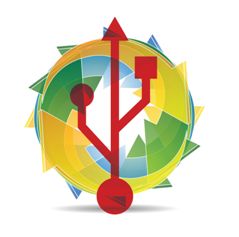 The machine vision standards landscape will have another new addition by the end of the year in the form of USB3 Vision. This comes hot on the heels of CoaXPress, a standard ratified at the beginning of 2011 and which, with the potential launch of Camera Link HS, could see three new standards released in quick succession.
The influx of official standards is largely to address the higher data rates produced by the latest generation of image sensors. CoaXPress, in particular, with its 6.25Gb/s data transfer rate, caters for these newer, higher-bandwidth cameras. Camera Link HS, when released, will compete with CoaXPress to a certain extent at the top end.
The bandwidth of USB3 Vision is also high enough for machine vision; at 350MB/s it is four times the speed of GigE Vision (100MB/s) and 10 times the speed of USB 2.0. While USB 2.0 has been part of the imaging market, the bandwidth is limited to around 30MB/s, which is the data output of a VGA camera at 30fps. This, according to Eric Gross at National Instruments, makes USB 2.0 less accessible to a large part of the machine vision market. 'USB 3.0 has a higher bandwidth, which makes it more applicable to machine vision,' states Gross, who is chairman of the USB3 Vision committee.
USB 2.0 is also very CPU intensive for certain tasks, which has been corrected in some instances by the USB 3.0 consortium to make the interface more efficient, according to Gross.
The USB3 Vision committee, made up of 19 companies, is aiming to have a rough draft of the standard ready for the US Vision show in Boston in May 2012 and release a first version at Vision in Stuttgart in November 2012. The standard will be hosted by the AIA.
The big selling point for USB3 Vision is that the interface is easily supported, with most new PCs incorporating USB 3.0 ports. It also doesn't need a separate interface card to plug in a camera. As a result, according to Mike Gibbons, director of product marketing at Point Grey, USB 3.0 is 'quite a bit less expensive than other interfaces'.
The standard is compliant with GenICam, which means it will be easy to migrate between USB3 and GigE Vision. It provides power and data over a single cable; it's fast and with the bulk mechanism the image data is guaranteed to be delivered to the PC, which is key, says Gibbons, for machine vision and inspection tasks where every image is important. Point Grey is part of the USB3 Vision committee and has been selling USB 3.0 cameras since October of 2011.
Power delivery is greater with USB 3.0 compared to USB 2.0, which also makes it more applicable to machine vision for running cameras with high-power image sensors. The entire architecture has been updated says Gibbons: 'Under USB 2.0 the host PC continually polls the camera for new image data, which is very CPU intensive. USB 3.0 no longer uses a polling mechanism and is now asynchronous, very similar to FireWire. USB 3.0 has a lot of design similarities to FireWire, which makes it more applicable to machine vision.'
There are, of course, already USB 3.0 cameras available, including those from Point Grey, Ximea, and IDS (both Point Grey and Ximea are part of the USB3 Vision committee, whereas IDS is, at the time of writing, not). USB3 Vision as an official standard will have the advantage for end-users of interoperability between vendors once it is released. 'USB 3.0 has a lot of things going for it,' states Kyle Voosen, marketing director at National Instruments. 'USB 2.0 has a lot of things going for it too, but there is no standard out there so there is no interoperability between vendors. It's very important for National Instruments that cameras are able to interoperate with different software packages and hardware. We don't want what happened with USB 2.0 where everyone had a different driver and different standards to talk to their cameras. The committee is investing a lot of time to ensure all the technical advantages and ubiquity that exists with USB 3.0 will be there in the standard, as will the advantages of GenICam.'
Bettina Hoermann, technical communications manager at IDS, argues that a machine vision standard supporting USB 3.0 isn't a necessity for customers wanting to use USB 3.0 cameras. IDS already has viable USB 3.0 cameras available that work well without the standard – the company demonstrated an eight-camera USB 3.0 system at Vision 2011 in Stuttgart. In a statement, Hoermann comments: 'Currently, we are not planning to join the USB3 Vision committee for a variety of reasons: First the benefits of the new standard are fairly vague. So far, none of the existing standards has lived up to the high expectations of the industry. Rather quite the opposite: Customers have not yet seen the so-called major benefits of these standards. What the machine vision market really needs is not another standard, but flexibility through thorough interoperability and interchangeability of interfaces.
'Second, the USB3 Vision standard is currently in its very early stages. IDS, however, already has proven very successfully that the USB 3.0 uEye CP camera series is ready for the market… In addition, we also support GenICam, which in our view has the potential to offer cross-manufacturer interoperability.'
The next FireWire
Some commentators consider USB3 Vision as being the next FireWire, in that every computer will have USB 3.0 ports. Gross of NI comments: 'The FireWire market for machine vision is going to be gone within the next five years,' he states. 'A big chunk of what FireWire was used for has been taken over by GigE Vision; some of its key advantages, such as power built into the bus, is now available with GigE Vision with Power over Ethernet. And in terms of being plug-and-play, USB3 Vision now takes that market away from it.'
Gross adds that the ease of use of USB 3.0 is going to make it simpler for customers to set up vision systems, which in turn might grow the vision market. FireWire cards weren't typically built into a PC while GigE Vision requires users to install another network card on their PC, which then needs to be configured. 'USB3 Vision brings ease of use to the machine vision industry that hasn't been there before on any standard,' he states. 'It will be easier for integrators to add machine vision whereas previously they would have needed an expert to help set up the system – the barrier to setting up a vision system is much less now.'
Voosen at NI feels that USB3 Vision will open up the low end of machine vision customers, that is, students and those trying out machine vision for the first time. In the past, he says, these customers might have used a cheap USB 2.0 camera with DirectShow. 'They're going to find that using a USB 3.0 camera that operates via an industry standard will make that first impression of vision a more positive one,' he states.
However, Voosen goes on to say that USB3 Vision won't necessarily add any new customers to the industrial vision market, as most customers would switch to USB 3.0 from FireWire, GigE Vision or Camera Link. 'The growth in the use of USB3 Vision will come at the expense of other standards,' he says.
The downside to USB 3.0, as with USB 2.0, is the cable length, which is relatively short – the official spec is 3m, although it might operate up to around 10m with special cables. This is compared to GigE Vision which is specified up to 100m cable length, as is CoaXPress.
The other advantage GigE Vision has over USB 3.0 apart from cable length is its ability to accommodate a network of multiple cameras. GigE Vision version 2.0, released in November 2011, supports precision time protocol (PTP), which allows all cameras on a network to be synchronised with each other and a time stamp to be associated with each image. It also allows the user to trigger all cameras in a network at designated time points. PTP capability therefore saves complicated cabling in a lot of applications. GigE Vision 2.0 also allows compressed jpeg images to be transferred through the cable.
USB 3.0 cameras are already available, such as the Flea3 camera from Point Grey
The next step in GigE Vision is 10 GigE, which will increase the bandwidth 10 fold to 1,000MB/s. The GigE Vision standard can inherently deliver 10 GigE. The problem at the moment, according to Mark Williamson, director of corporate market development at Stemmer Imaging, is that the 10 GigE chips are very power hungry. 'To build a camera with 10 GigE, the amount of heat dissipation just for the interface is a bit prohibitive,' he says. 'You'd have to have a large heat sink just to get the heat away from the interface. However, chips are now coming out that are a lot more efficient.'
Need for speed
At the top end, CoaXPress provides 6.25Gb/s bandwidth per lane over coaxial cabling, with up to four lanes specified in the standard. The first CoaXPress products are now being released, including those from Silicon Software, Optronis and Matrox Imaging. Camera Link HS also promises high-bandwidth data transfer, but it is still in development.
Michael Chee, product manager at Matrox Imaging, notes some of the future updates planned for CoaXPress, including integrating multilane connectors, as well as making the connectors smaller. The CoaXPress committee is looking at alternative circuits to be able to design CoaXPress products without having to exclusively rely on EqcoLogic's chip. There's also the aim to increase the bandwidth capabilities beyond the 6.25Gb/s, as well as improve the bandwidth of the uplink for camera control. Matrox Imaging is part of the CoaXPress Liaison Group. Its Radient eV-CXP, quad 6.25Gb/s frame grabber is aimed at high-bandwidth applications.
This leaves Camera Link. Version 2.0 of Camera Link includes GenICam as a control protocol, which was the main aspect missing from earlier versions, according to Williamson of Stemmer Imaging. 'We're still seeing a lot of interest in Camera Link, because it's an established standard and it's very good at what it does,' states Gross of NI.
One of its limitations is a cable length of only 10m, which is in itself dependent on the frequency of the camera's pixel clock – at 85MHz the maximum cable length is around 6m. 'For a lot of applications, cable length is not an issue; the PC can be positioned next to the camera,' states Marc Damhaut, CEO of Euresys.
For those applications, however, requiring longer cables, GigE Vision (100m) is an option, although it's slower than Camera Link (850MB/s). CoaXPress is another option, but, in the short term, Damhaut points out that the choice of CoaXPress cameras is limited and the choice of frame grabbers is even more limited. 'We've had customers telling us they may look at CoaXPress in the future and Euresys is also looking at CoaXPress for future developments, but in the short term there are applications requiring longer cables with Camera Link.'
Euresys' Grablink frame grabber series allows the use of longer Camera Link cables (at least 30 per cent longer) without using expensive repeaters. 'We have improved the electronics of the input stage of the Grablink card to better process the signal from the camera,' says Damhaut. 'This is still CL compliant – you can use standard Camera Link cameras and cabling; the frame grabbers just process the signal better at the input stage to correct the defects in the signal to support longer cables.' Euresys has designed its own chip to decode the Camera Link signals to reach a higher performance. The technology is called Extended Camera Link Cable Operation (ECCO).
'Thirty per cent increase in cable length doesn't sound a lot, but it can make a big difference,' Damhaut continues. 'We've also seen several applications that have extended the CL cable length by up to 60 per cent. Grablink boards allow 10m cables to be used to connect 85MHz cameras, something that wasn't possible with the original design of the input.'
Shifting landscape
In terms of what the standards landscape will look like in the coming years, Williamson comments: 'Four years ago there were really three standards: Camera Link for high speed, GigE Vision for the lower end, and FireWire for plug-and-play. In two or three year's time, there will be GigE Vision for the networked solutions, Camera Link HS or CoaXPress for the high end, and USB3 Vision, which will replace FireWire and take away some of the Camera Link market because of its speed. There will still be three market areas: plug-and-play with USB3 Vision, GigE Vision with networking, and the high end for CoaXPress and Camera Link HS.'
Williamson suggests Camera Link could decline in the longer-term future; he doesn't think people are going to be developing much more on Camera Link after a year or so. However, at the moment, Camera Link is still considered an important standard. Damhaut comments: 'CoaXPress is a young standard; it's a good standard and I believe there is a future for CoaXPress, but in terms of actual sales CoaXPress doesn't represent anything yet. Camera Link still represents a reasonable market share (around 30 per cent) of industrial camera equipment.'
USB3 Vision will take some of the market share from Camera Link at the lower end, but each standard has its own niche to a certain extent, Gross at NI believes. 'Applications that require close synchronisation or carry out processing in an FPGA will still benefit from using Camera Link, while applications requiring a long cable length or networking large numbers of cameras will benefit from GigE Vision,' he says. 'There isn't a USB hub available with more than six ports on it, so USB doesn't scale to those high camera-count applications as easily. All the standards have their own advantages and disadvantages.'