Stephen Mounsey takes a look at some of the new imaging connectivity protocols due for release later this year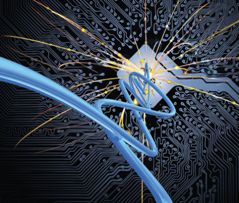 When choosing a camera for an imaging or machine vision application, customers have to balance their requirements in terms of frame rate and resolution. An application requiring a high-resolution feed may be restricted in terms of the maximum frame rate achievable, and vice versa. The capabilities of a camera are only as good as the cable that connects it – and, with several cable standards on the market today, it's never been more important for customers to understand which interconnect best suits their needs. Additionally, this year promises to be interesting in terms of connectivity, with USB3, CoaXPress, and HS Link all aiming for a 2010 release.
In the past, each camera manufacturer has tended to have a preferred interconnect. Michael Gibbons, product marketing manager at Point Grey Research, suggests that the company's recent move towards a broader range of interfaces reflects similar activities throughout the industry: 'Historically, Point Grey has been a FireWire company, but we've seen that camera companies don't really define themselves by the interfaces they offer anymore,' he says. He believes the change is driven by customer demand: 'In order to meet customer needs, we can't just be a FireWire camera company anymore; there are a lot of customer opportunities in the other areas that we just don't want to miss out on. Often the hardware design side of things is actually very straightforward, and so it's really a question of "why wouldn't we support multiple interfaces?",' he says.
'In our experience, and I think that most of our competitors would agree, there's not a single digital interface that works for all applications. Each of the interfaces really does have its strengths and its limitations. The way that we're approaching [connectivity] is to try to provide our customers with a choice of interface that will meet whatever those application requirements will be.'
Casting the net
Currently, Point Grey bases its offering around FireWire A and B, and USB2 (note that 'FireWire' is a brand name used by Apple Computer; the generic name is IEEE 1394). 'The other big focus for us is the next generation of USB; USB3, officially known as SuperSpeed USB,' he explains. USB3 is backward compatible with USB2, but the bandwidth is approximately ten times that of USB2. Additionally, the power supplied over the cable has been increased from 2.5W to 4.5W, 'which is plenty for the kind of 5 or 8 Megapixel sensors that we're seeing today.' According to Gibbon, one of the chief advantages of both USB and FireWire connectivity is the ease of networkability with computers, with USB designs in particular not requiring any specialised interface at all: 'You find USB2 ports on pretty much every single PC in the world, and similarly, we'll soon see that with USB3,' he says.
Ease of networkability is also one of the chief advantages offered by the GigE Vision standard, as well as long cable lengths and moderate bandwidth. GigE Vision offers a 1Gbit/s bandwidth over standard Gigabit Ethernet networking cables at distances of 100m (and sometimes more). While GigE Vision is versatile, it is slower than some competing technologies, but bandwidth can be increased through link aggregation. German company Allied Vision Technologies (AVT) recently demonstrated its Prosilica GX camera, which makes use of this technology. Jean-Philippe Roman, PR manager at AVT, describes the new approach to GigE: 'The camera has two Gigabit Ethernet ports instead of one. It relies on the Link Aggregation Group's standard, which is a well-established standard within the IT networking area where they use Gigabit Ethernet. The principle allows several connections to be used in parallel, and the total bandwidth is multiplied accordingly. We felt that this would be a good solution to increase bandwidth and frame rate. The only thing you need on the PC side is an Ethernet card that supports link aggregation, which is easily available, because it is already an IT standard. The PC and the software will not recognise that there are two ports – it simulates one port out of two, with double the bandwidth.' Through this link aggregation approach, Roman claims that the GX cameras are able to offer 2Gbit/s, equating to 240MB/s data transfer when properly optimised. 'It's not really a new interface as such, but it offers twice as much bandwidth [as standard GigE Vision cameras].'
Axial developments
The companies behind CoaXPress, a protocol standard under development by a handful of European companies in the imaging industry, hopes to offer customers an entirely new option when selecting a camera. The protocol is designed to work with low-cost coaxial cables, of the same type used in analogue cameras. Bandwidth achievable through the standard is expected to be comparable to Camera Link, while offering reduced cost, power over the cable, and cable lengths out to 50m or more. Around three years ago, Belgian chip manufacturer EqcoLogic and Netherlands-based camera manufacturer Adimec began to look at a new generation of high speed transmission methodologies, funded by a European Eureka grant. Active Silicon, a UK-based developer of imaging electronics, became involved in the standard approximately one year ago. Readers of Imaging and Machine Vision Europe may recall the magazine's sponsorship of the 2009 Vision award, which went to the CoaXPress consortium in recognition of its work on the new standard.
Colin Pearce, managing director of Active Silicon, describes the role of CoaXPress in relation to existing technologies: 'There's a general trend in the market towards high-speed serial interfaces; we've seen it at home in our broadband internet, which used to be a telephone line with a dial-up modem. The technology is related to that same trend towards high-speed serial we've seen in IT as well. The real drive that we've seen in the vision industry is that Camera Link is not very fast by today's standards,' says Pearce, adding that '10 Tap,' the latest implementation of Camera Link, has pushed the technology as far as it can go. 10 Tap Camera Link uses extra wires to squeeze an extra 25 per cent speed performance out of the interface. 'That showed the demand for getting extra performance out of existing technology, but the reality was that it was at its limit,' says Pearce, adding that cable length is another significant limit for Camera Link systems: 'You can only get six or seven metres reliably,' he says. 'When you get to 10m you start to get errors.'
Machiel Raaijmakers, marketing and communications manager at Adimec, adds that in addition to allowing cameras to work at greater distances than Camera Link, coaxial cables are also cheap and easy to work with: 'There are hundreds of types of coaxial cables; you have very thin, flexible cables, clean-room cables, mil-spec cables, and so many other sources of coaxial cables,' he says. 'Coaxial cables can also be used with slip-rings, for a moving or a turreted camera for example. We said [when we began development] that the physical layer we want to use is coaxial cable. Of course, originally people used to use coaxial cables with analogue signals, but the transfer to digital coaxial has been moving for quite some time now.' Coaxial cable is used in analogue video applications, because of the benefits of its self-shielding characteristics. 'That's the point,' says Raaijmakers. 'A lot of our customers are already using coaxial cables [for analogue signals], and that is a big step forwards.' In the past, he says, coaxial was not well-suited to transmitting digital data, because the signal deteriorates over the distances required. 'That's where the EqcoLogic chips came in; they have an automatic equalisation, which finds out how the signal is attenuated, and automatically corrects for this, even in a long cable.'
A camera produced by Adimec, which will use the new CoaXPress connection standard, offering high bandwidth over long distances.
In practice, the cable lengths used in a CoaXPress system depend on the speed at which it is run. 'It can run between 1.25Gbit/s and 6.25Gbit/s,' says Raaijmakers. 'Using a standard RT59 cable, the standard low-cost coaxial cable, users could go out to 70m at 1.25Gbit/s, but if you chose a slightly better cable, you could go to 50m at the high speed or out to over 100m at the lower speeds. This is already five-times the speed of Camera Link, and it's only one cable.'
Pearce explains that, in order for the CoaXPress technology to be adopted, it needs to become an open standard overseen by a professional body. 'We spoke to the AIA, the EMVA and the Japanese Industrial Imaging Association (JIAA). In Japan, 60 per cent of machine vision cameras run over analogue cables, and so JIAA saw CoaXPress as a great upgrade path to digital,' he says. JIAA hopes to publish the CoaXPress standard by this year's Vision Show in Stuttgart. When the interface does hit the marketplace, Adimec's Raaijmakers adds that it's important for the standard to be free to use: 'People don't like standards for which they have to pay a licence fee. It's important to realise that the CoaXPress standard is written so that people can use whatever hardware they want,' he said. The companies involved in the development would, however, hope to make a return on their investment by way of a head start with the technologies involved.
Pearce anticipates that CoaXPress will be well received: 'It's almost too good to be true; when we first show people, they don't always believe it. We show them a single thin cable, 50m long, and not only is it getting high-speed video data back, but you can also send communication back the other way to the camera, and also the power is delivered over the cable. It's scalable too; if you put four of these together, you're up to 25Gbit/s.' Pearce believes that the consortium sees the CoaXPress taking over GigE markets, with many GigE manufacturers already interested in the technology.
Still a place for GigE
Despite the excitement over new technologies, Mark Williamson of Stemmer Imaging warns that one should not underestimate the importance of GigE Vision, despite the wide range of interconnects available. 'We've just installed one of the biggest GigE Vision systems in the world, with 250 cameras, in such a way that any PC at the establishment can monitor any camera in the system.' In systems of this size, with intermediate imaging and control servers between the user and the cameras, Williamson says that GigE Vision has become a truly networked video technology. As well as GigE Vision, Stemmer offers the Camera Link cameras produced by Germany-based Dalsa. He explains the need of the company to come up with a successor to Camera Link: 'CoaXPress wouldn't have been suitable for what Dalsa wanted; they were looking at producing cameras running at 1.6GB/s, which is two, or two and a half times the speed of Camera Link, and they wanted it to be capable of speeds of 3.2GB/s,' he says. The company has developed its HS Link interconnect protocol as a direct successor to Camera Link, using Gigabit Ethernet-type cables. Williamson says that the standard is not capable of the same cable lengths as CoaXPress or GigE Vision, but it does have a very low timing jitter: 'The jitter on CoaXPress is in the low microseconds, whereas HS Link's is in the nanoseconds. It's at least 100 times better. This is important in line scan systems, where it allows customers to go to higher speeds. Most of the fastest cameras on the market are, in fact, line scan cameras,' he says, adding that this is in part driven by the market for flat panel displays, and the need to inspect them during production.
Technologies such as GigE Vision, Camera Link, USB2, and FireWire are already established, and camera companies no longer differentiate themselves by the interfaces they offer, instead opting, according to Pearce, for a 'horses for courses' approach. When it comes to developing the next generation of interconnect, however, each manufacturer is backing a single technology. It remains to be seen if there'll be room on the podium for all.