As Stemmer Imaging reaches another milestone, Warren Clark discovers how the company has evolved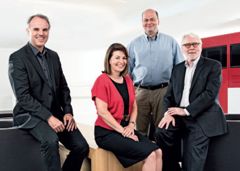 Stemmer Imaging is celebrating 25 years in business in 2012, but Willi Stemmer had started a company using his name as early as 1973, originally focused on data acquisition. By 1975, imaging was becoming a part of this process of 'data acquisition'.
Mark Williamson, director of corporate development, says: 'Any imaging that did occur at that time involved huge mainframe computers and was more for experiments and research, rather than machine vision. In fact, the first imaging system we ever sold was recently returned to us by the original customer, and we now have it on display in our headquarters in Germany.'
By 1982, the PC was emerging as a viable technology, so Stemmer began selling frame grabbers that plugged into these PCs, thus enabling image acquisition to take place. By 1987, Willi Stemmer recognised that imaging had sufficient potential to warrant the creation of a new company with its own specialised focus – and so Stemmer Imaging was born. The old Stemmer company was later sold off, and in fact still exists as part of BT, and carries out high-end networking.
In its early days, Stemmer Imaging was a German 'value-added' distributor of imaging technology within Germany alone. 'Willi realised that there were several different interfaces and suppliers,' says Williamson, 'and it was very difficult to support the different software that they all needed. So, in 1997, Stemmer Imaging launched Common Vision Blox. It was originally called Common Vision Concept, and was a driver layer that customers could develop with one software interface, but take advantage of many different manufacturers' hardware.'
The distribution network beyond Germany began to emerge in 1998, initially just for the Common Vision Blox product. Meanwhile in the UK, two other vision companies were founded: David Hearn launched Vortex Vision, while Williamson himself started Pinnacle Vision. Both individuals had encountered Willi Stemmer previously, and indeed Willi had made a small investment in Vortex at its inception.
In 2001, Coreco acquired Imaging Technology – the former's products were being distributed by Pinnacle, the latter's by Vortex. Hearn and Williamson decided that rather than compete for the business of the newly merged company, they themselves would join forces. As a result, Firstsight Vision was born.
Willi Stemmer had long been thinking about expanding beyond Germany, and in 2003 approached Firstsight Vision with a view to taking a controlling stake in the company. The deal was completed in 2004, followed very quickly by the acquisition of a controlling stake in Imasys in France, thereby creating the Stemmer Imaging Group. A Swiss office followed soon after with the integration of OmniRay.
'The big drive for the creation of the group,' says Williamson, 'was that there are so many variations of products in our industry that it is almost impossible for a relatively small turnover company to hold all the relevant stock at any one time. By centralising the purchasing and the stock for all four companies, we were able to hold a much wider range of stock, which was available to deliver next day across Europe. It helped us become more efficient and deliver a higher level of service to our customers.'
Stemmer Imaging has expanded significantly since 2004, having grown from one building in Puchheim to three buildings in 2011. One building is dedicated entirely to logistics, while another now houses the European Imaging Academy, Stemmer's own training facility. This runs a range of free product training workshops, as well as paid-for independent training.
'The academy is proving really popular,' says Williamson. 'At a recent open day for our UK office, our free Academy Taster sessions were booked out. There are very few places throughout Europe that offer independent training in this way.'
The expansion of Stemmer Imaging across Europe continues apace, and at the beginning of October, it acquired a controlling stake in Iris Vision in the Netherlands, effectively setting up Stemmer Imaging BV for the Benelux market.
'There are huge benefits to becoming part of a larger organisation such as Stemmer,' says Williamson. 'You no longer have to worry about the things that smaller companies have to worry about. So I suspect we'll see more companies in other countries becoming part of Stemmer in the future.'
Stemmer Imaging employs 180 people across its offices, more than 70 per cent of whom are engineers. The company has grown at an average of 15 per cent every year since 1987. 'We have good cash reserves, no bank debt and remain privately owned,' says Williamson. 'Willi remains a key shareholder, but has now put in a management team to drive the company forward, led by Christof Zollitsch as managing director.'
Stemmer Imaging has moved on from being a distributor to being, in its own words, an 'independent technology provider. 'We're not a distributor in the classic sense,' says Williamson. 'People see distributors as those that buy stock, stick it on the shelf, and then ship it out the door when someone wants it. Most of the time, we consult with the customer when they're defining their vision system, and we'll put together a portfolio of suitable components and test them. In some circumstances, we'll integrate those components and pre-test the set-up before we send it to the customer.'
The company groups its products into seven main categories: lighting, lenses, cameras, cabling, interfaces, software, and systems/PCs. 'Most customers are buying a combination of those technologies every time,' says Williamson. 'And often we'll test those combinations together before the customer sees them.'
While Stemmer Imaging stops short of going onto the factory floor and installing systems themselves, it works closely with OEMs, systems integrators and, in some cases, end users. 'The level of knowledge among end users is rising all the time,' says Williamson. 'Improvements in usability of smart cameras, and the configurability available via software, means that end users are coming on our training courses and learning how to do their own integration – albeit at the simplest application level. At the high end, system integrators are going further up the scale and building more and more complex and capable systems.'
Williamson's own role is to ensure Stemmer Imaging can take advantage of new markets as they emerge. 'Where we see there isn't a product,' he says, 'we will instigate the process of developing one. Our broad portfolio ensures that we cover all interfaces and all sensor types, because each one has unique capabilities that make it better suited to one application over another.'
Formed in 1987 by Willi Stemmer
Turnover of €55.3 million for 2011/2012 financial year
As of 1 October, acquired Iris Vision, now Stemmer Imaging B.V., to serve Benelux region
Sites in Germany, the UK, France, Switzerland and now Benelux
Employs 180 people, more than 70 per cent of whom are engineers
Produces the imaging software library, Common Vision Blox