Chipping away at the semiconductor crisis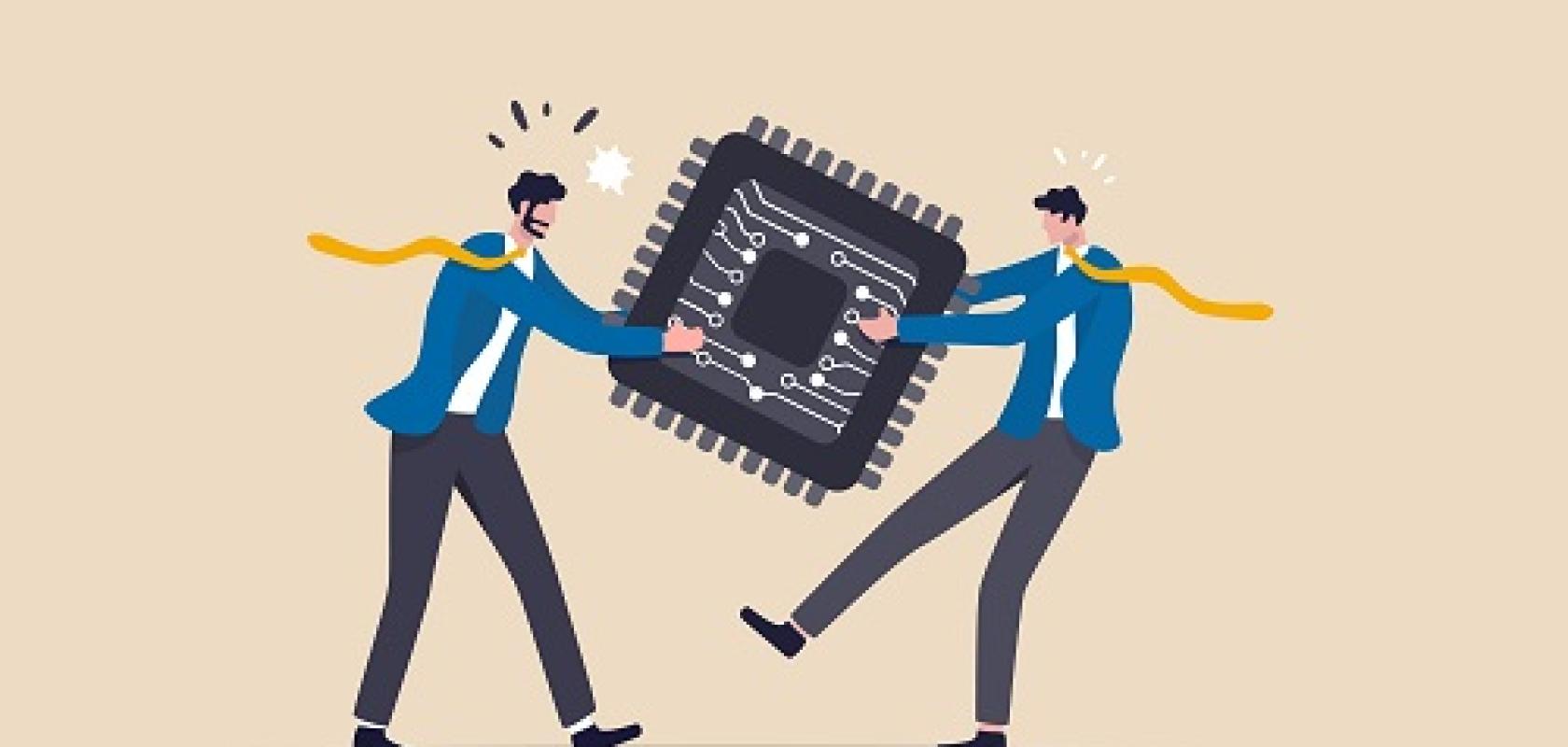 When US car makers like Ford and GM are making moves to bring computer chip production in-house, you know the semiconductor crisis is much more than a temporary blip.
Covid-19 hit during a natural downturn in semiconductor demand. As worldwide lockdowns and virus outbreaks halted global production and supply throughout 2020, demand rebounded dramatically thanks in large part to people craving electronic entertainment and devices to help them work from home.
Then, 2021 saw a host of extreme weather events and accidents affecting chip-making hubs in Japan, Taiwan and the US. Next, the Ukraine war began, placing further strains on the industry, given both Ukraine and Russia's importance as trade routes and their role in supplying key substances in chip production – neon gas and palladium, respectively.
When you add shortages in other key materials like silicon and rare earths, continuing disruptions to global supply chains, and the effects of the ongoing geopolitical conflict between the US and China, it is clear that the semiconductor crisis will be with us for a long time to come.
Bullwhip effect
The mechanical manufacturing industry, including the industrial vision sector, has been hit hard by this worldwide imbroglio. Surveys conducted by VDMA – the mechanical engineering industry association, representing more than 3,400 German and European companies from the mechanical engineering sector – have found that almost all companies have suffered from the chip shortage.
'The current situation is partly explained by the bullwhip effect as a result of the pandemic: the surprisingly sharp and rapid recovery of demand in some parts after the global slump, especially first in China, and later in the EU, and the general aim to bring supply chains back into operation and build up stocks,' said VDMA's Sandra Engle.
The bullwhip effect is where each party in the supply chain gradually escalates an initially small spike in demand by adding additional products to their orders to act as a buffer. When – as has happened – the spike is larger and everyone in the supply chain does this, inaccurate forecasting, stock hoarding and out-of-stock products follow.
Speaking on the vision hardware company's blog, Phytec head of development, Marcus Lickes, delved into the consequences of this for semiconductor manufacturers: 'It starts with raw materials, goes to wafers, and ends with manufacturing and test capacity,' he said. 'So even if semiconductor manufacturers get the base material, they have to find free manufacturing capacity. Manufacturers with their own fabs are better off, but even their fabs are completely overloaded. This explains why there are hardly any components that can really be procured without problems.'
Even now, over two years since the pandemic began, VDMA reports that around 35 per cent of companies are still experiencing serious impairments in their supply chains, and 54 per cent see serious bottlenecks in electrical and electronic components. 'Not surprisingly, supply shortages are impacting the price structure of purchased inputs,' added Engle. 'VDMA expects no short-term relief due to long lead times for pre-materials and complex processes in semiconductor manufacturing.'
FPGAs and CMOS components
For companies working at the coalface, this situation has been a logistical nightmare. The most challenging aspect of this nightmare for many industrial vision companies has been sourcing field programmable gate arrays (FPGAs), according to Zebra Technologies' vice president and general manager for machine vision, Donato Montanari. FPGAs are processors used in embedded systems that power high-performance, compact, industrial vision cameras. As the technology has been refined, they have been gaining favour as an image processor for industrial vision cameras in recent years.
'The fact that both the largest FPGA suppliers had been acquired [Xilinx by AMD and Altera by Intel] and are still going through integration is yet another difficulty to add to this perfect storm,' Montanari said. 'The availability of FPGAs, which translates into real new capacity coming online, is not going to happen until halfway through 2023.'
Another critical component in industrial vision cameras is the CMOS image sensor. One of the lead providers is Sony – the same Sony that serves tens of millions of iPhones. For very specialised industrial-only components, the machine vision industry does get priority and shortage of those components is relatively manageable, said Montanari. The problem is where there is overlap with consumer products like these CMOS sensors. 'That's where it gets really, really tough.'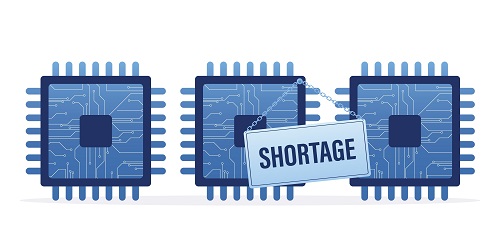 Credit: naum/shutterstock.com
Zebra Technologies has weathered the storm well. Designed for manufacturing and warehouse management applications, its VS-series smart cameras and FS-series industrial scanners were only introduced a year ago. 'We made a very conscious decision that instead of an FPGA for our fixed industrial scanners and machine vision solutions we were going to use very advanced microcontrollers with a GPU on-chip,' explained Montanari. Quite apart from the technological advantages in terms of deep learning and artificial intelligence this setup has offered, it has also rather fortuitously meant Zebra has not had to compete with its peers for components.
'We are not fighting for the usual Xilinx FPGAs because our microcontrollers are actually built by NXP,' added Montanari. 'Demand has been through the roof and I think it's a combination of our products being new and innovative, and the fact that our competitors are not able to supply.'
Another factor in Zebra's recent success has been the shrewd acquisition of Montreal-based smart camera manufacturer Matrox Imaging. With the two companies' product ranges sharing similar components from the same providers, and a mutual customer base containing top Fortune 100 companies, Zebra now has a lot more leverage to negotiate with semiconductor suppliers.
Other leaders in the machine vision space have been able to weather the semiconductor crisis well too, also in part because of their purchasing power. Basler, Stemmer Imaging and Cognex all posted strong revenue results for 2021, with Basler and Stemmer's sales up by 26 per cent on 2020, and Cognex's revenues exceeding a billion dollars for the first time; though Cognex shares fell by almost 14 per cent in May as a result of slowing growth. Basler and others have warned that challenges in procuring semiconductor components are expected to remain the limiting factor for growth in 2022, and possibly beyond.
Shifting mindsets
How are others in the machine vision space without the reach and resources of Zebra and its ilk coping? A key difficulty has been focusing efforts on R&D for new products. 'Many companies hardly find the time to deal with new developments,' explained Lickes on the Phytec blog. 'The effort required for rescheduling, design adjustments, and procurement is simply too great in this crisis.'
Though they have released two new products this year, German machine vision pioneer Matrix Vision is one of the only companies to have openly talked about having to redesign some of its products to overcome component shortages. In a statement, the company announced: 'We have initiated a redesign based on alternative components with reliable availability as quickly as possible in order to ensure delivery capability.' Affected products are the GigE camera series MvBlueCougar-X and MvBlueFox3 series, though they retain the same product designations and mechanical properties as their original versions.
For most others though, product redesigns are not a viable option. They need specific components but find themselves at the end of a long queue. This is where distributors have been playing a critical role. 'The role of the distributor shouldn't be underestimated,' said Allan Anderson, managing director of UK-based Clearview Imaging, a machine vision component supplier. 'There's a myth, especially in Europe, that the only cameras that are available quickly are from Chinese manufacturers, but I think that does a disservice to well-run distributors who are making sure they have stuff on shelves.'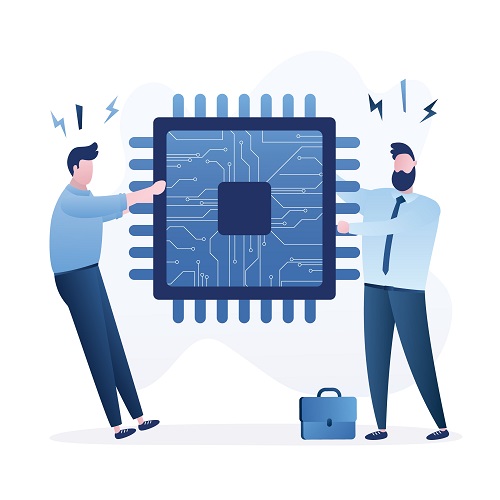 Credit: naum/shutterstock.com
However, despite the best efforts of distributors, there is no getting away from the fact that shortages remain and will continue to remain a bottleneck to supplying machine vision products. As a result, all parts of the industry have had to shift their mindsets and expectations just to keep afloat.
'Just-in-time manufacturing and the mentality around that pre-Covid meant that people expected that a distributor or manufacturer had any sort of quantity available instantly, or within a week,' said Anderson. 'No one knows if we will ever go back to that just-in-time scenario.' He went on to explain that the meaning of a long lead time has changed, from six to eight weeks pre-pandemic, to up to 12 months today. And this has been a hard pill to swallow for many. 'It's tough for a lot of customers,' he said. 'They find it very difficult to understand, at a macro level, how and why this is happening.'
For him, the key is planning and flexibility: 'I think the best customers are willing to work in an agile way.' The same applies to his own company, Clearview Imaging. Over the past two years, Clearview has optimised its forecasting and stocking formula and model, so that they always have stock parts.
'We've always talked about being experts in machine vision, but we now have to realise that we really need to push the boundaries of being experts in operations,' he added. 'This is about improving your processes, whether that means forecasting or purchasing or whatever – that's the challenge for any company working through this.'
Montanari feels the most important elements of riding out this storm, at least for Zebra, have been communication and transparency across the supply chain. 'There has to be real transparent communication across the whole ecosystem, where people are very realistic in expressing their demands, and suppliers even more realistic in communicating their abilities to supply.'
In his Phytec blog interview, Lickes also emphasised transparency and communication. He stated that the company's crisis task force identified five key areas to keep the wheels turning: close supplier relationships; intensive customer contact; flexible product designs and parts lists; transparent pricing policy; and consistent focus on the latest component generations.
But regardless of the approach to weathering the crisis, size of the company or position in the supply chain, all parties can agree on one thing – the semiconductor crisis has and will continue to be the ultimate stress test of their business.