The charge for battery business
David Stuart asks where the opportunities lie for vision firms selling into electric vehicle battery production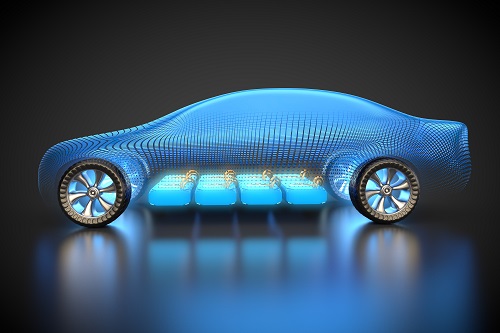 Image: shutterstock.com/PP77LSK
The move to plug-in electric vehicles (EVs) is gathering pace as governments and individuals recognise the importance of clean air for both people and the planet. While Europe leads the world for market penetration of EVs, it is China that dominates the market for EV battery production with more than 70 per cent of the world's current manufacturing capacity. Fredrik Fager, business development director for Sick Asia-Pacific, and leader of the machine vision teams in China, based in Shanghai, spoke to Imaging and Machine Vision Europe about some of the opportunities and challenges for machine vision in EV battery production in China, and its implications for Europe and the rest of the world.
The rapidly growing market for EV batteries brings with it a lot of opportunities for machine vision in battery production. As Fager explained, there are not only machine vision opportunities throughout the battery production process, but also onwards through the lifecycle of batteries.
EV batteries consist of cells, which are put into modules, which are then put into battery packs, and finally these packs are put into cars and vehicles. But that doesn't have to be the end of the process for machine vision for EV batteries. In China there are battery swap stations, where a battery can be swapped rather than charged up.
'There's a tremendous amount of vision applications from battery cells up to the bigger battery packs,' Fager said. These range from inspecting the process of filling battery cells with electrolytes and checking for defects like pinholes, to looking for foreign objects on battery packs. Fager said that the biggest potential for using automated inspection is in battery cells, then modules, and then packs, but that there are now more opportunities appearing in module and pack inspection.
'It's currently very dynamic and companies are competing to gain early market share,' he said. 'Since the industry is still developing, there is room for improvement in many of the inspection steps, which creates many opportunities. The end users have very similar approaches and technologies, but manufacturing processes differ slightly, and what the end-users or OEMs choose to automate and how they do it also varies. This is converging more and more to some sort of best practice, but new applications and iterative improvement opportunities keep coming up.'
He added: 'In a few years, when EVs are more common on public roads, automatic battery recycling will surely bring another set of challenges that need to be solved with machine vision.'
It's not just technological challenges that must be faced in China, it's also a very competitive market. China has a lot of machine vision companies, many of which have their own software and camera brands. However, as Fager explained, as EV batteries are an evolving market, there's not market dominance yet by any large players, and smaller agile companies are able to make inroads. This is something which isn't always possible with more mature markets.
'If you look at the companies that have been dominating the machine vision space in the past, they have had a quite nice position in, for instance, the electronics or automotive industry for a long time,' he said. 'They have benefitted from good brand recognition and existing supplier agreements.' He went on to explain that even though a smaller firm might have the best technology and can solve an application better than anyone else, just as fast, and for the same price, it still doesn't necessarily win projects, because other companies are so well established in these industries.
The EV battery industry is relatively new and therefore different. 'It is a great opportunity,' he continued, 'but you have to be quick on your feet, you have to be willing to pivot if necessary, and that's quite a big challenge for many companies. But if you come from a solid technical base, and you have been selling machine vision for some time, then I think it can suit you very well.'
He said that battery inspection is a good fit for Sick, because it has a lot of experience and has invested a lot into machine vision. 'We can win [business] to a much greater extent [in battery production], because the big battery companies don't really have a preference [in vision supplier] yet,' he noted. 'Supplier agreements are still not set in stone between the most established vision companies and the big battery manufacturers, so others have a fairer chance of winning.'
The area where Sick feels it is most competitive is with 3D sensors, according to Fager. '2D is extremely competitive in China, so to enter there when there are so many companies that can do everything for a very low price is quite challenging. Currently, we focus more on 3D machine vision, since this is where we believe we are most competitive thanks to market-leading products. But, of course, we also see a lot of opportunities in the 2D vision space and we do not limit ourselves to 3D.'
Fager said that many of the 3D sensors Sick has released during the past two years in China has been a direct result of the demand in the EV battery industry. 'Thanks to our Ranger3-based sensor technology, local competence and a streamlined development approach, we are often able to provide integrated 3D camera prototypes within one month,' he said. 'This has helped our customers meet their harsh deadlines, while at the same time ensuring peak performance in terms of inspection speed - throughput - and data quality.'
Sick has also developed a number of software packages through its EzR and Sick AppSpace image processing software that target the EV battery sector. Fager said that more than two thirds of Sick's Chinese customers use the firm's image processing software, and that in 2022 more emphasis will be placed on developing these platforms further, especially around deep learning.
As Fager explained, when it comes to software the big focus is on ease-of-use; without ease-of-use it's difficult to win business in China, because everything is moving so fast and the buying cycle is so short. He said it's a race between the big battery producers to be number one, and it's such a lucrative area that they want to automate as quickly as possible.
As the market for EV batteries continues to expand, battery factories are inevitably being planned all over the world, but as Fager notes, without the whole ecosystem and competence that is already established in China, it is going to be difficult for some companies to compete.
'When manufacturing later shifts from China to other parts of the world, local supply chains of integrators and OEMs need to be established too,' Fager said. 'Battery manufacturers are already looking towards China for this [integrator and OEM supply chains], and the competence around EV battery production has ramped up fast in the past few years. I do have some doubts about how the European battery companies can be competitive in a short time, and if vision integrators and machine builders in Europe want to remain competitive, they must adapt quickly to compete with the already experienced and fast paced Chinese. If not, then the big battery companies will favour OEMs and line builders from China. And, besides already having solutions to tackle most problems, they also do things at lower prices than we may be used to in the West.
'Of course, it's not cheap to shift big machines from China to Europe either, but the development cost in China is just so much lower, and also the supply chain has been built up for many years there,' he continued. 'Moreover, more and more Chinese machine vision companies set up branch offices abroad just to cater for the demand from the EV battery manufacturing industry. This is a real challenge that European machine vision companies need to face in the coming years. If you want to go into battery [production], you have to be prepared to take up the fight with the Chinese, and fully understand the behaviour of your competition.'
--
Out-of-the-box inspection
Sick has built a vision cell for inspecting high-voltage batteries during assembly of electric vehicles. It is designed to detect foreign objects, such as misplaced screws or washers, on an EV assembly line immediately before the battery is connected to the car body.
The cell incorporates up to eight of the firm's Ranger3 cameras with integrated lasers, to give a 3D profile of the surface of the battery using laser triangulation. Using different coloured lasers and filters, the inspection results from each separate camera can be processed together into a single output with a height resolution down to less than 1mm.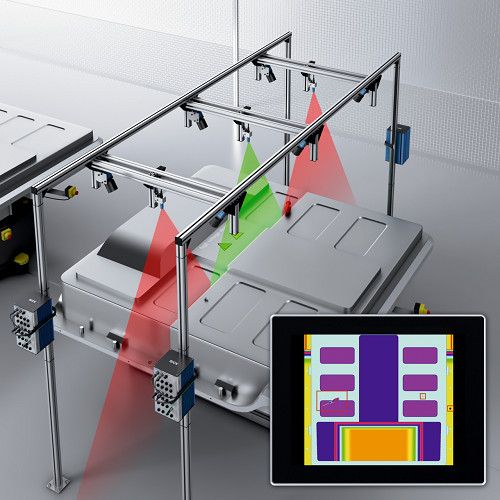 Credit: Sick
High-speed stereo system inspects battery foils
Scientists from the Austrian Institute of Technology (AIT) have developed an inspection system able to detect flaws in battery foils at production speeds of 2,000mm/s.
During trials, the AIT scientists showed that its system – based on photometric stereo surface reconstruction – can identify common defects that occur in the coating process of battery electrodes.
Battery electrodes are made by applying a slurry of electrochemically active materials, binders, conductive additives, and solvents onto a metal substrate foil. The electrical characteristics of battery cells will depend on the quality of the coating, which ideally should be fine-grained and cover the substrate area evenly.
The AIT's inspection system is comprised of four line-light sources, illuminating the substrate from four directions; a high-speed industrial camera from Mikrotron viewing the material from above; an FPGA-based trigger that synchronises the strobes with the camera acquisition; and a PC for coordinating image data acquisition and computing the foil surface representation.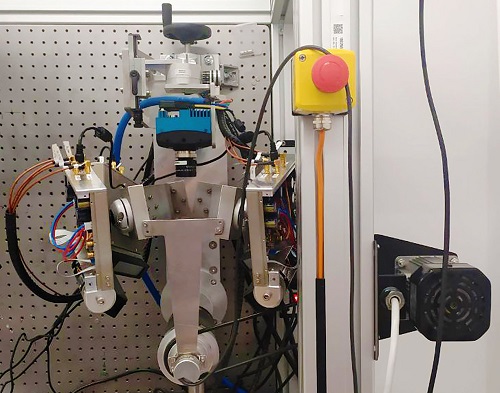 AIT's system prototype attached to a roll simulator. Credit: Austrian Institute of Technology
The FPGA-based controller developed by AIT synchronises control of lights and camera acquisition with material motion. First, the trigger hardware decimates the pulses from an optical encoder with 5µm increments to frame trigger pulses with 50µm increments, thus defining the resolution in transport direction as 50µm per pixel. Second, for each frame-trigger pulse, the controller switches on a different light while the other lights are off, and triggers an image acquisition by the camera. To be able to acquire each object point under four different illumination conditions, four rows of the camera's pixel matrix are read out per frame trigger.
The Mikrotron EoSens 4CXP area scan monochrome camera used has a 2,336 x 1,728-pixel resolution, 7µm pitch, and four-channel CXP-6 output. It was equipped with a Schneider-Kreuznach Xenoplan 2.0/28 lens with a 29.29mm focal length, and mounted with 226mm working distance for a magnification of 0.14.
The optical resolution of the camera system was 50µm per pixel, which is equal to the resolution in transport direction. Using this configuration, a field-of-view of approximately 116mm perpendicular to transport direction, and 200µm in the transport direction, was achieved.
The system was able to identify a range of defects during testing, such as missing coating, coating inhomogeneities, pinholes, agglomerations, cavities, and cracks.
While the scientists focused on electrodes for their study, the system can be repurposed for defect detection for other materials, such as steel surfaces.
Kapeller, Christian and Bodenstorfer, Ernst. "Photometric stereo-based high-speed inline battery electrode inspection" tm - Technisches Messen, vol. 88, no. 7-8, 2021, pp. 423-432.