A global player in vision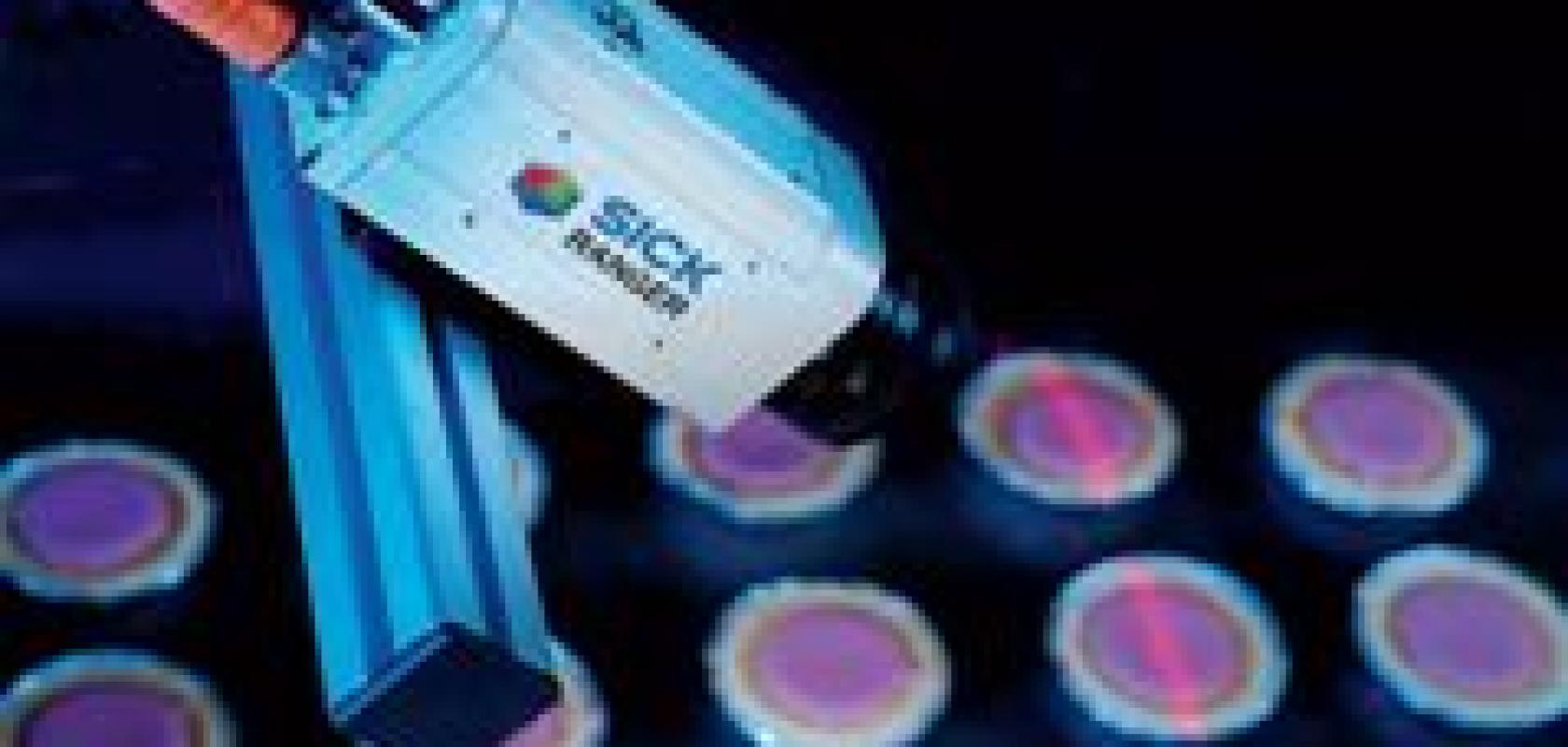 The Vision Business Unit of Sick – now an award-winner thanks to the success of the ColorRangerE at Vision 2010 in Stuttgart recently (see panel) – began life back in 1985 as IVP. The company was founded by Robert Forchheimer and Anders Ödmark, both former post-graduate researchers at Linköping University in Sweden. They had been working on image analysis R&D projects, and identified an opportunity to develop new technologies for the vision market.
Having secured grant funding from a scheme aimed at start-ups, Forchheimer and Ödmark instigated IVP, with its first project being to develop a CMOS sensor. Two years later, the research led to the launch of the company's first commercial CMOS sensor in 1987.
By 1996, IVP had begun developing its own cameras. Its first 3D machine vision product, the Ranger, was aimed at the wood industry. IVP's offices were located virtually next door to two of the largest manufacturers of wood inspection machines in Sweden, where the vision systems were used to check for the presence of knots in the wood to be used for doors, for example.
As the end of the 90s approached, the original management team were seeking to expand the company and began looking for an industrial partner. Contact was made with Sick AG, a German company operating in the factory automation industry. Sick invested in IVP by purchasing a 25 per cent stake of the company.
Mikael Bodin, manager of the vision business unit of Sick (as it is now known), says this investment in 1999 represented a significant milestone in the development of the company. 'It enabled us to put more R&D effort into our Ranger product,' he says, 'and evolve our sensor and CMOS technology at a much faster rate.'
Product development at IVP continued apace during the following few years, culminating in the launch of the M12 Imager in 2002, a new generation patented core technology that still forms the basis of Sick's cameras today.
The following year, Sick AG consolidated its original investment by completing the acquisition of IVP, creating a wholly-owned subsidiary called Sick IVP. The parent company saw opportunities to integrate IVP's comprehensive expertise in vision into its automation offerings.
Mikael Bodin, manager of the vision business unit
In 2004 Sick launched the IVC smart camera product line, with a 3D model following in 2005, signalling the company's intention to push home its expertise in advanced 3D applications. This process has, of course, continued to the present day with the launch of the ColorRangerE.
'These products are aimed at vision integrators and OEMs,' says Bodin. 'They are used as building blocks in a range of applications.'
In contrast, the launch of the Inspector vision sensor in 2008 has given Sick access to the lower end of the market. 'The Inspector offers what we call "simplified complexity" in an easy-to-use package,' says Bodin. 'It's targeted more at the end user, rather than the integrator, and is configurable rather than programmable. It has opened up a huge number of markets for us, and seen us become competitive with many of the top players in the vision industry.'
Bodin's arrival coincided with the most recent change in the evolution of the company. In 2007, the IVP branding was removed from the company and its products, and the former IVP offices became home to the newly-named Business Unit Vision within the Advanced Industrial Sensors Division of Sick. Mats Gökstorp moved up from his position as head of Sick IVP to run the Advanced Industrial Sensors Division, based at Sick's worldwide headquarters in Waldkirch, Germany.
Bodin had enjoyed a successful career in telecoms, which eventually brought him to Linköping to run a start-up in the IPTV field. When that was sold to Motorola, he was looking for a new challenge, and met Gökstorp at the time of the structural change at Sick. Given his experience at running high-tech companies, Bodin was a perfect replacement for Gökstorp and became manager of the Business Unit Vision. He now forms one third of the management team of the unit, alongside Joakim Delbom and Thomas Fuchs.
The integration into Sick AG has turned what was once IVP into a global player in vision. 'Sick has more than 5,000 employees worldwide, more than 40 offices throughout global markets, and a turnover in excess of 600m euros,' says Bodin. 'We have around 25 representatives of our business unit on the ground in these offices, giving us local contact with customers in all these territories.'
Sick has more than 5,000 employees worldwide
The majority of the workforce is still based in Linköping, where around 55 staff are focused on software development, product management and application engineering. 'The Linköping site is regarded as a competence centre for vision within Sick,' says Bodin. 'And the university here, which has around 25,000 students, provides us with a constant stream of talent.' There are a further 10 business unit staff at Sick HQ in Waldkirch, who focus more on hardware development.
Bodin says that since the full acquisition by Sick in 2003, the Business Unit Vision has increased its annual sales five-fold, and continues to innovate with new products.
Looking to the future, Bodin is confident. 'We will continue riding on the trend for vision sensors,' he says. 'And that trend is all about making vision easy to use. For high-end applications, the trend is clearly towards combining 3D, 2D and colour in multiscan products, i.e. many cameras in one. The Vision award for ColorRangerE is a confirmation of that trend.'
He also identifies three application areas where he believes Sick products have the potential: bin picking, food and beverage, and logistics. 'Bin picking is a big area for us,' he says, 'where factory automation – and particularly in the automotive industry – is using vision in association with robots to pick and place parts on the production line.
'In food and beverage, there's a wide range of applications. We have 3D systems in place that monitor the height of cookies on a production line. If the cookies get too thick, then they won't fit in the packaging at the end of the process. Our system helps prevent huge losses by identifying such problems early, and allowing operators to stop the line and tune the process. In logistics, we sell into mail distribution centres, where systems are used to decrease mis-sorts by checking the number of items in trays, and also increasing throughput.'
With ongoing product development, a global sales force and now a major industry award under its belt, Sick is set to take advantage of the renewed buoyancy in the vision industry.
Vision Award winners

At the 2010 Vision show in Stuttgart (9-11 November) Sick's multi-imaging solution ColorRangerE won the prestigious Vision Award. The ColorRangerE combines colour and 3D capabilities in one high-speed camera, therefore reducing overall solution cost and complexity by replacing the need for several different cameras for an imaging task.
Fredrik Nilsson, product manager at Sick, comments: 'There is a clear trend in the vision industry toward 3D imaging. There is also a trend toward colour imaging and we wanted to combine these two aspects in one camera.'
ColorRangerE provides simultaneous 3D and RGB colour data at more than 11kHz, with up to 3,072 pixels per channel colour data and 1,536 pixels for 3D information on the same sensor. With Sick's MultiScan technology, the camera can be configured to provide several measurements at the same time, including 3D shape, laser scatter, colour, and monochrome according to the requirements of the application. The image quality of each measurement in a MultiScan setup can be tuned individually with its own set of parameters.
'Colour and 3D imaging has, in the past, been separate entities,' Nilsson says. He adds: 'If you are using a 3D camera, based on laser triangulation, it's a small step to add a white light source for colour imaging. By the same extent, it's easy to add a laser line to get 3D data on a production conveyor using colour line scan cameras. However, these have traditionally been separate approaches.
'This system is not a revolution, but an evolution,' Nilsson continues. 'It has narrowed the gap between colour and 3D imaging techniques.'
Grading fruits and vegetables, for instance, often requires both 3D and colour information. Baked goods need to be consistent in height, shape and volume, as well as how well cooked they are, which is provided by the colour information. Other potential applications that use both 3D and colour imaging, include board grading in wood processing, quality assurance of electronic assemblies, and fill and colour verification in cosmetic and pharmaceutical production.
According to Nilsson, winning the award has given Sick the acknowledgement that its R&D efforts are focused in the right direction and it motivates the company to continue innovating in these areas. With the 5,000-euro prize money, Nilsson says the company plans to reinvest in the further development of the concept.