Caught in the heat of the moment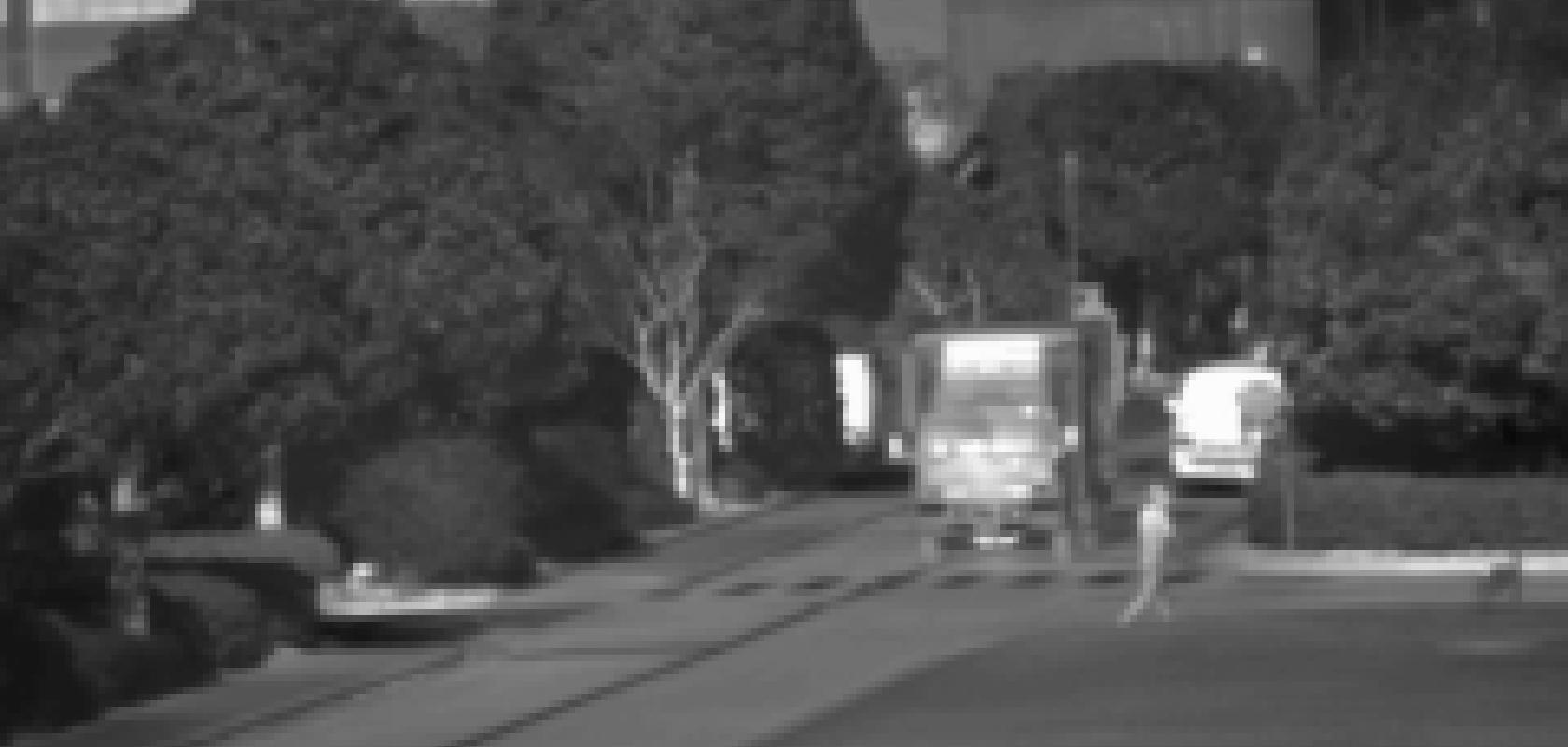 How they had managed to get through the high-security fence, no one knew. Perhaps it was an operation that had been planned for months. However they managed it, they now covered the airport, their ears pricked, with an eerie stillness about them, as if they could somehow sense the security guards watching their every move.
Luckily for travellers at Turin's airport, so far it has been only rabbits captured by the newly-acquired Flir thermal cameras, mounted at five points across the site. The cameras were actually positioned to provide a 24-hour warning system against vandals and terrorists, but even rodents could indeed threaten the safety of passengers if left undetected.
The cameras can see as far as three kilometres, allowing security to track approaching threats and take action before it is too late to stop them. Clearly the security guards have to monitor a huge area viewed over a large number of screens, so the thermal cameras work in tandem with other technologies, such as visible CCTV cameras and tripwires, to focus their attention on the potential problems.
'A fence alarm could detect vibrations and turn all the cameras to that section of the fence to give a better view,' says Alexander Thornton-Margetts, Flir's regional business development manager for UK and Ireland. 'But it could just be an animal that triggers the alarm, so the cameras are interrogated.'
With their sensitivity and resolution increasing and prices decreasing all the time, thermal cameras are proving to be a popular choice for security and surveillance. In addition to their large range (some can see as far as 30km), the cameras are perfect for situations with poor visibility, a constant problem for Turin with its susceptibility to heavy fog.
'The cameras work night and day, with the same detail all the time,' says Thornton-Margetts. 'They can inspect anything on the runway – a flock of birds, or vehicles crossing the runway – and they don't need large lighting systems that could be clipped by the wings of passing planes.'




Turin Airport has recently bought five Flir thermal cameras to help improve security.


The Sentry systems from Flir try to mimic human vision, overlaying images from two cameras, one with a large field of view and one with a narrow field of view. This provides a focused centre of the image while still providing a less detailed overview across a much wider area.
It's not just Turin Airport that has benefited from Flir's technology; Copenhagen airport has already employed its thermal cameras and Prestwick airport in Scotland plans to do so in the near future, possibly to be used with advanced processing software to detect suspicious behavioural patterns.
Instead of lining troops along their borders, Eastern European countries have also deployed Flir's longer-range cameras to detect any suspicious movement. Capable of detecting movement up to 30km away, they cover a lot of ground. 'At 30km you might not know what the object is,' Thronton-Margetts admits, 'but they provide early detection and monitoring before action is taken.'
Flir's systems are also being used to crack down on drugs crime, not just in customs, but in the earliest stages of its production. Handheld cameras, carried by police can detect unusually hot abandoned houses in cities that may be fostering the warm and humid conditions suitable for cannabis growth.
Not that thermal imaging can't be useful for customs officials; not in airports, where X-ray vision still reigns supreme, but at sea. The General Directorate of French Customs has mounted the Pharos LRN multisensors from Cedip Infrared Systems on two boats that patrol the Boulogne-sur-Mer coast to cover the English Channel and the Atlantic coastline near Brest. They are coupled with other equipment, like radar, to keep an eye on traffic in the area and automatically track suspicious targets. Once again, the ability to provide 24/7 imaging, even in bad weather, was one of the key factors in choosing IR technology for this application.
'The image is broadcast in the cockpit, and alerts the team when a boat enters an area where it shouldn't,' says Philippe Darses, managing director of Cedip Infrared Systems. 'But decisions are mostly made by the operator.'
Obviously any equipment at sea has to be very robust, so the platform is stabilised, and the head features a wash/wiper system and an internal heater to prevent ice forming on the windows. It also includes an integrated CCD camera with a powerful zoom for improved daytime viewing.
Criminals get smarter all the time, and Darses highlighted the need for technology to match whatever it comes across: 'We need to adapt, change and improve in performance. It is a very fast growing market, with promising technology.'




Cedip Infrared Systems' thermal camera tracks a suspicious vehicle


With increased threats of terrorism, it's not just borders that need high-powered surveillance; Cedip's systems were recently employed by the French Atomic Research Centre to closely watch the classified site, and only this month the US Department of Homeland Security recently stipulated stricter regulations for chemical plants, requiring each facility to assess risks and implement suitable security procedures.
US company Pure Tech Systems is in an ideal position to provide the technology underlying such precautionary measures. It is particularly important in these enormous sites (where one point may look like many others) to be able to know where an event has occurred, and Pure Tech's systems pull together a number of different sensors, including radar, microwave, visual and thermal, to exactly pinpoint its geographical position on a map.
'There are often several hundred cameras over hundreds of miles,' says Larry Bowe, the president of Pure Tech. 'It would be useless without the context of a map. It's analogous to having a GPS sensor on every vehicle, but it's hard to get the bad guys to carry these around.'
He described a multi-layered strategy involving three separate 'rings' of security, with video imaging focusing on many points in the inner and outer circles. However, these systems don't just help prevent offences occurring, they are also instrumental in the forensics afterwards. Software is used to analyse detailed footage of the site. The positioning system allows complex queries to be detailed that focus on specific geographical regions.
Thermal vision again proves to be invaluable in this kind of task, particularly if fires – one of the most dangerous incidents in a chemical factory – occur, as they can easily see through smoke which would otherwise obscure the view.
Thermal imaging, then, is very much on the increase as far as high-end security applications are concerned. Historically, the high prices of thermal solutions may have caused a delayed acceptance, but in the security market at least, it seems thermal camera-based systems are red-hot products right now.

Iris recognition for the 21st century
It seems we are one step closer to the high-tech society of Steven Spielberg's Minority Report, where omnipresent iris scanning is the norm. Over the past year, developments have been made that will allow iris recognition even of people on the move, at distances of up to 20m.
Strobe IR illumination and detection has proved to be the biggest improvement, allowing the large distances, as have changes to the software algorithms that allow localised pattern recognition.
Iris recognition works by unravelling the Iris into a band shape, and then analysing 512 samples of its texture along the whole length of the band. Previously, recognition was only possible if the person's head was held steadily in position at a very close distance. The improvements will open up applications where it would previously have been the illogical choice, despite being the most accurate biometric identification method to date.
'It is like a national ID system without the need for a physical card,' says Dr Joseph Atick, chief strategy officer at L-1 Identity Solutions. In fact, L-1's products have already been used for this purpose in Iraq and Afghanistan, with a $71m contract from the US Department of Defence.
Atick believes until organisations have a large database of irises, it will have to be used in conjunction with another biometric identification technique, facial screening, which has much more readily-available records. Facial screening itself has seen a huge improvement in accuracy recently, with the ability to study the texture of a face as well as its major features, and the ability to compensate for difficult lighting conditions.
Mother nature always knows best
It could be argued that when it comes to sensing danger, nature is the best designer, with every organism programmed to respond instantly to fight-or-flight situations. A large amount of cooperation between the individual cells of the visual system aids these rapid decisions, as does the ability to perform a large amount of processing before the image has even left the eyeball.
These two features have formed the basis for the new Cellular Multicore Video Analytics (CMVA) processor from Hungarian specialists AnaLogic Computers. 'We take a lot of our inspiration from biology,' says Gusztáv Bártfai, CEO and director of business development of AnaLogic Computers. 'A lot of pre-processing is done in parallel in the early vision system, and then as it moves higher up it becomes sequential.'
To replicate this, the CMVA processor contains multiple 'cores', or individual processors, that each perform a small amount of the image processing within the camera, formatting the image into useful information that the main higher-level processor could then analyse using complex algorithms. Security applications in particular can benefit from this, as much of the analysis, such as facial recognition, is very complicated.
The idea of parallel processing in itself is not original – within scientific computing in particular, it is difficult to escape the term – but never before has it appeared in the actual camera to take the workload off the processing software.
Stemmer Imaging has developed software using a similarly organic technique to performing such analyses. Given enough examples, the CVB Manto tool can actually learn what it is supposed to recognise; for example, people entering a forbidden zone. The software can detect outliers, so its accuracy always increases with the number of examples it's given – a distinct advantage in security applications, where trust in the software is important for a rapid reaction to an event.
Volker Gimple, a senior engineer, says that Stemmer too is trying to reduce the processing time to open up new, more complicated applications. 'We are thinking about pre-processing to make applications more suitable for CVB Manto, and looking for different ways of implementing the learning machine to give even higher recognition rates.'




Bill Clinton's face analysed by CVB Manto from Stemmer Imaging