Startup class of 2020 continues to innovate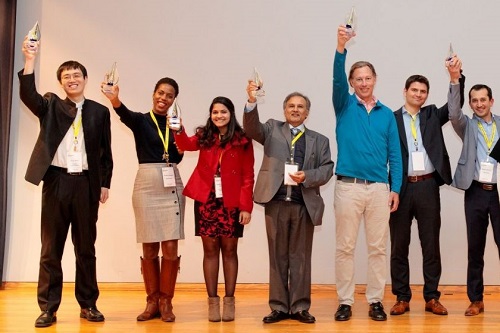 Some of Luminate's third cohort of startups. Credit: Luminate
On 14 September, 10 photonics startups from Luminate's business accelerator will present their technology during The Optical Society's virtual conference. Greg Blackman asks Luminate MD, Sujatha Ramanujan, how these young companies are coping during Covid-19
Ten optics, photonics and imaging startups are to compete for up to $2m in funding in the culmination of Luminate's business accelerator programme. The competition will take place on 14 September during The Optical Society's (OSA) Frontiers in Optics and Laser Science virtual conference, which is free to attend.
The startups are the latest cohort of firms participating in Luminate's programme in Rochester, New York. The business accelerator is a six- to nine-month scheme that provides mentoring, training, capital – Luminate places an initial investment of $100,000 in each company it accepts – and access to the optics and photonics network in Rochester so that these early-stage companies can scale their businesses.
The competition gives the 10 startups a chance to showcase their technologies, which cover quantum security, clean energy, free-space communications, agriculture, healthcare, and augmented reality.
The Optical Society's CEO, Elizabeth Rogan, commented: 'Supporting and nurturing innovative startups willing to push the envelope of discovery is vital for our scientific community,' adding that 'the partnership with Luminate is a powerful reminder of one of OSA's core values which is innovation.'
Dr Sujatha Ramanujan, managing director of Luminate NY, encourages those watching the finals to get in touch with Luminate if they have ways to partner with any of the startups.
Covid-19 has had an impact on the programme this year, as it has had on everything, although Ramanujan told Imaging and Machine Vision Europe that the response from the companies following lockdown has been really positive.
Until Covid-19 hit, the main criteria for selecting companies for the accelerator were: is the startup the correct type of business; can Luminate assist in its development; and can the team move to and work in Rochester for six months? Luminate has been running for three years and has 30 companies on its books, including its first cohort winner, Double Helix Optics, which makes phase masks for high-resolution 3D imaging, potentially for industrial inspection; Bounce Imaging, producers of a 360º camera; and Circle Optics, another 360º imaging company. Its current cohort, which will take part in the competition, includes Akknatek, a German firm that makes an optical imaging system for inspecting intraocular lenses.
When lockdowns started happening, many of the companies working with Luminate in Rochester decided to return home. Ramanujan said: 'I was worried when that happened. I thought, did we just put $100,000 into a company that just scampered off into the sunset?'
What Ramanujan found, she recalled, was that the teams were really engaged, possibly because they had more time during lockdown, but also because they wanted to get the most out of the programme.
'[Lockdown] is a difficult environment for companies to raise money and build a network,' Ramanujan said, because online meetings don't necessarily lead to the large investments needed to advance a business, or to find manufacturing partners when the lab is off limits. Luminate was able to give the companies help here, which made the programme click harder, she said.
Luminate selects 10 companies a year, places an initial investment of $100,000 in them, and works with them on a business plan, a financial model with a good customer discovery plan and execution model, as well as a marketing plan and other aspects. At the end of that period, Luminate makes an additional $1-2m worth of investment in some of the companies, announced in the competition on 14 September, although it is limited to how much follow-on work it can do. It also tries to bring in outside investors when that makes sense.
Ramanujan was also aware that Covid-19 heightened the sense of isolation – both emotionally and financially – that comes with running a startup. The programme alleviated some of this stress, she said – one of the steps Luminate took was to bring in mindfulness coaches – and also gave the teams a we're-all-in-this-together feeling. She described starting a company as like being on a raft on the ocean, and that it feels less lonely if there are a few other people on the boat paddling.
'We saw a lot of stress in CEOs and entrepreneurs; it's a hard enough job as it is,' Ramanujan said. 'One of the things we tried to do is remind people that, there's help for you, all kinds of help, it's not just business modelling, we are here for the entire health of your company, and that had a lot of value.'
Setting up American operations
Luminate is an international business accelerator, but funded through New York State with the aim to contribute to the New York State economy. It is midway through the five-year, $25m programme, and has so far invested $7m in 30 startups. These companies in the portfolio now share a net worth of $160m. In addition to providing an estimated 1.5- to 2-times return on investment, many of the companies are establishing US operations or some aspect of research and manufacturing in the Rochester region – to date, the programme has created around 50 to 60 jobs in the region.
For an early-stage company, based outside the USA, but looking to get a foothold there, joining Luminate is an excellent opportunity to gain a presence – release a product or do some manufacturing – in the American market using resources in the Rochester area.
During the pandemic, Luminate became even more important for international companies because they couldn't get on a plane. 'When you can't meet manufacturers and you're a five-person company in Norway, what are you going to do? You need feet on the ground to help you get those things,' Ramanujan said. 'So, more than ever, I found we had very good international engagement and I really think it speaks well for the photonics community as a whole that we see ourselves as a global community that can help each other.'
Ramanujan said that investment has not stopped because of the pandemic. At least two of Luminate's current cohort of companies are closing rounds at the moment. She added that Covid-19 has slowed certain sectors, but that this early-stage sector is still bubbly because it doesn't take a lot of investment to see an outcome in an early-stage company – it's riskier, but the exposure can be less than investing in a mid-tier company.
Communication is, in some ways, easier for a startup at the moment, Ramanujan said, because they don't have to travel and hope the right people will be interested in what they have to offer. That said, it's tough to close the deal, because closing virtual deals is much harder than closing something in person, she said. Investors want to invest in a person as much as anything.
The pandemic has also affected a lot of lab access, which, for hardware companies, has caused a slowdown. However, labs are now opening up again.
A diverse portfolio
Ramanujan is proud of the fact that the programme is made up of a diverse set of companies, CEOs and founders, with numerous women founders and people from different ethnic backgrounds. 'I credit that with, firstly, we have a diverse advisory board that picks the companies, so that leads to diversity in our selection process,' she said. 'I also think that we made an effort to reach out to all different branches of communities, not just the standard paths.'
She added that, from her experience, many businesses founded by women and those in minority groups apply to Luminate at a slightly earlier stage than other startups. She suggested a couple of reasons, although added that these are only her observations and not based on data. Firstly, part of the reason might be that some of the university spinouts are professorial spinouts, and there aren't as many women and minority faculty members. Universities do support new technology spinouts across the board, but maybe not the same degree of support that a faculty member might receive, Ramanujan explained, so these people are coming to Luminate at an earlier stage.
The second possible speculative reason Ramanujan gave is that, when people start a business, quite often the first tranche of money to buy equipment or get lab space comes from friends and family. For women and minority-owned businesses that network might not be as wealthy.
Applying to Luminate at slightly earlier stages is fine with Ramanujan. 'We can absolutely help at those stages,' she said.
'That might be part of the reason why we're so fortunate to have such a diverse set of companies, is that we're able to accept people at all different stages,' she continued. 'We try to tailor the programme to some extent to each company and what that company needs, what stage they are at and what they are going to accomplish.'
The class of 2021
Luminate is in the process of selecting its next cohort of startups. The ideal scenario would still be to have people participate in the programme physically in Rochester, but Luminate is also structuring it in a way to engage with companies and give them access to resources and some investment, without them having to travel to the US.
'This could be a real chance for companies that maybe wouldn't have taken part in an accelerator, but want to launch a North American operation,' Ramanujan said.
A number of Luminate's cohort one companies have gone on to raise follow-on rounds, including Bounce Imaging and Intelon Optics; one of its cohort three companies has just secured $1.5m seed round funding. Growth is steady, Ramanujan said, because its hardware, but the programme hasn't lost anyone yet – it still has 30 companies on its portfolio – which, she added, is extremely unusual for a startup environment. This might be down to the nature of photonics. 'Photonics is a solid, steady growth industry that's an integral part of engineering,' Ramanujan concluded.
–
The 2020 finals
Startups pitching at the event on 14 September include: AkknaTek of Kaiserslautern, Germany; ExPrimary of Rockville, Maryland; Haqean of Bangalore, India; Kilo Medical Solutions of Richmond, Virginia; Nordetect of Copenhagen, Denmark; Rubitection of Pittsburgh, Pennsylvania; SaNoor Technologies of Allentown, Pennsylvania; Simulated Inanimate Models of Rochester, New York; SunDensity of Boston, Massachusetts; and Think Outside of Bergen, Norway.
Write for us
Are you a startup working with imaging technology? Tell us about your experience running your business: greg.blackman@europascience.com