The latest colour imaging products for 2022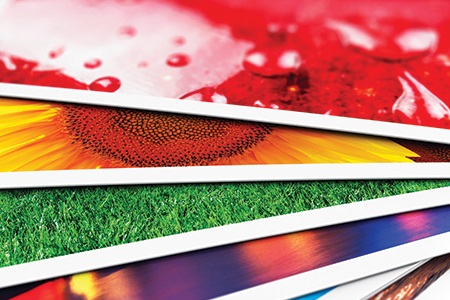 Image credit: Oleksiy Mark/Shutterstock.com
Colour images can provide much more data than greyscale images. However, historically, the use of colour has been perceived as a more expensive or difficult technique for machine vision systems. 
More recently, with advances in camera technology and the algorithms to support colour vision, colour image processing has become more widely accessible. As such, its use has increased significantly over the last decade, with more applications opening up that require or benefit from colour imaging. 
When it comes to inspection, colour imaging is widely used in electronics, pharmaceutical, and food and beverage markets. Colour can be used to sort objects, while in the automotive sector, colour is used to inspect body panels. In automotive manufacturing glues are differentiated by colour, so colour vision can help to make sure the right type and amount of glue has been applied. 
The type of camera will largely depend on the type of application. Area scan colour cameras, for example, are suited to inspecting items with definite shapes, whereas line scan cameras are more commonly used for inspecting objects that have different lengths or sizes. 
Within area scanning, there are two additional options: Bayer mosaic or prism-based technology. Bayer filters work by processing RGB pixels with an arrangement of two green for every one red or blue, known as a mosaic colour filter array. As one might expect, prism-based technology uses a prism within the camera, which separates the light into red, green and blue wavelengths. 
Colour imaging products on the market now 
Vendors that offer colour imaging products include Advanced Illumination, which provides lighting solutions for colour inspection. Its RL4260 medium aimed, bright field ring light has precisely aimed LEDs to bring a higher level of lighting control. It is available in a wide range of wavelengths, from UV to IR, including a three-channel RGB version. The large inner diameter of the ring light can accommodate lenses up to 55mm in diameter. 
On the camera side, Chromasens provides a range of line scan cameras. Its most recent launch is the allPIXA evo DXGE Color X camera that supports challenging colour line-scan vision tasks, such as food, PCB and electric vehicle battery inspection. It is effective in high-speed web and print verification where it reduces waste, improves quality and ensures colour precision. The camera has a 16-line, 8k pixel CMOS sensor, featuring time delay and integration options for increased responsivity. It has a maximum line rate of 3 x 90kHz in 12-bit RGB mode. NIR pass filters enable the sensor to recognise object features in the visible and NIR spectrum at line rates of 4 x 68kHz when set in RGB+NIR mode. 
JAI offers a selection of area scan and line scan cameras for colour imaging applications among its Go-X, Go, Spark, Fusion, Sweep and Sweep+, Apex and Apex Medical series. The most recent launch in the Apex series is a 3.2-megapixel, three-CMOS prism colour camera that runs at nearly double the fastest frame rate of its previous 3 x 3.2-megapixel models. The AP-3200T-10GE features a 10Gbase-T (10 GigE Vision) interface that delivers full resolution, 24-bit RGB output at 106fps. Three 10-bit and three 12-bit outputs are also supported. It is built around three Sony Pregius IMX252 1/1.8- inch CMOS sensors with 3.45µm2 pixels. The gain – both analogue and digital – and the exposure time can be set independently for the red, green and blue sensor channels, allowing for better signal-to-noise management. This maximises the dynamic range for each colour channel, resulting in improved image quality. The AP-3200T-10GE also features a colour enhancer tool to strengthen certain colours in the image for additive (red, green and blue) and subtractive hues (cyan, magenta and yellow). This is particularly useful in applications such as microscopy and medical imaging. 
Fujifilm's most recent launch is the Fujinon TF-MA lens series, which provides three machine vision lenses for high-resolution, threechip colour cameras. The series is optimised for precise measurement and inspection tasks, and the lens design is optimised to deliver high image quality with consistent sharpness from the centre to the corners, as well as a low level of distortion. The working distances of the lenses are 100mm for the 6mm and 14mm lenses, and 200mm for the 25mm lens. The 6mm lens measures 48 x 62mm, while the 14mm and 25mm lenses measure 34 x 63mm. 
Midwest Optical Systems supplies a range of optical filters across multiple industries, including those for accurate colour rendition. As an example, when using a colour camera and imaging with white light, the near-infrared portion of the spectrum must be blocked to achieve natural, realistic colour images because, unlike the human eye, colour cameras are sensitive to near-infrared light. MidOpt supplies a range of short pass and near-infrared cut filters to achieve this. Its Vis Pass SP series is designed to separate colours in monochrome or colour applications and improve contrast and resolution. Its Near-IR Block SP series is commonly placed over a camera's image sensor to block NIR light and achieve natural colour rendition. 
This is not an exhaustive list. If you provide colour imaging products and would like your company to be included, please email editor.imaging@europascience.com.

Chromasens featured colour imaging product
To evaluate colour differences similar to a human observer, it is necessary to perform the calculation of colour values in a standard colour space. For this, the Chromasens ChromaPIXA colour line scan camera offers colour output directly in standard colour spaces, such as sRGB or CIELAB. The colour values are calculated in the camera in real time using an algorithm that achieves a significantly lower deltaE deviation than standard approaches with a 3x3 matrix.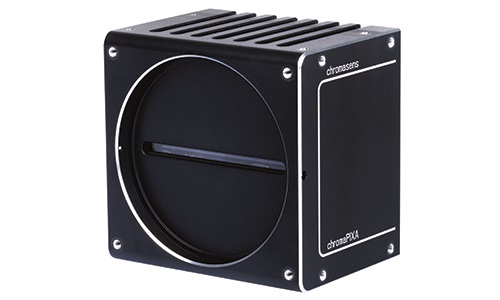 An important prerequisite for conversion of RGB in standard colour spaces is the colour calibration of the camera and lighting. ChromaPIXA includes the user-friendly calibration software, ChromaCalc, for colour calibration. Common standard colour charts and also self-defined charts are supported. For output, the standard colour spaces sRGB, CIELAB, Adobe RGB, eciRGB are available. 
ChromaCalc generates a data set that is loaded into ChromaPIXA for reliable inline colour measurement. Typical applications include printing and package printing, wood and laminate inspection, and sorting applications. For more information about the Chromasens ChromaPIXA colour line scan camera, visit the company website.