XCG-H280CR colour GigE camera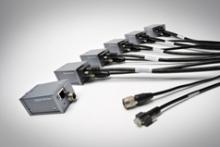 Sony Europe's Image Sensing Solutions division has launched the colour GigE camera module, XCG-H280CR. The camera implements the ICX-674AQG colour CCD sensor, which captures full HD (1,920 x 1,080) images at 60fps and 2.8 Megapixel (1,920 x 1,440) images at 50fps.
The modules have been precision engineered, in collaboration with the Sony sensor development team, to deliver excellent image quality.
Its resolution, high frame rate and colour sensor make the camera suited to a wide range of vision applications, from ITS and security to component inspection and agriculture, where colour, image quality, sensitivity and speed are paramount.
The 50 x 50 x 57.5mm C-mount unit includes a partial scan mode for high speed acquisition. The module is fully compatible with Windows 7, Vista and XP, compliant with GigE v1.2 and upgradable to GigE v2.0.
The camera module can also connect to external devices, such as a strobe or detector and trigger, to optimise image exposure.