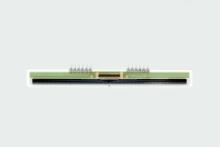 Hamamatsu Photonics has introduced the S8866 series of silicon photodiode arrays combined with a CMOS signal processing chip. The sensors are 4 inches long and the arrays can be aligned with virtually no dead space. A range of pixel pitches are available from 0.2mm up to 1.8mm. The output from each element is transferred simultaneously to a hold amplifier where it is read out sequentially by a shift register. This enables the output to be obtained simply from a single video output line.
The S8866 series offers a high readout speed of 1 Megapixel per second, high linearity, wide dynamic range, low noise performance, and excellent baseline/offset stability. Since the detector readout method is based on CMOS technology, operation is possible using a single low voltage power supply. The arrays are supplied with a gadox phosphor, which provides excellent x-ray sensitivity in the 30 to 100keV energy range. 
The sensors can be used in applications such as inspection of cartons, cans and bottles, fruit sorting, meat inspection and for controlling fat content. Other industrial applications include on-line inspection of tyres, cables and cigarettes for quality control.