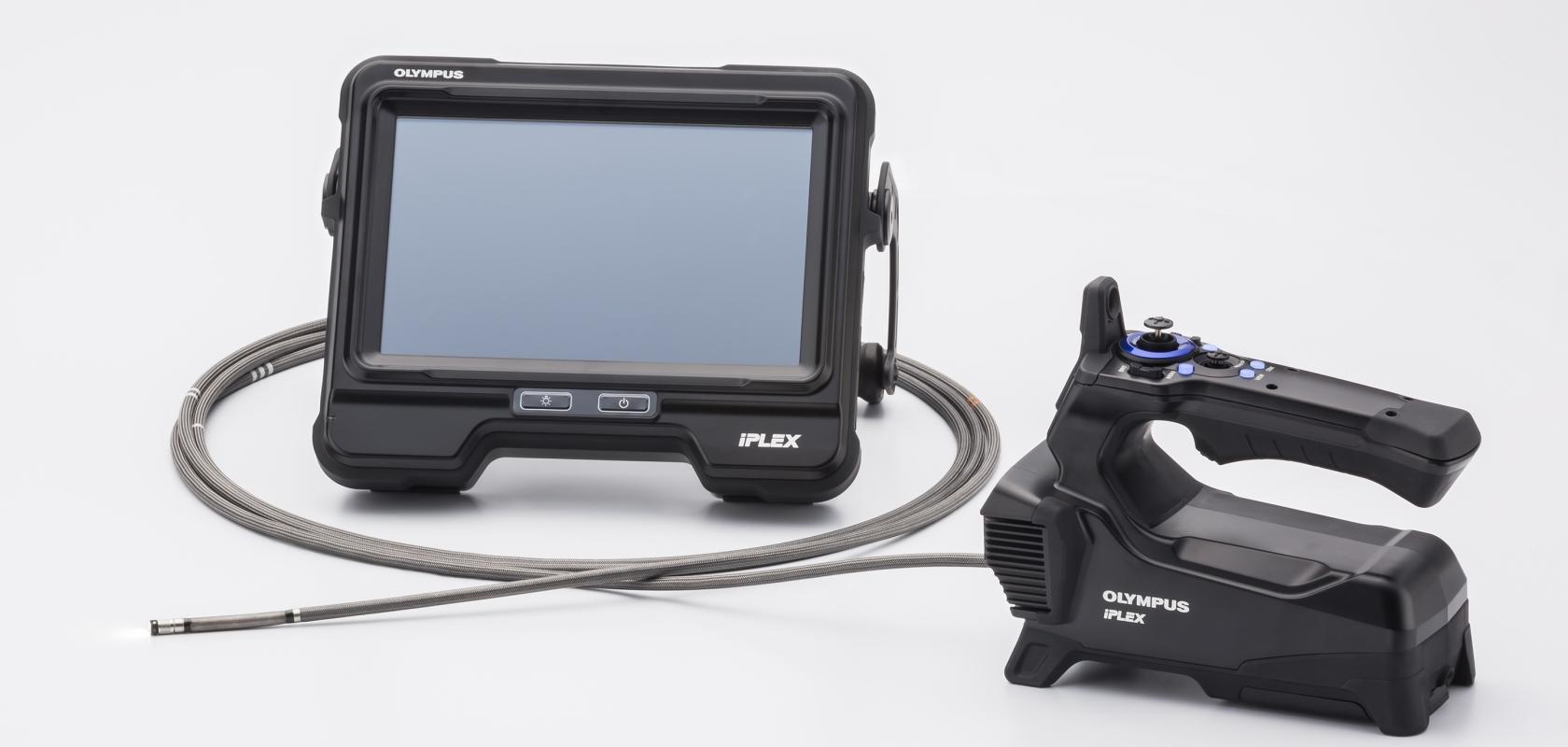 Whether it's quality control, routine maintenance or safety inspection, the new IPLEX GX/GT videoscopes from Olympus are a versatile solution, well suited for a wide range of inspections as different light sources and scopes can all be quickly reconfigured on-site. Scope articulation is more intuitive and comfortable to use as IPLEX GX/GT inherits the responsive TrueFeel fully electric articulation from high-end Olympus videoscopes. Thanks to its large 8.0 inch LCD touch screen, bright illumination and advanced image processing features* (PulsarPic, WiDER, noise reduction, sharpness, saturation) the new IPLEX GX/GT will increase probability of detection, reduce inspection time and help generate better documentation.
Scopes of 6 mm are available with lengths up to 10 m for inspecting large complex structures; alternatively, 4 mm scopes (up to 3.5 m) improve accessibility through even smaller openings. The bright white light source can easily be replaced by IR illumination for security applications and UV illumination for detecting otherwise invisible cracks or leakages.
IPLEX GX/GT videoscopes also ensure high-quality inspections through advanced image/video capture and management capabilities. Images can be captured at full resolution during video recording to reduce inspection time and simplify the documentation process. Smooth 60 frames-per-second (FPS) video recording delivers clear images of moving targets. Inserting bookmarks during video capture reduces time to review. InHelp Inspection Assist software is included as standard in every IPLEX GX/GT videoscope to streamline inspection, image management and report generation. Two powerful measurement methods are available: scalar measurement is included as standard to analyse defects using a known reference dimension; a stereo measurement upgrade is available to size objects using precise 3D coordinates.
Inspection with IPLEX GX/GT is now easier and more user-friendly with modern real-time image and video sharing features. The wireless adapter enables live image streaming on tablets or smartphones via the Olympus IPLEX Image Share app. When working in oily environments, oil-clearing design on all standard direct-view tip adaptors uses capillary action to redirect oil from the lens surface – increasing visibility and reducing total inspection time. IPLEX GX/GT is built tough with IP65 rating and it is compliant with US Military Standards allowing resistance to harsh environments such as rain, high humidity, salt fog, dust, freezing rain, and even electromagnetic or explosive environments – a durable videoscope is a useful videoscope.
Using the new IPLEX GX/GT videoscopes, inspectors in manufacturing, plant maintenance, aviation and many other industries will reduce cost with versatile scope and light source exchanges. With crisp images, smooth videos, easy data sharing and a rugged design, IPLEX GX/GT is an optimal solution designed to ensure safety and quality – leaving nothing out of scope.