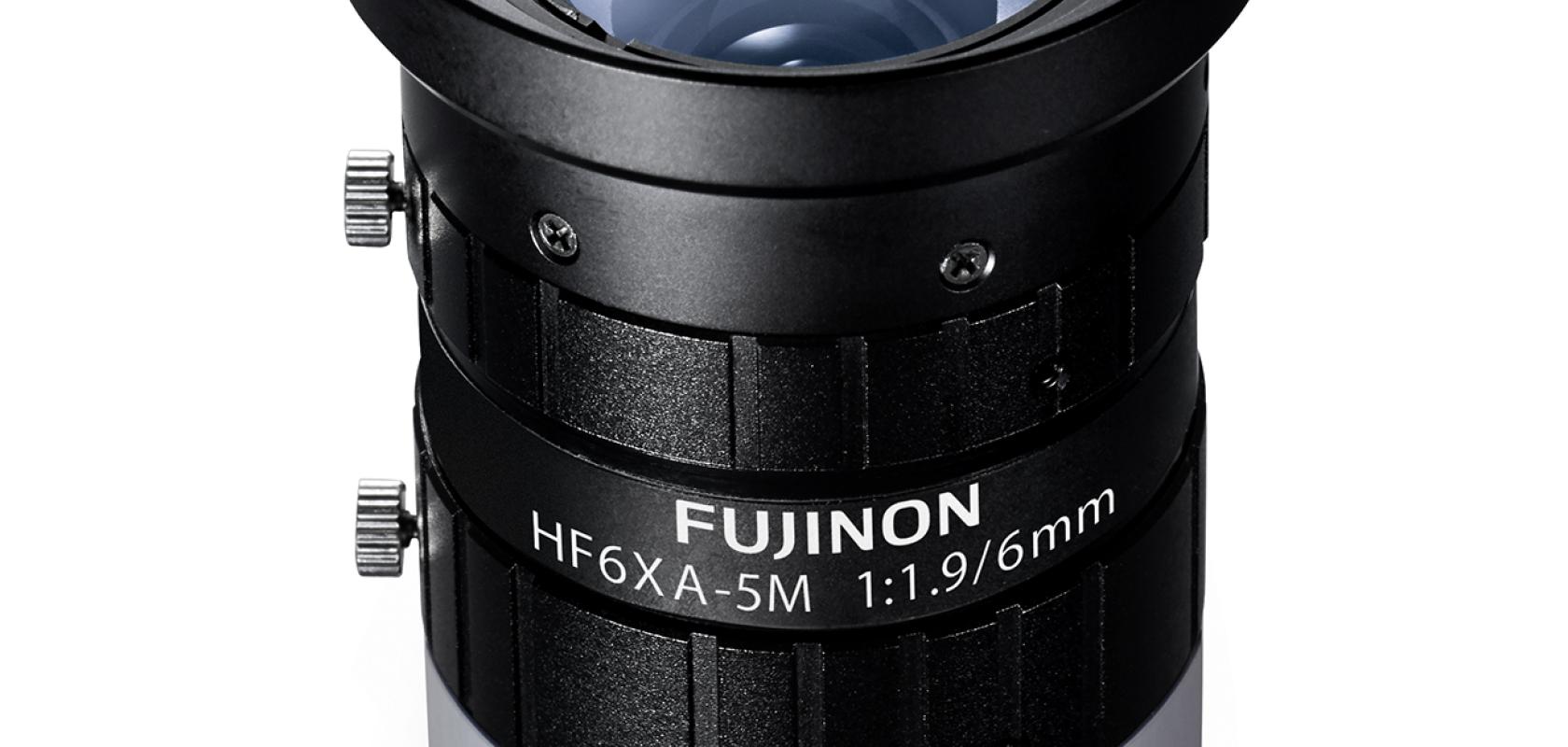 The new HF6XA-5M wide-angle lens from Fujinon is the latest addition to the HF-XA Machine Vision lens series. Applications requiring a short working distance and wide angle of view will particularly benefit from the MOD of 100 mm. The lens, available from vision specialists FRAMOS, has a focal length of 6 mm and is compatible with 3.45 µm or 5 megapixel 2/3" sensors. The HF6XA's compact design is also suitable for use in industrial environments with minimal installation space.
The Fujinon HF-XA series comprises 5 high-resolution fixed focal lengths of between 8 mm and 35 mm and also provides sharp images right to the edges. It was released in 2016 with an official resolution of 3 megapixels. However, the many lenses in this series actually offer a much higher resolution and can freely support 5 megapixel cameras. To guarantee this resolution for every single lens in the series in future, Fujifilm has installed new test procedures on the lens production lines. The lenses are tested and optimized during production itself. The existing 3 megapixel HF-XA series is therefore being officially upgraded to 5 megapixels. The lens design per se and the technical specifications will remain unchanged, while the name of the models is changing from HFxxXA-1 to HFxxXA-5M.
The new HF6XA-5M lens increases the wide-angle range to 75° x 58° on 2/3" sensors as well as providing a very short Minimum Object Distance of 100 mm. This makes it possible to achieve a deep field of view and good analysis even at short distances between the camera and object. The resolution of 5 MP and 3.45 µm is also consistently high across the image area, both with a fully open aperture under poor lighting conditions and across a range of working distances.
FRAMOS lens expert Stephanie Zahner explains how the new lens integrates into vision systems: "The HF6XA-5M has an external diameter of 33 mm and a front lens with a diameter of 39 mm, so it's very easy to incorporate into industrial working environments where space is at a premium. For precision images in applications subject to vibrations or on moving parts, the lens has 3 locking screw positions for flexible aperture and focus settings."
The HF6XA-5M lens is Fujinon's response to strong demand for very short focal lengths and a wide angle of view. The HF-XA series now has 6 lenses, making it even more versatile for the various requirements of Machine Vision. The industry and product experts at FRAMOS have specialist knowledge ranging from sensors to systems, and provide customer support for the integration of lenses and camera systems into applications and projects. FRAMOS provides independent test charts as well as product comparisons, and advises customers on how to select the most appropriate vision components.