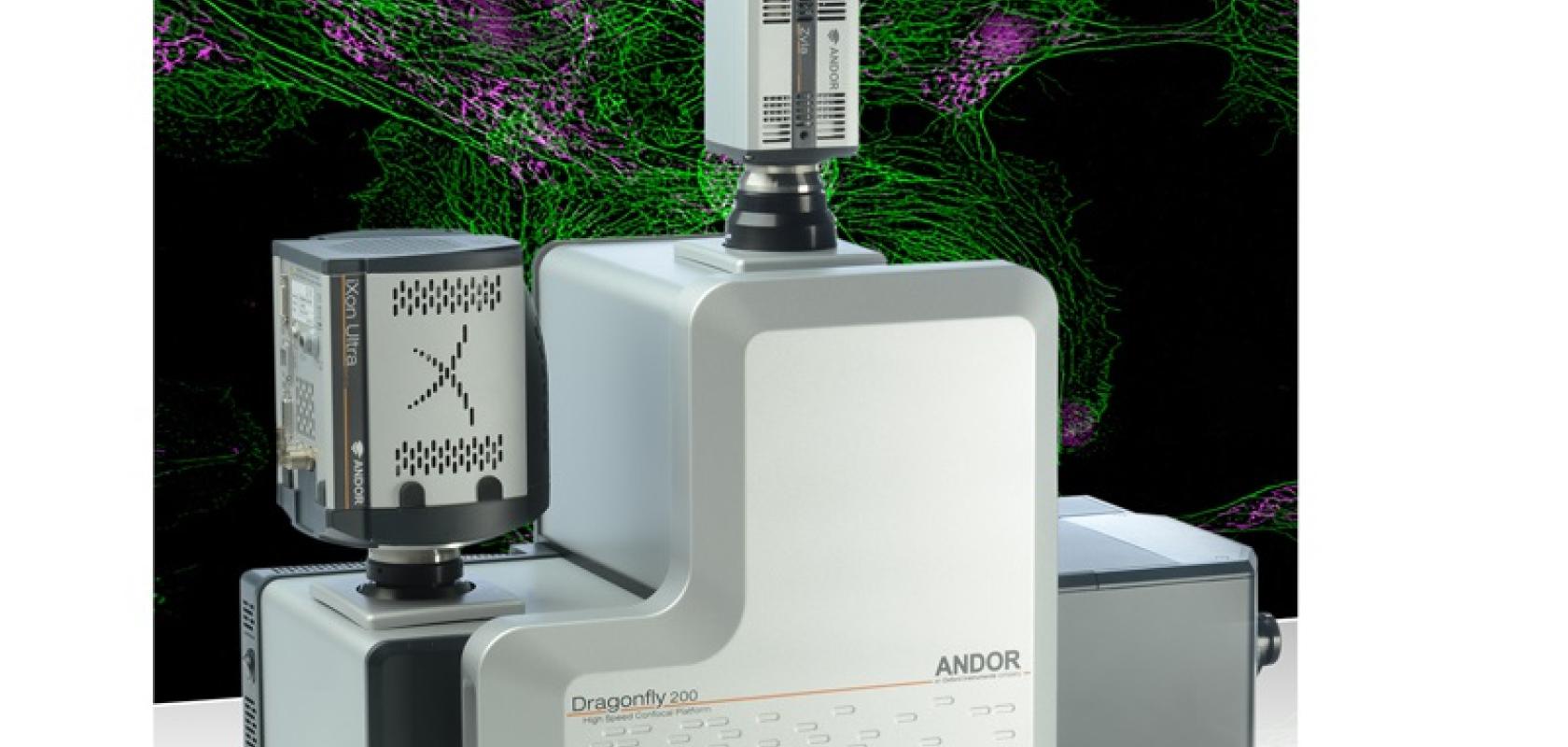 Andor, an Oxford Instruments company, is pleased to announce the launch of Dragonfly 200, the latest model of its innovative high-speed confocal imaging platform. Dragonfly integrates Andor's industry-leading cameras, with patented illumination technologies and optimized optical design, to deliver outstanding image quality characterized by low noise, wide dynamic range, high resolution and exceptional sensitivity. The Perfect Illumination Delivery™ system (Borealis) used for confocal and widefield imaging provides exceptional stability, uniformity and spectral range, which enables imaging in the NIR region, where natural autofluorescence of the sample is dramatically reduced.
Up to twenty times faster than conventional confocal microscopes, Dragonfly is a highly productive imaging platform, boasting superior spatial and temporal resolution, often revealing previously undetected information in microscopic specimens.
The Dragonfly 200 is being introduced to enable use on upright microscopes as well as inverted.  In delivering this new model, Andor is equipping the groundbreaking confocal platform to be utilized in a broader range of research fields, with many unique attributes setting it apart from conventional point scanning confocals. The benefits of the technology are outlined fully in our recent white paper "12 Reasons Why", available now from Photonics Online.
Recognizing that not all researchers require multiple modalities, or even have the budget for them, the latest model comes in a smaller size, ideal for certain applications and for every budget, whilst not compromising on image quality or speed. It also comes with enhancements to the included Fusion image capture software. For super-resolution, the novel SRRF-Stream technique, recently introduced to the iXon EMCCD camera range, can enhance resolution down to 50nm at live-cell frame rates. Deconvolution is also now 30x faster than leading non-GPU based solutions.
Dr. Geraint Wilde, Product Manager for Microscopy Systems at Andor, said "Following a very successful first year of Dragonfly, where we have witnessed time and again the delight on researchers' faces at the outstanding confocal image quality at breathtaking speed, we are excited to be moving forward with the new Dragonfly 200. The 200 model will make our innovative platform accessible to more researchers, whether through the ability to use it on upright microscopes, opening the way for use in applications around deep cleared-sample imaging, or simply for those who require the speed and image quality of the Dragonfly on a smaller budget.  Making Dragonfly accessible to a wider audience will facilitate more inspirational discoveries in a wide range of disciplines, including biomedical research into cancer and Alzheimer's, and plant research for improved and sustainable crop management."