CMOS linear image sensors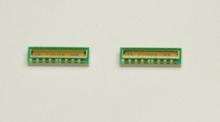 Hamamatsu Photonics introduces two new compact CMOS linear image sensors, the S11106-10 and S11107-10; designed for applications such as position detection, object measurement, rotary encoders and image reading, amongst others. They have been designed for mass production and to offer maximum performance vs. cost.
The compact, resin sealed, surface mount package is only 2.4 x 9.1 x 1.6 mm in size. The S11106-10 offers an array of 128 pixels measuring 63.5 x 63.5 µm and the S11107-10 offers a 64 pixel array, with each pixel measuring 127 x 127 µm.
They each boast a high-speed data rate of 10 MHz, with low current consumption and simultaneous charge integration, in addition to a built-in timing generator allowing for simple start and clock pulse inputs for operation. The S11106-10 operates off a single 3 V power supply, and the S11107-10 off a 5 V supply.