Smart vision system guides consumers when recycling
Product design and development firm Cambridge Consultants has built a smart recycling unit that uses both machine vision and machine learning to help consumers identify what waste can be recycled when they're in shops or commercial buildings. The system is intended to improve the efficacy of recycling and encourage consumers to think more about what happens to their waste.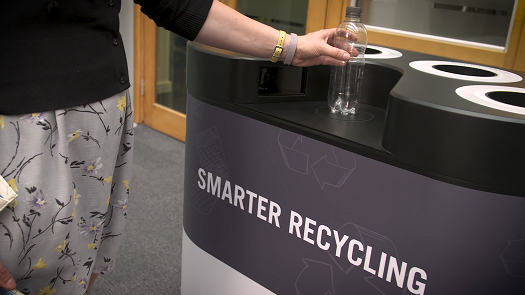 Customers place their recyclable items in front of the system's imaging sensor to be identified. (Credit: Cambridge Consultants)
According to Cambridge Consultants, seven million coffee cups are used every day in the UK, with the vast majority still going to landfill as consumers are often confused by what and how to recycle. As a result, only 40 to 45 per cent of packaging for consumer goods in the UK is currently recycled.
The new smarter recycling system is designed to identify the type of waste – for example a plastic bottle or a cardboard coffee cup – that the consumer wants to dispose of when the item is placed in front of its imaging sensors. The smarter recyling unit then indicates which of its sections the item should be placed in, with items put in the correct bin earning customers redeemable reward points through a connected phone app.
Over time the technology can be trained to recognise new items through the combined machine vision and machine learning elements.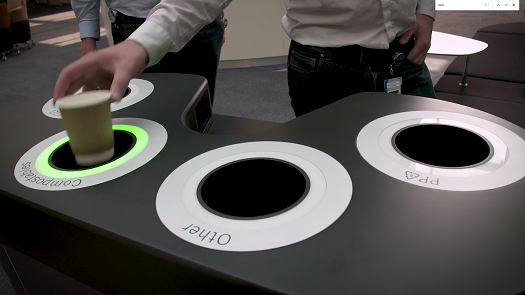 The smarter recycling system then highlights a section corresponding to the recyclable material of a placed item.
The new recycling system, according to Cambridge Consultants, provides the technology to enable businesses to improve their brand image, engage with their customers, and make their businesses more sustainable.
'Consumer brands are coming under increasing pressure from the government, lobby groups and consumers like you and me, to take responsibility for the end-of-life of their products,' explained Sajith Wimalaratne, food and beverage commercial manager at Cambridge Consultants. 'They are looking to make eco-friendly choices, looking for ways to operate sustainably and profitably while improving customer engagement. The smarter recycling system gives a brand a real reason to be in contact with the consumer while showing a commitment to make a positive impact.'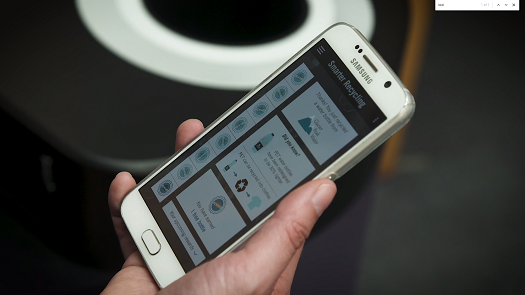 Users of the recycling system earn reward points via a connected smart phone app.
According to Wimalaratne, soceity's focus has been directed towards developing new products and materials that can be recycled or composed easier; however, there are still challenges in collecting and sorting these materials. The company looks to address these issues with the smarter recycling station, which it says will not only extend a brand's customer engagement, but also help reduce waste being sent to landfill.
'Implementing a smarter recycling system helps make a difference to consumers' behaviour, and influence their decisions about recycling,' Cambridge Consultants concluded in a press release. 'In the long term, providing clear guidance on which materials to recycle will reduce levels of contaminated waste and will educate the consumer in types of recyclable materials and good recycling practice.'