OPC UA vision specification to ease smart factory integration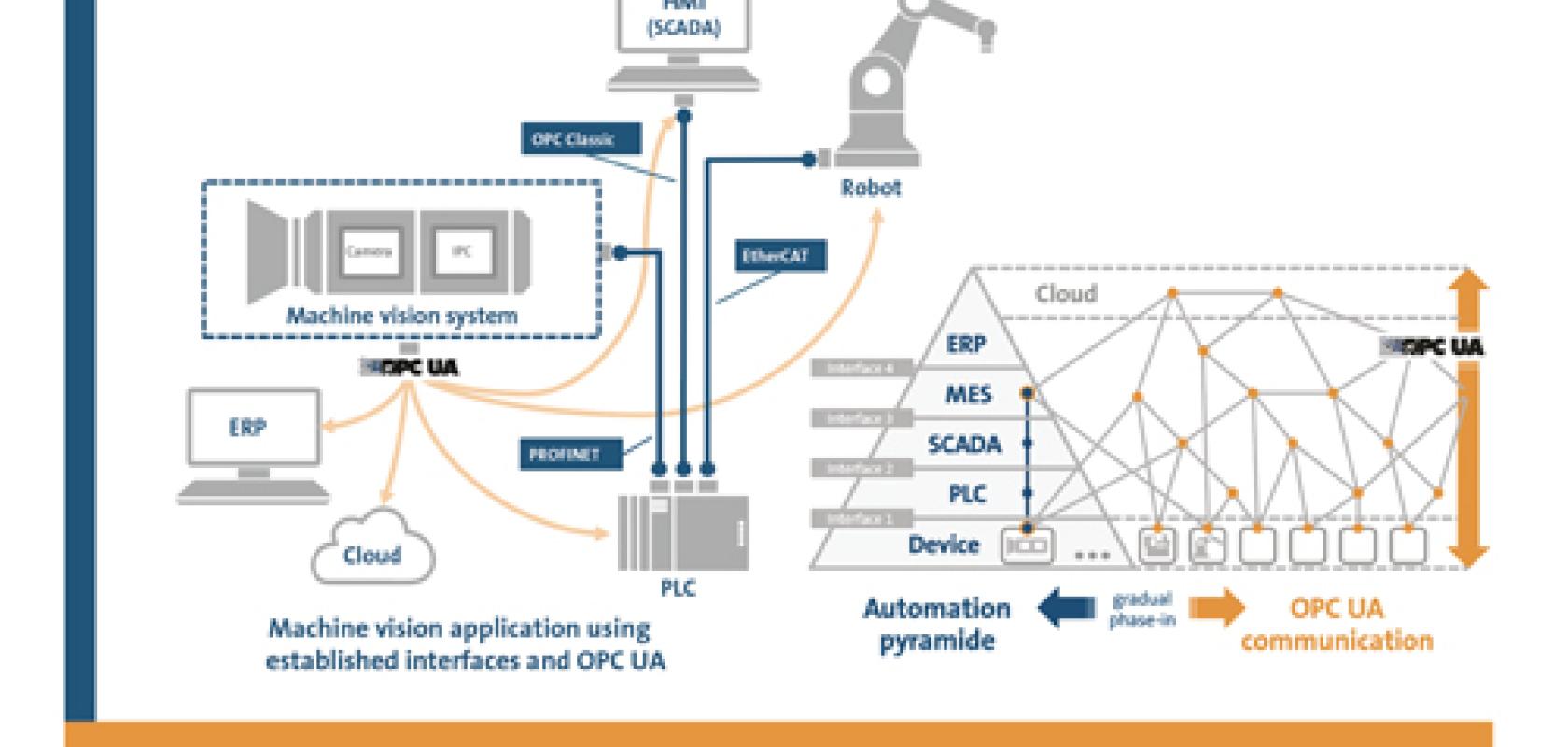 Part one of the OPC UA Machine Vision companion specification has been released by the VDMA and OPC Foundation.
The standard interface means that machine vision is now specified within OPC UA, a common language designed so that industrial machines are interoperable and can talk to each other.
VDMA Machine Vision and the OPC Foundation agreed to develop the companion specification in 2016. The work was carried out in a joint working group that included 17 experts from leading European machine vision companies.
Part one describes an abstraction of the generic visual system, i.e. a representation of a digital twin of the system. It handles the management of recipes, configurations and results in a standard way, while the content remains vendor-specific and treated as a black box.
The interface gives general control of a vision system and abstracts the necessary behaviour via the concept of a 'state machine'.
A trial implementation has been completed and presented to a broad audience of automotive industry experts in May 2019 at an OPC UA automotive day in Wolfsburg. A hardware demonstrator is currently being developed.
In addition, part one establishes an infrastructure layer that facilitates simplified and uniform integration of image processing systems into higher-level IT production systems (PLC, SCADA, MES, ERP, Cloud, etc). The goal for the future is to break down other proprietary elements beyond part one and replace them with standard information structures and semantics such as configuration, recipe and result information.
The companion specification is available for download from the OPC Foundation website and the VDMA website.
'The commitment of VDMA Machine Vision fits perfectly with the basic idea of OPC UA: to reduce the large number of overlapping "custom" information models to one set of harmonised OPC UA Companion Specifications. This will benefit users and providers around the world, because barriers to real interoperability will be reduced,' commented Stefan Hoppe, president and CEO of the OPC Foundation.