Ocado turns to 3D vision in robot picking solution
Researchers at Ocado Technology, the tech division of the online supermarket Ocado, have developed a prototype robot picking solution that uses 3D vision to pick up objects from crates. The system will be used at Ocado's automated warehouses to help process the 260,000 orders that Ocado receives each week.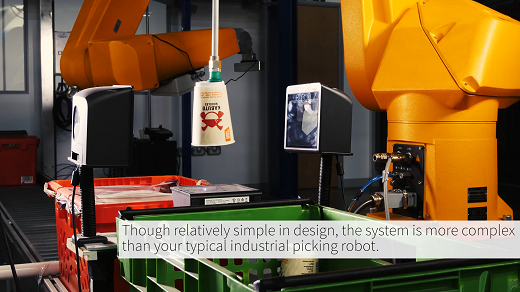 Ocado's new robotic picking solution uses a suction cup and a 3D vision camera to to pick up and place products in different orientations. (Image: Ocado) 
'Our robotics research team faces a remarkable challenge: to develop smart and generalised robotic solutions and systems capable of picking the 50,000 different items available on Ocado.com, safely and reliably,' Ocado Technology said in a press release. 'While humans can quickly learn and develop all manner of strategies for grasping various items based on what they intend to do with them, robots need to be taught these strategies and that's why AI plays such an important role too.'
The company's researchers therefore designed a robotic picking station consisting of a suction cup on the end of an articulated arm capable of lifting items regardless of their deformability and shape, provided they are within the weight restriction and that the suction cup can create an airtight seal with the item.
'Our new solution is conceptually simple in its design when you compare it to the scale of the task it has been built for,' Ocado continued. 'In order for this process to run smoothly, the algorithm controlling the robot needed to have an understanding of where the crates were located and of the optimal grasp points of the items within the crate. This may sound simple, but developing the robot's understanding of its surroundings is very challenging. We could have embarked on a mission to model every single item in our catalogue, but we knew there must be a quicker and more efficient method.'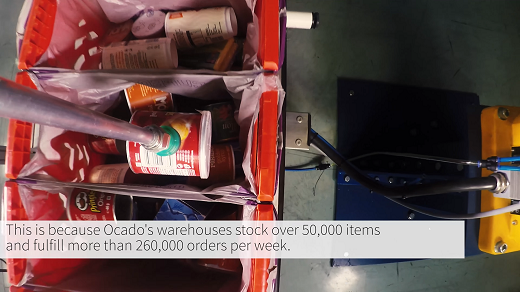 The company therefore used a 3D vision system to identify these optimal grasp points, where the suction cup could then be lowered to, allowing it to pick up the object, determine the optimal orientation to rotate it to, and transfer it to a delivery crate. Additional built-in sensors avoid the risk of crushing or damaging products during picking and packing. The system also verifies that the item being selected is the correct product before transferring it for delivery.
'The fact we found a way to bypass modelling our stock keeping units also meant that we could pick a greater range of items than many industrial picking systems. All in all, the system is streamlined and flexible, and our robotics team are very proud of the progress they have made so far.'
The new picking solution can be seen in action here.