Largest natural hyperspectral database creator wins EMVA award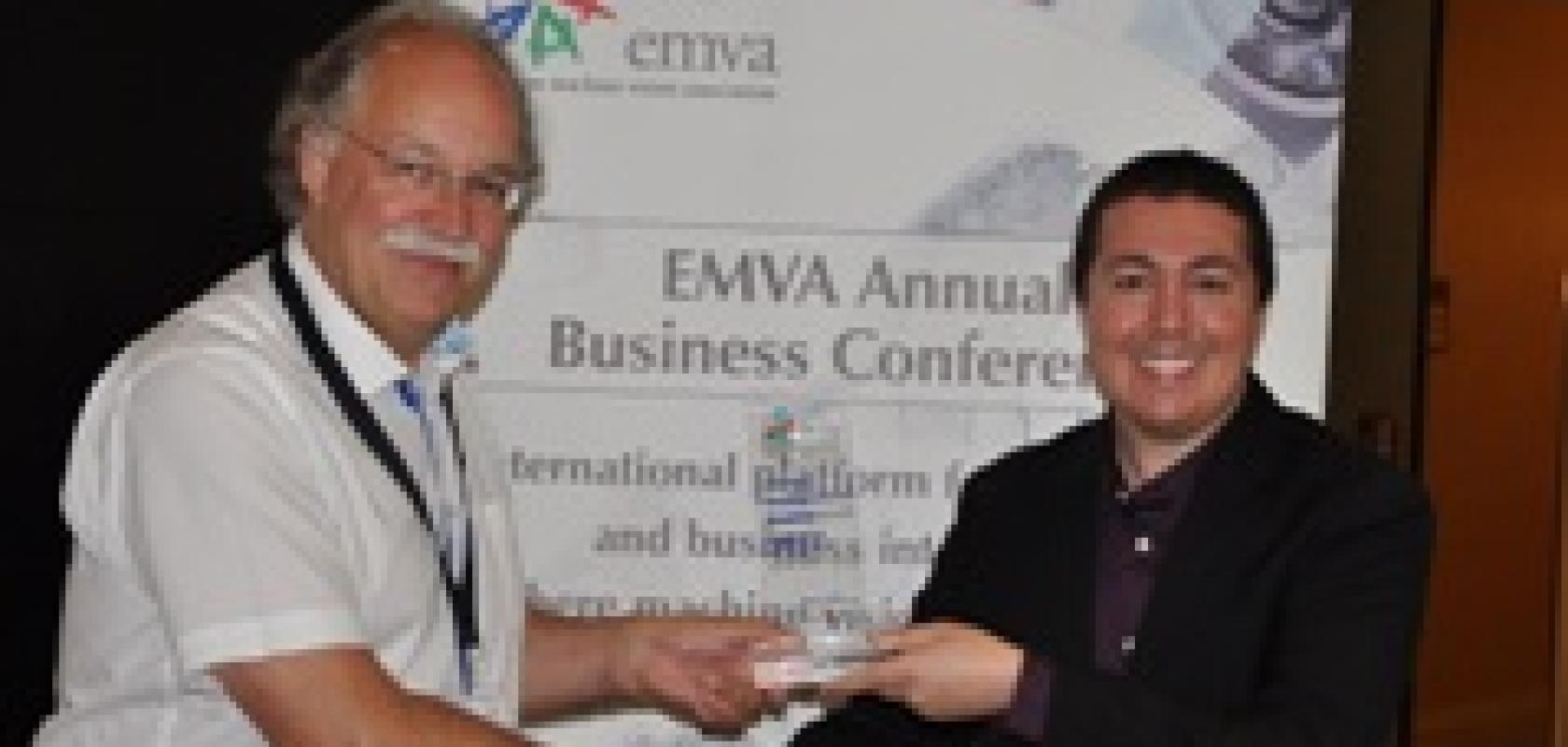 Boaz Arad (pictured with Jochem Herrmann, EMVA president), a PhD student at Ben-Gurion University of the Negev in Israel, has been awarded the EMVA Young Professional Award 2017 for his work on computer vision and hyperspectral imaging.
Arad was presented with the award at the European Machine Vision Association's (EMVA) business conference in Prague, Czech Republic on 24 June.
The work addresses the task of recovering 31-channel hyperspectral information from three-channel RGB images of natural scenes. It is based on the largest database of natural hyperspectral images collected to date, containing more than 200 high spatial-spectral resolution natural hyperspectral images. Arad built up the database over the course of his four years of graduate studies.
The computer vision method is able to recover hyperspectral information from RGB with 90 to 95 per cent accuracy over a wide variety of scenes. The approach also produced comparable results to previous methodologies relying on hybrid hyperspectral and RGB input.
To date, scientific and industrial hyperspectral imaging has relied almost exclusively on traditional scanning hyperspectral systems. These devices are expensive, bulky, and often require close to one minute to acquire a scene. Replacing these systems with low-cost, compact, and rapid RGB cameras could provide exciting opportunities in many fields.
Arad, aged 32, obtained his computer science BSc from Ben-Gurion University of the Negev in 2012; he received an MSc in 2014 and expects to complete his PhD by 2018. In addition to his studies, Arad currently serves as CTO of the startup company HC-Vision.
Other work on high speed spectral imaging is ongoing at the University of Eastern Finland, where, as part of her PhD thesis, Ana Gebejes has demonstrated that a spectral video camera can be used for eye tracking. One of the outcomes of the study is a spectral eye video database, called SPEED, containing more than 180 spectral videos and which is available publicly to researchers.
SPEED was motivated by the challenges faced in eye tracking, especially under harsh conditions. When users wear eyewear or make-up, reflections and extreme eye positions interfere with eye tracking technologies. The team proposed and demonstrated that spectral signatures can be exploited to create new approaches for imaging, training, analysis and interpretation of eye tracking data, especially in harsh conditions.
The EMVA Young Professional Award is an annual award to honour the work of a student or young professional in the field of machine vision or image processing. It is the goal of the EMVA to support innovation in the machine vision industry, to contribute to the important aspect of dedicated machine vision education, and to provide a bridge between research and industry. The idea is to encourage students to focus on challenges in the field of machine vision and to apply research results and findings in computer vision to the practical needs of the industry.
The 2018 EMVA business conference will be held in Dubrovnik, Croatia, with the date yet to be announced.
Related article:
Vision firms must adapt to changing market, EMVA president warns - Greg Blackman reports from the European Machine Vision Association's business conference in Prague, where embedded vision and the threat from Chinese manufacturers were both discussed