AIT stereo vision researcher wins EMVA young professional award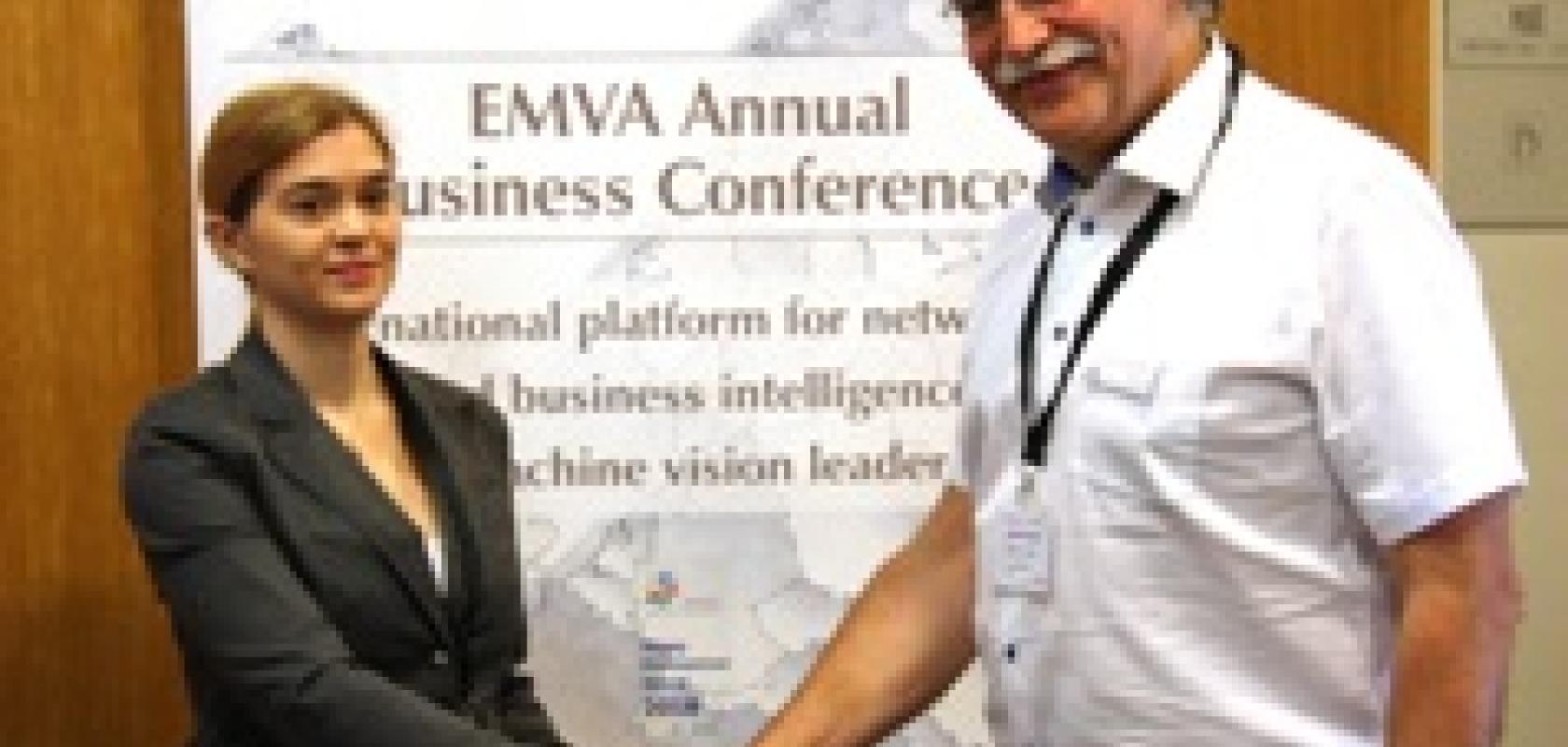 The European Machine Vision Association has presented its 2018 Young Professional Award to Doris Antensteiner, a researcher at the Austrian Institute of Technology.
Antensteiner, who is also a PhD candidate at Graz University of Technology, won for her work on light field and photometric stereo imaging. EMVA president Jochem Herrmann presented Antensteiner with the award on 9 June during the 16th EMVA business conference in Dubrovnik, Croatia.
The combination of a depth map from light field cameras and surface normals from photometric stereo imaging gives a highly precise depth reconstruction and material analysis of a scene.
Antensteiner's work involves analysing light rays passing through a camera lens, which capture a scene illuminated from a defined direction. She is using variational methods to obtain an optimal fusion of light field and photometric stereo imaging.
Antensteiner has achieved solutions both for area scan and multi-line scan cameras, the latter of which means the algorithms are apt for a wide range of industrial applications. The results could be applied to product inspection, defect detection, brand protection, product security and optical inspection of materials. A highly precise 3D reconstruction can provide detailed error detection in production lines, while anti-counterfeiting methods can be improved by better describing a material's structure.
Antensteiner obtained a master degree in computer science in 2011 and a master degree in computer science management in 2014, both from the Vienna University of Technology. Between 2012 and 2015 she worked as image processing engineer in R&D video and sensors at Kapsch TrafficCom.
The EMVA Young Professional Award honours outstanding and innovative work from a student or a young professional in the field of machine vision or image processing. It encourages students to focus on challenges in the field of machine vision and to apply research results and findings in computer vision to the practical needs of the industry.
EMVA appoints board of directors
The EMVA's general assembly was held prior to the conference, where Dr Dirk Berndt from the Fraunhofer Institute for Factory Operation and Automation, and representative of the Fraunhofer Vision Alliance; Arnaud Destruels of Sony Europe's Image Sensing Solution division; and Dr Chris Yates from Rockwell Automation were all voted onto the EMVA board of directors.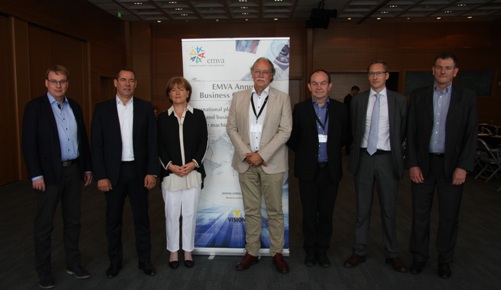 From left: Dirk Berndt; Kai-Udo Modrich; Gabriele Jansen; Jochem Herrmann; Michel Ollivier; Chris Yates; and Jean Caron
Jochem Herrmann of Adimec continues as EMVA president for a further three years, while Michel Ollivier of Tiama was elected as vice president.
The other EMVA board members include Dr Jean Caron, Euresys, who remains the association's treasurer; Professor Dr Bernd Jähne, Heidelberg Collaboratory for Image Processing of Heidelberg University; Gabriele Jansen, Vision Ventures; and Dr Kai-Udo Modrich, Carl Zeiss Automated Inspection.
Former board member and EMVA president Toni Ventura-Traveset of Datapixel has resigned from the board to concentrate on responsibilities in his company.
The 17th EMVA business conference will take place from 16 to 18 May 2019 in Copenhagen, Denmark.
Top image: Doris Antensteiner presented with the award by EMVA president Jochem Herrmann