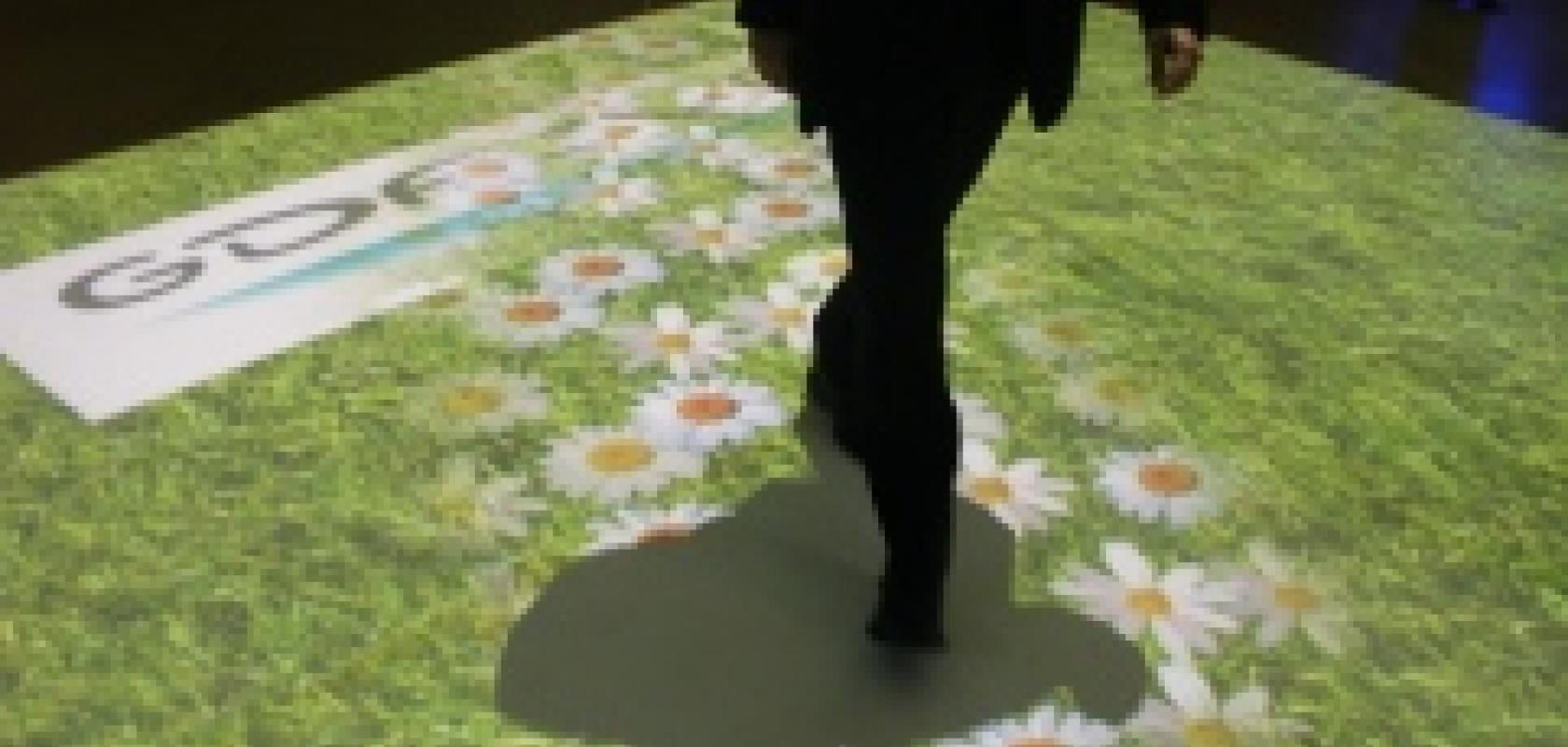 Using digital image-processing with cameras from Allied Vision Technologies, Mobidium, a French company specialising in developing interactive multimedia applications, has created the Virtual Stage - a system for transmitting advertising messages in an original, entertaining and interactive way.
The floor of the Virtual Stage is just a walk-on horizontal canvas and contains no sensors or motion detectors.  A projector projects a computer-generated image from the ceiling onto the floor. 
A digital camera from Allied Vision Technologies monitors the presence and the movement of people on this background image and transmits the data to a system computer, which also generates the image.  Software developed by Mobidium analyses the event in real time, takes each step and each movement by the person and calculates how the stage should react – like the ripples on the surface of water or the flight of fish in a virtual pond.
'The key to the success of this kind of application is, first, successfully locating the person on the floor and then quickly capturing, transmitting and processing the image,' noted Patrice Etienne, director of Mobidium.  The camera therefore plays a critical role in the system's ability to react immediately to human movement. 'With larger compositions in a mosaic pattern, the system must also be able to operate several adjoining cameras.'

Imasys, Allied Vision Technologies' exclusive distributor in France, recommended an AVT Guppy digital camera, the Guppy F-033B to Mobidium.  This FireWire camera transmits image data at up to 58fps at VGA resolution (0.3 Megapixels).  It is a monochromatic camera equipped with an infrared filter (IR-Pass) to prevent potential interference due to changing ambient light conditions interacting with infrared lighting. Etienne commented: 'As a sturdy industrial camera, it works very reliably and produces high image quality. Its FireWire interface is also ideal for multi-camera operation and naturally works perfectly with the Mac computers that we use.'
The Virtual Stage has been used at large functions, like trade fairs, corporate events and fashion shows.  It was used at the anniversary celebration of ARAMCO, the Saudi oil company, at public relations events during the merger of the French energy groups Suez and GDF and when the new mobile phone HTC Diamond Touch was introduced to the market.