Accenture invests in volumetric imaging to enhance Metaverse experience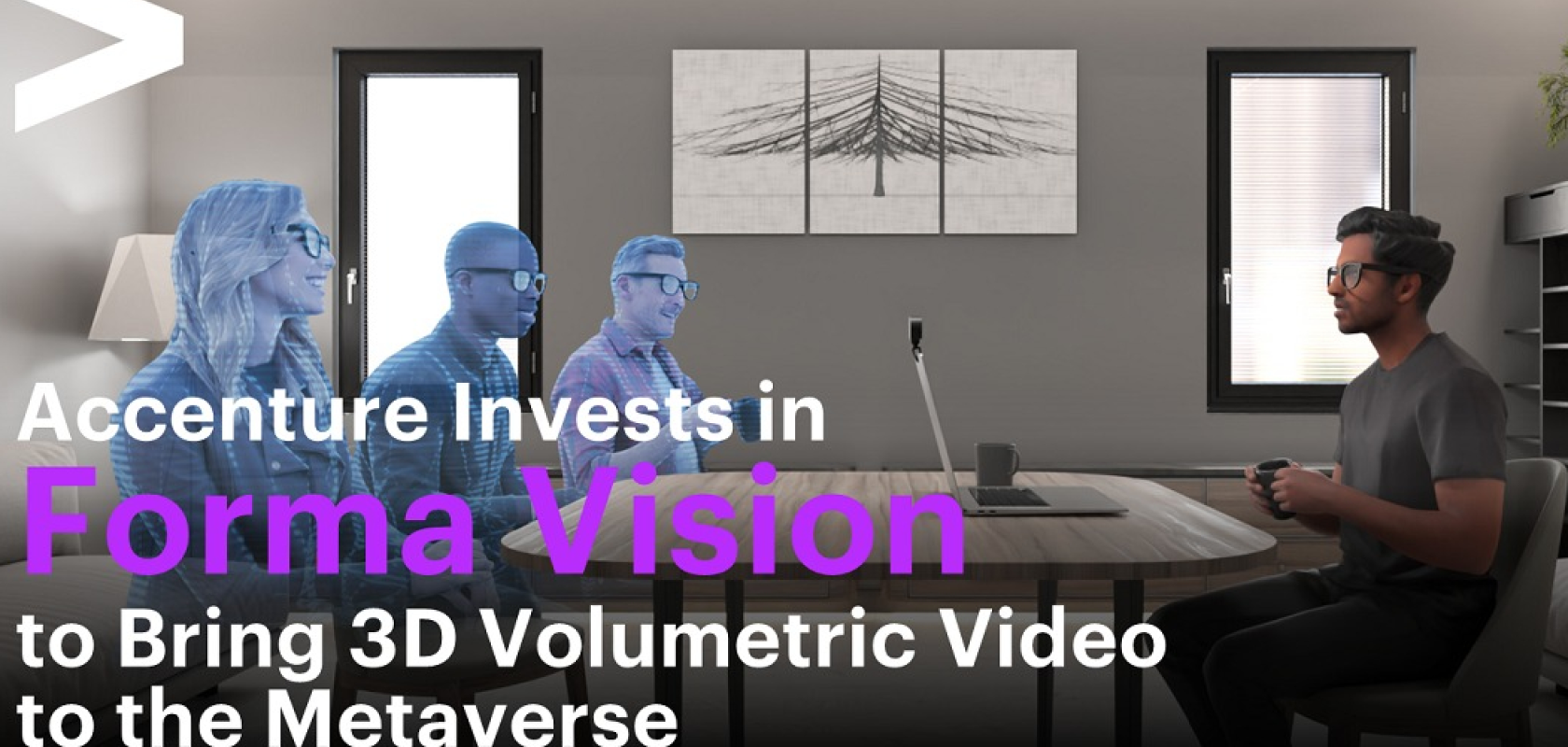 Accenture, a global IT service provider with revenues exceeding $60 billion, has invested in Forma Vision, a provider of live-streamed, volumetric video technology that enables 3D holographic images of people, objects and environments to be beamed into the metaverse from any office, home or other location.
Forma Vision's low-cost, live-streaming volumetric video technology enables enterprises of any size to reproduce people, places and things in their own metaverse experience. 
Prior to its investment, Accenture had used the technology to conduct executive town-halls, training, and small group meetings.
Growing consumer and business interest in the metaverse as a creator economy and tool to enhance day-to-day tasks is expected to fuel a $1 trillion commerce opportunity by the end of 2025, according to Accenture findings released in early January. 
The firm formed a "Metaverse Continuum business group" in March 2022, which combines metaverse-skilled professionals with capabilities in customer experience, digital commerce, extended reality, blockchain, digital twins, artificial intelligence and computer vision to help clients design, execute and accelerate their metaverse journeys. 
"Accenture sees the metaverse as an evolving and expanding continuum of technologies that will increasingly blur the boundary between the physical and the digital and transform the way businesses and consumers interact," said David Treat, senior managing director and global lead of Accenture's Metaverse Continuum business group. "We believe Forma Vision's volumetric video technology will enable more immersive, engaging interactions and help further bridge real and virtual worlds by allowing people, places and things to be more authentically represented in the metaverse." 
Adam Kirk, founder and CEO of Forma Vision, said "Volumetric collaboration is the future of hybrid work. Our mission is to bring truly natural communication to enterprise, to allow everyone to contribute meaningfully independent of location. With Accenture as our partner, we will deliver unparalleled collaboration experiences to a wide range of enterprise customers." 
Forma Vision is the latest company to join Accenture Ventures' Project Spotlight, an engagement and investment programme focused on investing in companies that create or apply disruptive enterprise technologies. In addition to funding – the details of which have not been disclosed – Project Spotlight connects emerging technology startups with the Global 2000 to fill strategic innovation gaps and offers extensive access to Accenture's domain expertise and enterprise clients, helping startups harness human creativity and deliver on the promise of their technology.
"For enterprise teams, Forma Vision's holographic meeting platform can enable remote meeting and other experiences in a highly engaging, 3D virtual format," said Tom Lounibos, managing director, Accenture Ventures. "Volumetric video allows people to show up as their authentic selves in the metaverse. Imagine having your favourite music artist perform in your living room. We believe video holograms can dynamically enhance everything from e-commerce, gaming and other media, sports and entertainment experiences to virtual healthcare, medicine and even product design."