As a middle child, Erik Widding is used to going his own way. He speaks to Beth Harlen about why his company, Birger Engineering, is proud to do the same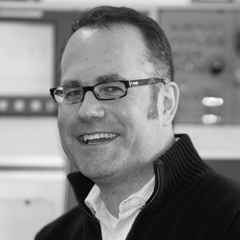 For the past eight years, Boston, USA-based lens control company Birger Engineering has been manufacturing all of its own electronics, conducting all of its design work in-house, and ensuring that all software development is – if not done in-house – achieved by contractors fully in the company's control. 'As a child I often chose the unconventional path,' explained company president Erik Widding. 'I certainly suffered my fair share of bumps and bruises along the way. But I always wanted to explore every avenue open to me, and would head in the direction that made sense at the time. Birger Engineering has always been very much like that. We are now one of the few companies in the industry – other than high volume players, like Point Grey – that manufactures almost every aspect of its own products.'
The company has embraced this path and, during the past three years, its customers haven't seen a rush of new products being released. Widding explained that this is because behind the scenes they were taking the time to perfect the manufacturing, so that field failures could be minimised, and any manufacturing challenges of the new products could be fully understood and rectified: 'At Birger the people building our products sit next to the people designing them, so if something unexpected arises it can be understood as quickly as possible. This approach also gives us the opportunity to minimise labour within the process, and ultimately manufacture products in downtown Boston with a cost structure very similar to – if not better than – those of companies who use contract manufacturers scattered around the world.' 
He added that at times customers have questioned why Birger doesn't simply follow the more common contract manufacturing model, and his response is that the company is committed to, and indeed has invested heavily in, ensuring it can do its own manufacturing in order to keep up with the way the American economy and global markets are changing. This approach has offered the ability to reduce inventories, build products quickly and customise solutions in a very short timeframe – usually within two to four weeks. Regardless of stock levels, the company can also dispatch sample quantities of existing products to customers within a matter of days.
The markets
According to Widding, Birger is focused on three core markets: traditional machine vision, security and surveillance, and broadcast and professional imaging. The latter market mainly comprises lens control systems for the use of still photography lenses with broadcast cameras, in the production of advertising, web media and film. 'This in particular is a very mature market in many ways,' said Widding, 'as these products are available in high volumes, have very good quality, and are very inexpensive, relative to their quality. Our solutions have been about bringing products – specifically the lenses – that exist in this professional imaging market and applying them within the traditional machine vision market. Our solutions for lens automation and lens control have allowed people to use these high-quality lenses with their cameras at a lower cost, compared to using products traditionally targeted at the machine vision market.'
Likewise, the reason why Birger Engineering has brought out security and surveillance as a middle market, said Widding, is that there are very few targeted solutions of interest for its customers who, instead, have been choosing traditional machine vision products, or those from the professional broadcast arena. 'We've essentially enabled the security and surveillance market to bring the other two markets together and create a hybrid – whereby they can get the best quality result using a machine vision camera and a broadcast lens. And by bridging that gap we've opened up market opportunities that haven't existed before, such as sports performance and broadcast applications, where setup and calibration time is hugely expensive,' explained Widding.  
He continued: 'Our product is simply a mechanical, electrical and functional translator between a camera and a lens that allows for the remote or automated control of the lenses. With our flagship product, we support Canon EF-Mount lenses.' Canon has never published the communication protocol for these lenses, so about 10 years ago the team at Birger reverse engineered its protocol in order to be able to make use of the built-in motors and encoders. Because Canon designed them for a very specific market, which demands quality and economy, they have the ability to move the focus with a very high resolution and with a high degree of repeatability.
'What customers in these markets are finding technically is that they're able to add focus and aperture control into the recipe for how they're collecting their images,' commented Widding. 'Traditionally they were limited to a fixed focus and using exposure time and gain in the camera to control the quality of the image they see. In security, for example, where the cameras are going from bright, direct sunlight to a partially lit night, just adjusting the gain in the camera isn't sufficient to maintain the image quality. But through focus and aperture control, people have the opportunity to take advantage of the innate character of the lens.' A lens with the aperture wide open, for example, will have a much shallower depth of focus than a lens with the aperture closed all the way down. Changing focus and aperture together, can maximise the quality of the image. Unlike traditional motorised lenses, Birger's solution allows this to be done in a closed loop.
This technology is proving to have a significant impact on production line inspections within factories. Where displays on smartphones or televisions are being inspected, for example, any given product could have very different geometry. By having closed loop control over the lens being used, not only is the image quality assured but the possibility of human error is removed. It's understandable why Birger is seeing a lot of uptake of its solutions within factories that have very high camera counts, and that need high resolutions. 
Moving forward
Since 2007, Birger Engineering has been completely devoted to its own products, and during that time two very important decisions have been made. The first is that absolute compatibility is a must, and to that end the company has accumulated a very large library of lenses, at great expense, to ensure that every time new software or a new product is released customers will have no issues using it. 
The second decision, Widding explained, is that Birger is focused on being able to respond to specific customer or perceived market needs very quickly. For example, 'our software has a "phone home" button, so if a customer gets a lens they're having issues with we can remotely run diagnostics; we encrypt the data and then send it back to Birger where it gets evaluated,' said Widding. 'We may find the cause of the issue to be a broken lens adapter from Birger or a needed change in the protocol, and if it's the latter we can decide whether to borrow that from the customer, buy it and make it a permanent member of the test set or simply rent it and make sure our next release is compatible. 
'In our experience of working with lenses over the last 10 years we've come to the conclusion that there are six to eight separate dialects that different development teams at Canon have evolved from a common starting point, and we've been able to come up with a solution that can talk to all of them fluently. That's something we're proud of, and it's something that no one else in the marketplace has been able to duplicate.'