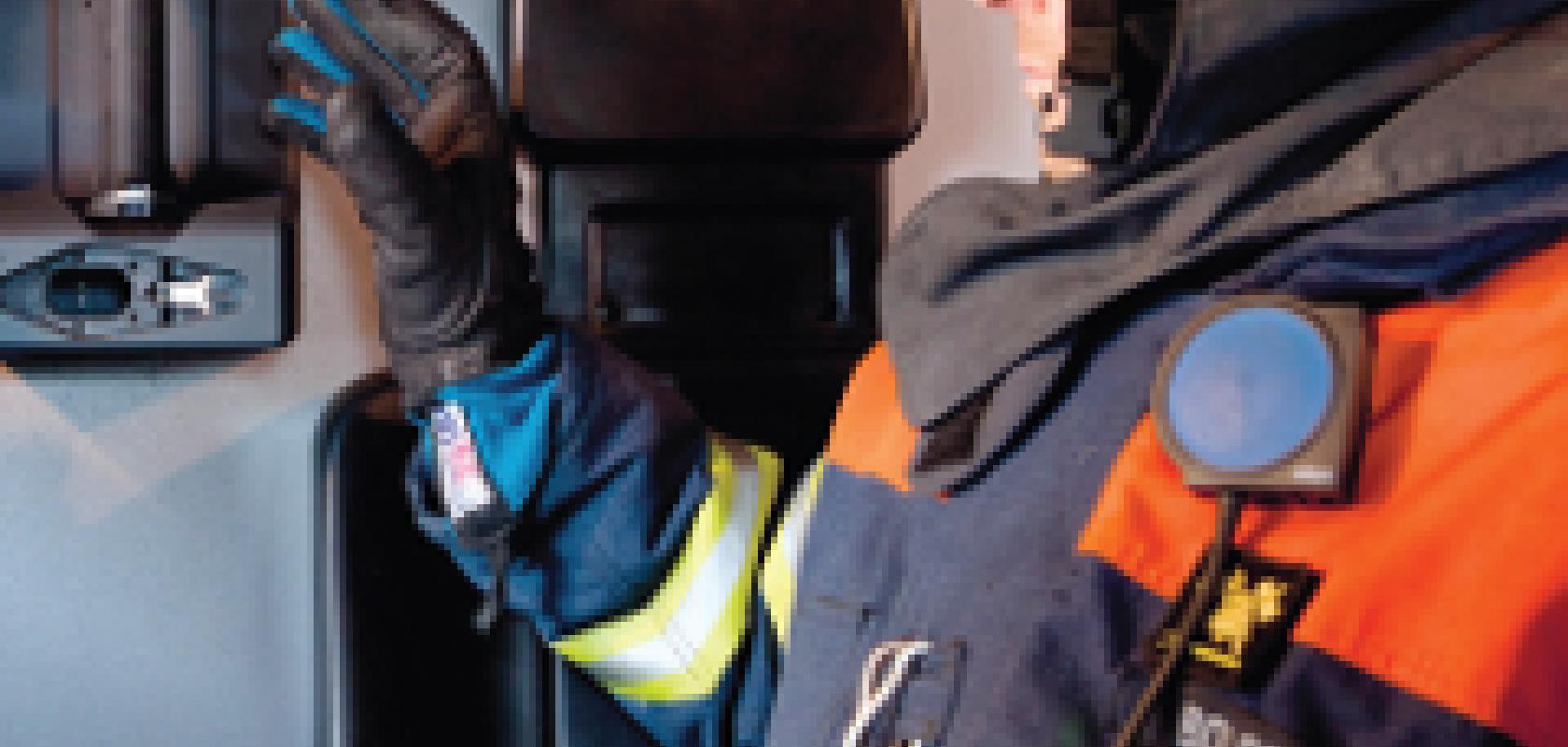 The history of thermal imaging giant, Flir Systems, goes back 37 years since its founding in 1978. As of 2014, the company is divided into six distinct operating segments – surveillance, OEM and emerging markets, maritime, security, detection, and instruments – but it is the final segment, Instruments, that serves the industrial, commercial, and scientific markets under the Flir and Extech brands.
Rickard Lindvall, general manager of Instruments at Flir Systems, explained that this particular segment has roots in Stockholm, Sweden, that date back to the 1960s. Flir Instruments is the result of many notable mergers and acquisitions, not least of which was the acquisition of Swedish company Agema Infrared Systems in 1998. Formally known as Aga, Agema Infrared Systems developed the first commercial infrared scanner, designed for inspecting power lines, in 1965. Less than 10 years later, in 1973, the company developed the first battery-operated portable infrared scanner, and in 1978 introduced the first dual-wavelength system capable of real-time analogue recording for R&D markets. In addition, prior to being purchased by Flir Systems, Agema Infrared Systems launched the first uncooled infrared camera, the Agema 570, in 1997.
With this wealth of commercial infrared camera expertise on board, Flir Systems began to consolidate the market – a move that in the following year led to the acquisition of US-based Inframetrics, a company that developed the first TV-compatible infrared system in 1975, and the first full-featured camcorder-style focal plane array (FPA) infrared camera in 1995.
Testing times
When Rickard Lindvall joined Flir Systems in 2003, the company as a whole was exhibiting considerable growth and stability following a scandal in 2000 that saw the company's president and CEO, Kenneth Stringer III, being dismissed due to errors in the company's accounting practices. 'That was a difficult time for Flir Systems, and it's not something we dwell on but I think it's important to take pride in the fact the company turned things around very quickly and has spent the past 15 years going from strength to strength,' said Lindvall. 'Even in the days of uncertainty, we knew we had a thermal imaging technology that could make a huge difference to, and in fact could save, many lives.'
In terms of its technology, Flir Systems began with a focus on developing infrared imaging systems that were installed on vehicles for the purpose of conducting energy audits of residential areas. These vehicles were able to detect the infrared energy emitted by all people, objects and materials, enabling them to identify abnormal heat leakages from individual properties. At that lower end of the market, basic forms of the technology were applied to industrial applications, such as monitoring heat loss from doors, windows and roofs, etc. The company expanded to airborne applications and further developed its thermal imaging technology for high-end military use, such as weapons targeting, as the infrared cameras allow operators to see in total darkness and through any visual disturbances, like smoke. Flir Systems noted the gap between the two ends of the market and towards the end of the 1980s began to develop handheld and laboratory systems for a variety of commercial applications. This move was accelerated with the acquisition in 1990 of the industrial infrared imaging group from the Hughes Aircraft Co.
'Within our division, we made the decision four years ago to target the firefighting market because we felt the market was too conservative on the price. Our target from day one was to be disruptive in pricing,' explained Rickard Lindvall. 'The technology we had was perfect for that market because not only could the infrared cameras see through smoke, but the system can very precisely measure temperatures, such as body temperature, without the need for direct contact. We therefore tasked some of our product managers and engineers with focusing on the development of a complete lower-cost solution that, in the end, was almost half the price of what was previously available on the market.' Today, Lindvall continued, almost all professional firefighters in the Western hemisphere use infrared technology to detect people trapped in buildings, assess whether fires are burning behind closed doors or walls, and to navigate safely within smoke-filled rooms. 'In Sweden,' he added, 'it's now mandatory for all firefighters to have an infrared camera – that's the real indicator of how important our technology is.'
A wealth of applications
Lindvall emphasises that a driving factor behind the company's development of thermal imaging technology has been the desire to improve and potentially save lives. In 2005, Flir Systems began to supply automobile manufacturer BMW with its night vision systems. These infrared cameras are now integrated into BMW's premium range, as well as certain cars by Audi and Mercedes, to provide drivers with an early warning system to alert them to objects, such as pedestrians and animals, close to the vehicle. That warning is increased should the object be in the direct path of the vehicle.
'Another safety application for our technology is a "man overboard" system for cruise ships that detects someone if they fall, sounds an alarm, and then continues to track the person in the water via an infrared camera until they can be rescued,' added Lindvall.
A potential future avenue for thermal imaging systems is the medical field. 'The technology is maturing, and the impact could be life-changing,' Lindvall commented. 'One application is the detection of breast cancers, as tumours result in an accelerated local metabolism, which in turn causes an increase in blood vessels. This means that tumours radiate an increased amount of heat energy, resulting in a rise in skin temperature.' Providing a safer and less invasive alternative to mammography, infrared cameras could potentially be used to detect tumours by detecting this localised change in temperature, and research is currently being conducted in this area. Lindvall added that Flir Systems has given cameras to ambulance crews in Sweden to help paramedics decide on the urgency of individual cases where there are a large number of casualties, as a decrease in body temperature can indicate factors such as the patient being in shock. This is an application that the company continues to invest in developing.
Beyond improving people's safety, Flir Systems is also keen to get its technology into the hands of the general public. 'We want to keep people safe, but more than that we want to improve their everyday lives,' Lindvall explained. 'We introduced Flir One, an attachment for the iPhone 5, so that people could benefit from having a personal thermal imager. And the applications range from checking the energy efficiency of your home, tracing water leaks, and finding lost pets, to detecting fever in children and ensuring that food has been prepared to the correct temperature.
'The potential is huge and in the years to come we hope that everyone will know about thermal imaging technology because it will be making a difference in their lives,' continued Lindvall. 'It's certainly not easy to produce an infrared camera that measures exact temperatures all of the time, but we've been refining the process for more than 60 years.
'That focus has made us experts and has led to our setting the standard for thermography testing and analysis. Ultimately though, we know this is just the beginning of our journey.'