Infrared imaging for the masses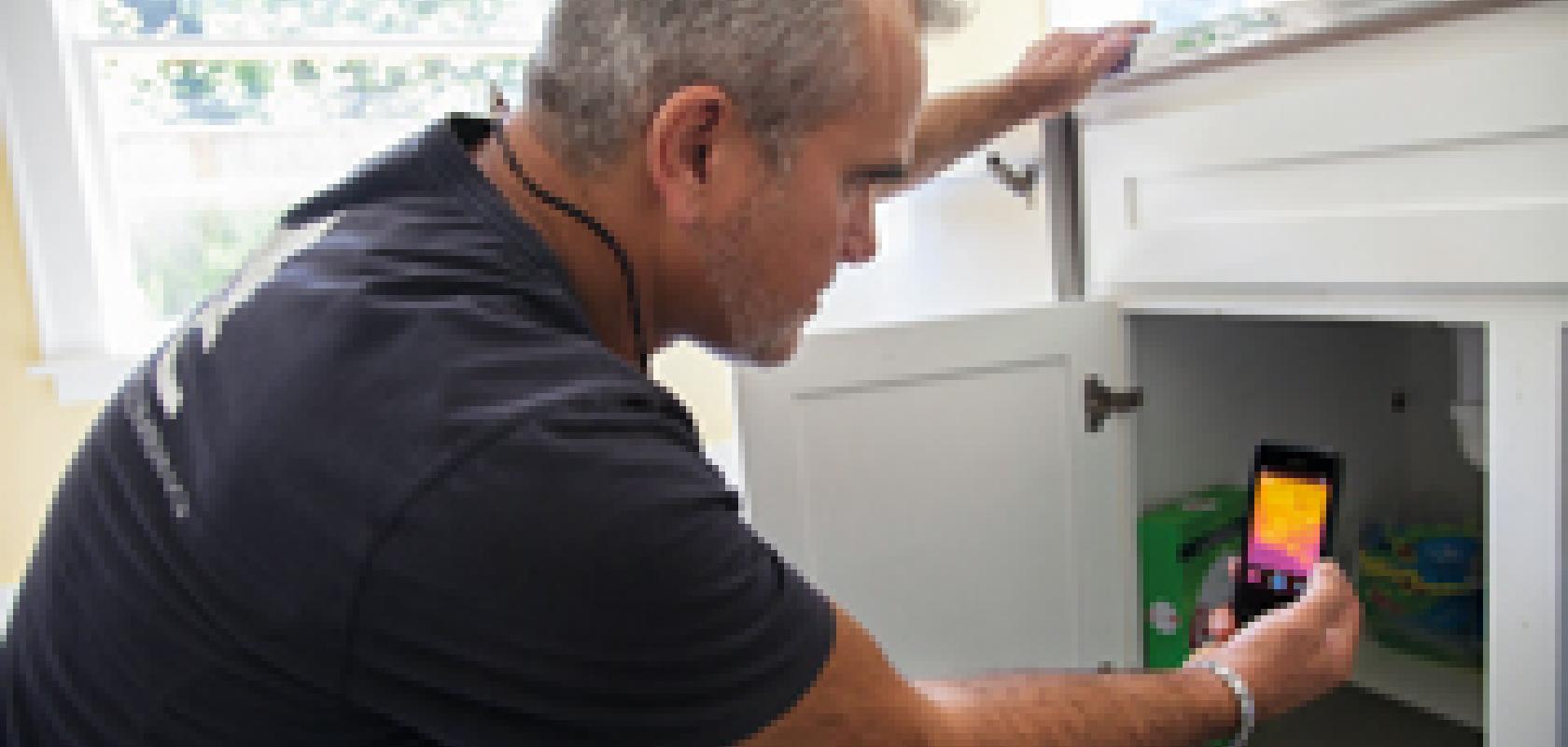 Thermal imaging capabilities were placed into the hands of the consumer last year by Flir, with the launch of an accessory that can transform a mobile phone into a thermal camera. And since then, other low-cost devices have been developed to target consumers and other types of new users – which is not only helping to drive growth in the industry as a whole, but reduce prices in the more traditional thermal imaging markets.
The uncooled thermal camera market re-entered a growth phase in 2014, following a subpar 2012 and 2013 according to a report released by Yole Développement in June. There was a 30 per cent growth in shipments in 2014, the report stated, and it is expected that the overall market will continue to grow by 20 per cent each year until 2020.
Yole's analysis indicates that shipments will be strongly driven by three rapidly expanding commercial markets: thermography and surveillance, which represent around 50 per cent of the entire thermal imaging market, and automotive.
The healthy growth seen in the thermal imaging market has been driven, in part, by the introduction of thermal imaging to the consumer market, which up until now has largely been dominated by Flir. The company's Flir One thermal imaging accessory, which it launched in 2014, has been credited with bringing thermal imaging capabilities – traditionally expensive equipment – to the mass market.
The accessory can be attached to most smart phones and tablets, allowing users to see the world from a thermal perspective. It displays live infrared imagery, which enables a host of practical solutions for consumers – from detecting energy leaks at home to seeing in complete darkness.
When the Flir One was first launched, it was questioned as to whether it would take some of the market share from more conventional thermal imaging markets, such as thermography or surveillance. However, a very different scenario occurred in 2014, according to Yann de Charentenay, a senior technology and market analyst at Yole: 'At the beginning, we were thinking that this type of smart phone product could stand to replace professional cameras, but what we have found is that there has been no cannibalisation up until now – instead it is acting as good advertising for thermal imaging. It's increasing the awareness of thermal imaging for consumers.
'I think there has been a good synergy between the consumer and the professional commercial business up until now,' de Charentenay added.
Indeed, low cost devices that provide people with a 'first point of contact' for thermal imaging technology are helping to open up new applications, whether in the consumer space or in more industrial areas. 'Thanks to the Flir One, thermal imaging is becoming a lot more popular,' said Christiaan Maras, marketing director at Flir Commercial Systems. 'It brings people in touch with thermal imaging and shows them the benefits. Flir One is helping [consumers] to discover what thermal imaging is and what thermal imaging can do for them.
'It happens that they come to the conclusion that thermal imaging is something that they can use in their professional life as well,' Maras continued. 'Sometimes, they will try to look for a more specific solution for their specific problem. This is happening in the predictive maintenance industry, the building industry, the machine vision industry, and other segments in which Flir is active.'
It is expected that these low-cost, low resolution imagers will help to drive down costs in other thermal imaging markets and help to boost further growth in the future. 'With thermography in particular we anticipate that the market will be strongly driven by cameras which have quite a low resolution – around 80 by 80 pixels – so therefore are very small and low in cost,' explained de Charentenay. 'Today, for this kind of camera the price is around $500 to $1,000, which means it can be adopted by… a general contractor or a technician. Before, this type of camera was several thousands of dollars, and it could only be used by a certain type of engineer.'
The cost reductions of infrared detectors, which have allowed them to be put into consumer devices, have largely been enabled by improved manufacturing techniques and packaging processes.
Wafer-level packaging techniques can be used to produce hundreds of sensors simultaneously on a single wafer – a huge improvement on traditional methods. This process involves 'sandwiching' together two wafers, so that all dyes on the sensor wafer, or the read out wafer, are covered at once.
'One of the biggest cost drivers of microbolometers, used in thermal imaging cameras, is that you have to operate them under vacuum,' explained Myriam Gillisjans, marketing manager Americas and corporate communication manager at infrared camera provider Xenics. 'Packaging components under vacuum is a pretty expensive operation, and people worldwide are looking to alternative packaging technologies in order to reduce the cost.' She said that 100 or a few hundred single devices can be fabricated on a single wafer using wafer-level packaging, whereas only around 20 devices can be produced per run using traditional methods with lots of manual labour.
'There is a huge investment in technology in this business [thermal imaging], especially at the semiconductor and sensor level, because the sensor is really the largest portion of the camera cost,' commented de Charentenay.
And in turn, the larger volumes generated by the consumer market allow manufacturers to reduce costs in other markets. An example of this can be seen with Flir's Lepton 80 x 60 pixel thermal imaging core – Flir first launched this sensor in its Flir One consumer device, but since then it has announced eight new low price camera products based on this Lepton core to serve other markets, including safety and security, automotive, and presence detection. 'Flir first introduced this core in the Flir One, but they have now introduced it into several industrial products,' said de Charentenay.
The increase in volume for infrared imaging in the machine vision sector is mainly performance driven, Gillisjans added, as infrared imagers provide capabilities that are not possible with visible cameras. 'The customer can inspect defects earlier in the manufacturing process, or they can find defects deeper under the surface and therefore optimise production.'
Consumer products
But is it just the large market players, which are already equipped for high-volume production, that are in a position to introduce low-cost instruments? It seems not – more thermal imaging companies are starting to move into the consumer space through industry partnerships and collaborative European projects.
Just a few months after the Flir One was introduced, Seek Thermal, an infrared technology company based in California, launched its own thermal imaging device for use with a smart phone.
Although the company was only founded in 2012, and is small compared to the likes of Flir, it is successfully selling products to the general public – its thermal imager for the iPhone, for example, is on the market for $249; around the same price, if not cheaper than, the Flir One.
The company has managed to position itself in the consumer space through a partnership with Raytheon, a large defence company, which produce the sensor chips for Seek Thermal cheaply through wafer-bases manufacturing techniques.
'This is a big trend in [the thermal imaging] business. Before, companies had their own manufacturing line, but now they have transferred their production line to foundries,' said Yole's de Charentenay. 'The foundries are producing chips for many industries and not just the thermal imaging market, so they can increase their volume with different markets.'
Xenics is gradually moving into the consumer market, helped in part by their participation in European funded programmes such as FP7 and Horizon 2020. One such programme is a fire safety project to develop more reliable fire detection solutions. Today's instruments are primarily designed to detect and respond to smoke and heat, noted Gillisjans. However, these elements are mainly present during the advanced stages of the fire cycle when noxious gases have been already released and the fire has already propagated to a large extent.
The end result of the project will be a small, low-cost instrument combining a thermal infrared OEM module together with gas and environmental sensors. The infrared OEM module being developed by Xenics will be capable of identifying the number of occupants in the building, as well as provide information as to whether they are sitting, standing, or lying on the floor.
Healthcare is another market that Gillisjans commented would be a good fit for thermal imaging in the future as the technology comes down in price.
According to Gillisjans, working together with experienced and knowledgeable industry partners increases a company's success rate when entering new markets. 'You can leave the market study and the commercialisation of the product to others and therefore stay focussed on your core business and achieve faster time-to-market,' she said. 'We have seen in the past companies who are trying to break open new markets, and it is a massive effort.'
These collaborative projects also go a long way to advertise thermal imaging to users that might not have previously considered the technology, commented Bob Grietens, founder and CEO of Xenics. 'FP7 or Horizon 2020 projects can help thermal imaging reach a wider audience, because there you have an exposure of an end user and an integrator, together with component manufacturers,' he said. 'Here, you can create a platform in order to demonstrate that you can make lower cost applications than what is currently readily available.'
Automotive
Although cost is being brought down in many sectors of the thermal imaging market, prices still remain high in the automotive sector, according to Yole's de Charentenay. The market is still fairly small, in comparison to thermography and surveillance, and volumes are not at the level that people had anticipated them to be at when thermal imaging first entered into automotive, Charentenay explained. 'Five years ago, companies were very optimistic about the automotive market, and they were thinking that everybody would have a thermal imaging camera in the car – but this is not what has happened up until now, because the cost is still too high,' he said.
'It was first used in this area to identify pedestrians, and now they have expanded the functions to identify animals, to preload braking and add dynamic light spots – car headlights orientated on the pedestrians or animals – but it's still only used in very high-end, luxury vehicles, and it's sold for around $2,000 – so the price is very high for automotive,' de Charentenay added.
Part of the problem in this sector is that there is strong competition with other, cheaper technologies that already have a large presence in the automotive sector. 'There is a competition with standalone vision cameras – there are more and more visible cameras being integrated into cars to identify pedestrians behind the car and at different places around the car. There is also competition with radar technologies,' de Charentenay remarked. 'So, there are different ways to detect pedestrians – thermal imaging is one way, but it is not the only way. There is a strong competition with other technologies.'
Another challenge is that currently, especially with how technology is integrated into vehicles at the moment, it is unclear as to the benefit that thermal imaging brings to the automotive sector, de Charentenay noted. 'The added value of thermal imaging is insufficient today for car makers – automatic braking in the case of an identified pedestrian or animal would be much more appealing, but this will require the use of several detection technologies, which would increase the cost and further increase cost pressure on thermal cameras.
'This is not the case with other markets, such as thermography, where people are clear about the benefit of thermal imaging,' de Charentenay continued. 'In thermography, you use it to measure the temperature in a scene, and for surveillance applications, you use it to identify smoke or people in a scene in the dark. Here, the added value of thermal imaging is clear, but for automotive there is a strong competition with other technologies.'
Yole's report – Uncooled infrared imaging technology and market trends report, June 2015 – still predicts that the automotive market will grow by a healthy 20 per cent. In order for thermal imaging to live up to the expectations that people first had five years ago, the benefit needs to be made clear, and the price point needs to be right, de Charentenay commented. 'It will take some time in order for the technology to be adopted more broadly, because you need to reduce the cost significantly, and you need to identify the right use that will add real value to automotive applications,' he said. 'We believe that the right use will be to have automatic braking in the car when the thermal imaging technology identifies a pedestrian. But what needs to happen is that the price needs to be reduced.'
Hot prospects
The future is indeed looking bright for the thermal imaging, and, as the technology has only been in the hands of the consumer for the last year, it is only the beginning for understanding the full potential of thermal imaging, Flir's Maras pointed out. 'We expect there to be a lot of new markets for thermal imaging that we do not know about today,' he said. 'We have the vision that everybody will be using a thermal imaging camera soon, because the more the technology is spreading, the more people are using it and the more ideas there are that crop up for thermal imaging applications. This is starting to happen with Flir One.'
Further information 
Xenic's thermal infrared OEM module
About the author
Jessica Rowbury is Deputy Editor for Electro Optics, Imaging & Machine Vision Europe, and Laser Systems Europe.
You can contact her on jessica.rowbury@europascience.com or on +44 (0) 1223 275 476.
Find us on Twitter at @ElectroOptics, @IMVEurope, @LaserSystemsMag and @JessRowbury.