Michael Engel, founder and CEO, Vision Components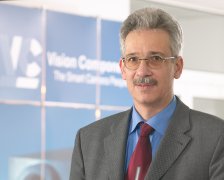 How did you come to be part of the imaging/ machine vision industry?


Back in the early 1980s, as a graduate physicist, I made a conscious decision to specialise in a field that I believed had a future, that field being image processing.

After learning the ropes via a university research fellowship, I started my own business in 1983, which set about supporting the production steps in industrial production processes with state-of-the-art image processing, ranging from customised problem solutions to integration to turnkey installations. At the time, I was one of the few companies active in this field.

The VC11 camera, the first intelligent camera suitable for industry use, was no bigger than the industrial cameras of the time and along with it came the founding of Vision Components. This product was the start of the success story that led the company to be nicknamed the 'Smart Camera People'.
How do you convince customers that they need machine vision?

The advantages for our customers can be seen at first glance. Firstly the usage of machine vision enables them to optimise their processes and products. Additionally, they can reduce their costs and raise their efficiency by using our technological innovations. We also convince our customers about the advantages of smart cameras. A PC is only required for programming. Most of our smart cameras also feature an integrated video output, digital IOs and either RS232 or Ethernet TCP/IP communication interfaces – all this in an industry-proof housing of only 111 x 50 x 36mm (our single board and sensor cameras are even smaller)!

Thanks to their built-in intelligence, smart cameras can replace fully-fledged PC systems in most industrial applications. Equipped with high-performance processors, they are suitable for use as stand-alone image processing systems in demanding applications, such as measuring tasks and quality checks. Moreover, the compact devices offer new integration possibilities for machine and plant designers, thereby reducing costs – switching cabinets, for example, are no longer needed.
What role does Europe have in the development of machine vision?

Due to the fact that many industrial application areas have their focal point in Europe, the development of machine vision has been heavily driven in Europe. Germany plays a major role in Europe's machine vision industry, because many of the leading engineers in this sector have been developing machine vision systems here for more than 25 years.
What do you see as the major growth sectors?

Beside the classic fields of machine vision, such as the automotive and pharmaceutical sectors, non industrial sectors are permanently growing like, for example, applications in the security sector (licence plate recognition, people counting, people tracking, access control with biometrics) or medical and sports sectors, such as motion analysis (sports applications or therapeutic applications among others). The reason is the increasing performance of the processors of those smart embedded systems, which opens up new fields for machine vision.
What do you see as being the most significant commercial change in the industry during the years ahead?


One of the most significant changes will be the increase of the importance of smart embedded systems due to the continuously higher performances at lower prices. The systems will replace traditional PC-based systems more and more due to the higher number of advantages. For example, today's smart cameras are effectively complete standalone vision systems. The entire image processing is done by the onboard processor.