Mark Williamson, sales and marketing director, Firstsight Vision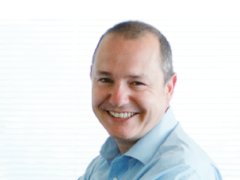 How did you come to be part of the imaging/machine vision industry?
I started in the vision industry in 1989 when I joined a new start-up called DataCell, selling industrial computers. Within three months DataCell gained the distribution agreement for Imaging Technology, which is now part of Dalsa. I specialised in this area, having previous signal processing experience developing ultrasound NDT systems. At the time, the vision technology was predominantly VME bus-based and was difficult to integrate. System costs were typically in the tens of thousands of Euros just for the hardware. In 1994 DataCell split off a second company called Active Imaging, developing smart cameras for the security market and I transferred as product director and later general manager. In 1997 the company was sold and I left to start Pinnacle Vision as a value-added distributor and supplier of machine vision development services for OEMs. In 2001 Pinnacle merged with Vortex Vision to form Firstsight Vision, which then merged in 2004 with Stemmer Imaging (Germany) and Imasys (France) to form the Stemmer Imaging Group.

How do you convince customers that they need machine vision?
It depends who you are selling to. I see two clear customer types and these need to be sold to in different ways. Vision solutions for automated inspection and process control markets require the customer to be convinced the technology will do the job and offer a return on investment. This can take a lot of pre-sales investment and sometimes, with the price of systems falling, can struggle to show a return. In these areas we offer free hands-on workshops, training and a sample evaluation service, as on-site demos are becoming less viable unless the volumes are there. If customers still want a turnkey solution we work with very competent integrators. The key is to work in partnership – everybody needs to get something out of the project. Honesty and integrity is paramount.
For the components business, where we are selling to integrators and OEMs, the customers know they need vision, but with such a wide choice of products and limited engineering resources, evaluation can be daunting and time-consuming for customers. This is where our value-add comes in. As part of the Stemmer Imaging Group, we have more than 70 engineers familiar with our technology. We ensure our entire product is solidly reliable by internal testing and that they work together in validated combinations. Often we know more about how our suppliers' products interact than they do themselves.
What role does Europe have in the development of machine vision?
When I started, the majority of innovation in machine vision was coming from the US, with Europe mainly distributing technology. This has reversed in recent years. Europe is leading technical innovation in the industry and is home to some of the most rapidly expanding vision companies, such as IDS, Allied Vision Technology and JAI. Europe also hosts the Vision Show, which has become the world showcase for vision technology as US shows dwindle.

What do you see as the major growth sectors?
The traditional machine vision markets of automation and general inspection are steadily growing. However, with price erosion and a lot of manufacturing moving east, this will continue to be at a modest rate in Europe. The real growth in Europe is in new markets that require a high level of innovation leveraging new technologies. Example areas are in 3D imaging, sports analysis, traffic and high-end security. People are waking up to the fact that machine vision technology can solve problem applications in other markets.

What do you see as the most important technological challenges facing the industry?
I see two areas of technical progression in the coming years. The newly-released GigE vision technology has to take a foothold in the industry. Its success to date has been driven by applications that need the long cable length it offers, but for success it needs to be adopted by the mainstream. One area that could make this happen is in the concept of network-centric vision systems. This is when the intelligence of the vision system is moved off the factory floor in to server rooms, reducing costs and improving reliability. But to do this, much of the real-time timing control will need to be kept local to the production line, meaning cameras will need more functionality or will require network timing controllers to become available.
The other challenge is at the high-speed end of the market. We are seeing that Camera Link technology, which has been available over the past five years, is now becoming speed limited, in that new cameras being released go beyond the 675Mb/s that the interface can handle and the PCI Express architecture of new PCs also extends beyond this level.
What do you see as being the most significant commercial change in the industry during the years ahead?
The machine vision market is still quite immature; there are many small companies with similar products all chasing after a limited number of applications. This is leading to price erosion. We have started to see consolidation, with many company acquisitions such as Coreco by Dalsa, Pulnix by JAI and DVT by Cognex, and I think there will be much more of this in the coming years. With technologies such as GeniCam making it easier for customers to switch camera suppliers and most camera suppliers using either Sony or Kodak sensors, the challenge will be for suppliers to differentiate themselves.