Pills packaged to perfection
Greg Blackman looks at where vision technology is used on pharma packaging lines, from blister pack inspection to track-and-trace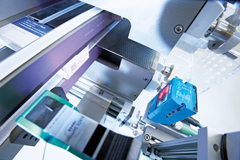 With new regulations such as the Falsified Medicines Directive in the EU forcing pharmaceutical companies to think long and hard about their manufacturing practices in order to comply, vision technologies are more important than ever for traceability and ensuring medicines are authentic.
Laetus, a German company producing inspection systems for the pharmaceutical sector, has expanded a lot in the area of track-and-trace, according to Günter Rodeck, a product manager at the company. 'This [track-and-trace] is now our biggest growing market,' he commented, 'where we use the camera system to verify what has been printed on the packaging line.'
Track-and-trace is about ensuring the authenticity and traceability of medicine, and involves printing serialised numbers and 2D codes on packaging material to identify the medicine as it passes through the packaging process. Machine vision is used to identify and verify those codes.
'Camera resolution requirements are much higher for track-and-trace, because large areas have to be inspected with a lot of codes inside,' explained Rodeck. Laetus uses cameras from Allied Vision for some of its inspection systems, in particular Allied Vision's Stingray platform which Laetus integrated into its iCam camera module. The iCam system is available in eight sensor varieties from VGA resolution up to 5 megapixels, and is used for various pharmaceutical packaging inspection tasks.
In total, Laetus' camera range goes up to 29 megapixel resolution, which, Rodeck noted, allows just one camera to be used to cover a large inspection area for track-and-trace applications. 'Handling just one camera is always easier than multiple cameras,' he said. 'To cover the same inspection area with four cameras, you have to adjust the focus four times as well as other parameters, which complicates the setup. You also don't have the problem of handling four images; there is just one image for the software to analyse.'
For print inspection, Laetus provides specialised lighting and different camera resolutions, as the distance might change between the camera and the object depending on where the system is installed. Rodeck commented: 'We use monochrome cameras, colour cameras, and multiple cameras, where we inspect from the front and back or even 360 degrees around the container.'
Much of track-and-trace involves code reading of some description and matching those codes to printed characters on the packaging, all of which can be determined with machine vision. German company Sick provides smart cameras for code reading, including its Lector 620 scanner with optical character recognition (OCR) capabilities for pharmaceutical packaging applications.
The human readable data on packaging, such as batch, lot numbers and expiry dates, all need to be read and verified to ensure that the numbers, letters, symbols and codes are of a readable quality. It is also important that the information matches the barcode to ensure the right data is associated with the right pack.
The Lector 620 OCR can recognise plain text letters, symbols and numbers at a distance of between 30mm and 300mm and at speeds of up to 4.0m/s. A range of standard fonts are supported, as well as barcodes and data matrix codes.
Neil Sandhu, national product manager of imaging, measurement and ranging at Sick UK, commented that character recognition, regardless of the industry, is a challenging application. 'To get a good optical character recognition or optical character verification algorithm is difficult because of the variability that can be present in the images,' he said.
He added that reading characters on pharmaceutical packaging and inspecting for quality and for traceability is generally easier than in the food industry where there is more variability in the print. He noted that, because the regulations in pharma demand higher quality packaging, traceability with vision is slightly easier to implement.
'When inspecting labels or packaging, the whole vision setup is key – the camera and lighting as well as the algorithm all play a significant part in any system that's going to do that kind of work,' Sandhu continued. 'It's about the environment: what you're looking at, how much product variability there is, the level of detail the system needs to inspect, what is classified as correct, and what the company wants to instigate in the instances of pass and fail.'
Blister pack inspection
In general terms, quality control in pharmaceutical production is measured by completeness and correctness of the pack or carton, according to Biren Patel, director of marketing at Shubham Automation. This holds true across primary, secondary and tertiary packaging inspection.
Shubham Automation, based in Ahmedabad, India, provides automation systems, including inspection systems for the pharmaceutical industry. It has provided inspection systems for Hyderabad, India, for which Shubham's Smart Eye system was used for label and leaflet inspection. The system is based on Matrix Vision's MvBlueCougar-XD dual GigE camera, as well as its MvBlueLynx-X intelligent camera.
There are different versions of Smart Eye depending on the type of packaging. These include: Label Master for checking stickers and labels; Carton Master for cartons; and Blister Master for blister packaging.
'In blister pack inspection, we use area scan colour cameras,' noted Patel. 'We have to select a field of view according to the blister packaging machine size. We check for foreign particles, tablets missing from the cavities, that the tablet is the correct colour, among other checks.' Each image is compared against a reference image, with the integrity of the blister pack inspected prior to sealing.
Laetus also provides systems for blister pack inspection, for which it designed its own lighting. 'The blister machine area ranges from 160 x 120mm up to 350 x 200mm, which the inspection system has to cover,' explained Rodeck.
'Blister pack inspection is a very sensitive colour inspection,' he continued. The lighting box is positioned above and as close to the blister packs as possible so as to minimise any ambient light that could influence the colour sensitivity of the system.
In terms of speed, Rodeck noted that typically a packaging line becomes slower towards the final product. Packaging starts with blister packs that are put in cartons; cartons are then put into a bundle and these into a case. 'At case level you're talking about 10 packs per minute,' Rodeck said, 'but towards the beginning of packaging lines it can be 400 per minute.' This in itself is not really high speed, he added, giving the example of packaging machines in the tobacco industry which are around three times faster.
One other aspect that Sandhu noted as important when providing vision equipment for pharmaceutical inspection machinery is the interface to the packaging machine or control system – the inspection system has to be able to communicate effectively with the machine. 'If we talk about automation and programmable logic controllers (PLCs), the two big players are Rockwell Automation and Siemens,' he said. 'You need to have a system that's adaptable to all kinds of interface technologies.'
The regulations for pharmaceutical production govern to a large extent how the inspection machines for this industry operate and how inspection machine builders develop their systems. 'Pharma companies have to follow good manufacturing practices, so that means our internal development is strictly aligned to those rules,' commented Rodeck. 'It's not required for the technical development of the vision system, but it is required by the pharma industry.'
Greg Blackman is the editor for Electro Optics, Imaging & Machine Vision Europe, and Laser Systems Europe.
You can contact him at greg.blackman@europascience.com or on +44 (0) 1223 275 472.
Find us on Twitter at @ElectroOptics, @IMVEurope, and @LaserSystemsMag.