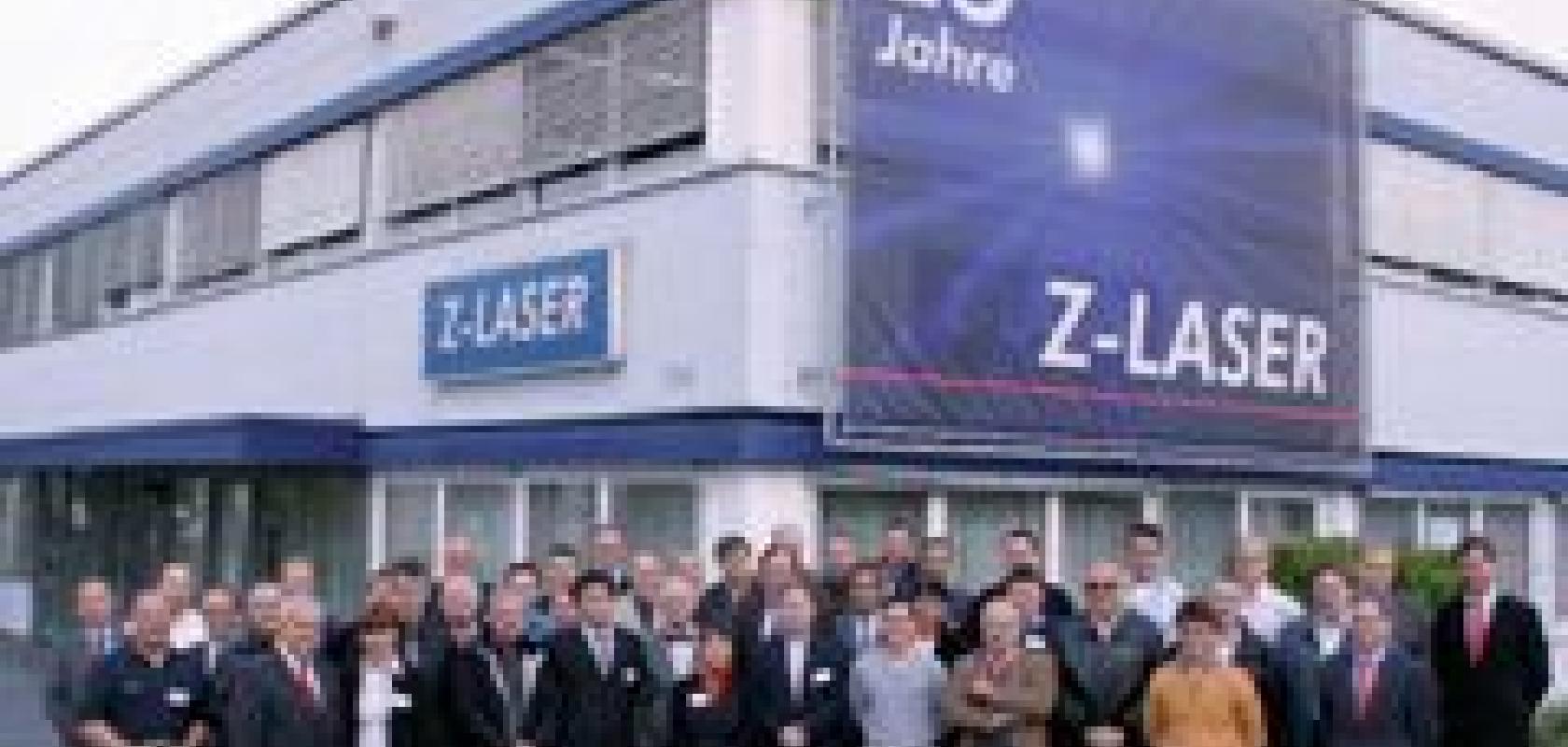 In an industry that was hard hit during the most recent economic crisis, it is heartening to see so many companies emerge from it stronger than ever before. In its 25-year history, Z-Laser has weathered many economic downturns, yet its reliable and high-quality products have seen it through time and time again.
The Z-Laser story begins in 1985, when industrial engineer Kurt-Michael Zimmermann started the company in Freiburg, Germany, having spent many years working in the field of photonics. The initial products were HeNe lasers for use in sawmills as guidance aids (Freiburg is located in the Black Forest area, where the timber industry is prevalent). In this application, the laser projects a straight line that is used as a guide by the saws when cutting timber. This helped the sawmills optimise the use of timber, and also acted as a safety measure. The product was an instant success, leading to the development of a worldwide distribution network. This is still one of the major business areas for Z-Laser even now, with its products in place throughout the global timber industry.
Inevitably, Z-Laser made a strategic decision to explore allied industries with its technology, the first of which was stone processing, where the lasers were used for very similar tasks. Over the years, these applications in the sawing/cutting field have expanded to include metal, paper, food, glass and synthetic material. In terms of positioning, the laser modules are used in textiles, the automotive industry, metal and in presentations. More recently, a growing application has been the medical sector, where laser modules are used for patient alignment in x-rays. There are applications in drilling too, where the lasers are used for spot positioning in wood, stone, mining and metal.
In 1991, Zimmermann expanded the product range by shifting production to diode lasers, which have been the company's main focus since the early 90s. At this time, the company also launched the Vision 2000, a 3D measuring system.
A few years later, Z-Laser was a pioneer in the field of thermoelectrically-cooled industrial line lasers, with the introduction of the ZP, nicknamed The Champion. 'This had a dramatic effect on extending the lifetime of the diode laser,' says Thomas Lang, sales and marketing director at Z-Laser. 'Cooling helps keep the laser within acceptable limits, and therefore improves the reliability.'
Further to the acquisition of Lasertechnik Deutschland in 2001, Z-Laser expanded its product range with the introduction of laser projectors. These use a single source, which is then deflected by two rotating mirrors, to create patterns reflected on either 2D or 3D surfaces. Here, the laser is used as a guiding tool, helping with positioning of materials and so on.
The growth of the company led to a move into its current premises in Freiburg on 2005, which now houses more than 70 people. In 2007, the company set up Z-Laser UK, followed a year later by Z-Laser Italy, each operating as sales agents in their respective territories. The global presence is now complemented by Z-Laser America, set up in 2010 and run by Lang alongside more than 40 worldwide distributors. The original founder, Zimmermann, is still involved in the business as CEO.
The company's involvement in machine vision dates back to the introduction of the Vision 2000 in 1995, but it was only five years ago that Z-Laser made a strategic push into this market.
Thomas Lang
'Although we don't manufacture cameras,' says Lang, 'the lasers we provide are an essential part of the system. The laser projected needs to offer homogenous intensity distribution along a perfect straight line, and be industrial grade in terms of performance. We've invested heavily in new products in recent years, one of which is the ZM18, which incorporates a digital and analogue controller in one package.
'In machine vision, our customers are system integrators and machine builders. We design modules according to customer specifications, with specific beam shapes, which we call structured light projection. This means the modules project patterns according to customer needs, such as parallel lines, grids, dot grids and so on.'
In a competitive market, Lang believes Z-Laser has many qualities that make it stand apart. 'We are committed to lasers for use in industrial environments,' says Lang. 'That means our products are adapted for use in harsh environments, they can operate over a wide temperature range and are IP-67 rated. Our products are developed as a result of listening to customer needs. We work closely with them on designs that provide specific beam shapes that fit their application.'
As well as the bespoke products, Z-Laser has range of standard product lines that are available from stock. 'They have been designed to be used in a wide range of applications, without any need for modification,' says Lang. 'Sometimes a customer will take a standard product and test it for their needs. They may then come back to us with requests for more functionality, and we'll work with them to customise the product accordingly.
'Larger companies, such as those in the automotive industry, will come to us knowing exactly what they want. They'll work with our R&D teams and we'll develop a mutually agreed solution to their problem.'
Indeed, customer communication and a larger R&D team are major strengths of Z-Laser, according to Lang. 'The customer is the most important person,' he says. 'And our 17-strong R&D team has a wide skill set, including optical, mechanical and electronic design, and software. The customer can be certain of support from all of these areas.'
Assembly of the laser modules is handled in-house at the Freiburg facility, which is ISO-certified, underlining the company's commitment to reliability.
Lang also highlights a new department, established in the past year, focused on LEDs, rather than lasers. 'These products are used for providing ambient light in medical equipment,' he says.
Looking to the future, Lang says: 'We will introduce more demanding products, including more sophisticated laser modules with improved software and compatibility with PCs. We are also looking at higher power – 7W in infrared, 1.5W in red – which will allow us to better serve applications outside, where you might otherwise get interference from sunlight, or where the application is very fast, such as when the camera has a very short shutter time. We will also introduce rare wavelengths.'