Innovation and independence
For more than a quarter of a century, privately-owned Matrix Vision has been an innovator in imaging, as Warren Clark discovers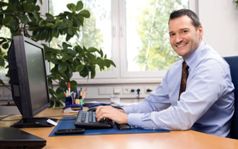 Matrix Vision was started in 1986 by Gerhard Thullner and Werner Armingeon, who had previously been working for the same company in the industrial electronics field. They founded the company having spotted an opportunity to develop graphic controllers for Atari PCs.
By 1992 it had become obvious that, in order to remain competitive in this particular sector, the company would need external investment. Both Thullner and Armingeon were keen that the company remain independent so, rather than hand over part of the company to investors or a bank, they chose to change direction.
The machine vision industry was emerging at that time, so the founders saw an opportunity to pivot the business into industrial image processing. Matrix Vision's first product in this market was a frame grabber for the ISA interface, sold initially within Germany. As the PC evolved, so did the range of frame grabbers.
The company's involvement in frame grabbers remains to this day, to a point where it now has a significant portfolio of products in this area. However, as Erhard Meier, the current general manager (business), points out: 'We are aware that the market for frame grabbers is diminishing, which is why we have a broader portfolio of products now.'
That broadening of products began as early as 1999, when Matrix Vision introduced mvCam, its first intelligent camera. 'This was a PC-based system, but developed entirely in-house by us,' says Meier. 'By that time, not only did we have expertise in image acquisition, but also processor development, and imaging libraries.'
The knowledge for the imaging libraries came initially from a co-operation with a company that specialised in this area. Matrix Vision acquired a stake in that company, and over time the IP transferred to the parent company. Thus, expertise in imaging libraries also became a core competence.
Digital cameras arrived in 2004 via a USB 2.0 interface, with Gigabit Ethernet cameras following in 2006. The latest additions to the product portfolio include dual GigE and USB3 Vision cameras.
In the early days, Matrix Vision served the industrial vision market, but has diversified over the years. Now, its cameras can be also found in the medical industry, such as dental and ophthalmology, as well as lab automation, automotive (particularly in tyre inspection) and traffic. A recent German government recycling initiative, Pfand, has also created a lot of business for Matrix Vision, as the scheme sees users returning bottles and cans via automated machines in order to receive a reimbursement. 'This scheme started in Denmark, and there are discussions ongoing at the European Commission about developing a similar system elsewhere throughout Europe,' says Meier.
Meier believes that at the heart of Matrix Vision's differentiators is its flexibility. 'We have a low hurdle when it comes to customisation,' he says. 'If our broad standard product portfolio can't satisfy a requirement, we can often make adjustments on behalf of a customer. The volumes to make this worthwhile for us are relatively low, and we can also do it quickly.'
Another differentiator is innovation. 'The quality of the standard features and functionality on our cameras is extremely high,' continues Meier. 'We are continuously looking for new and interesting features in focused market sectors that provide additional value to our customers.'
Matrix Vision has remained independent from the outset. 'It is a basic principle of our company philosophy to fund all of our operations and investments out of cash flow, which provides a stable basis to stay our course and be a solid partner for our customers for years to come,' says Meier. It is based in Oppenweiler, close to Stuttgart, Germany. There are approaching 70 employees working across two buildings – one housing sales, service, support and administration, and the other is for engineering and research and development.
'All of the product and R&D work is carried out in-house,' says Meier, 'and we carry out some production, such as final assembly and testing, here. We contract out the electronics board assembly and other production to regional companies.'
From a corporate perspective, Matrix Vision is a strong supporter of standardisation and open interfaces, and has representatives on many of the on-going standards committees. 'We believe standardisation will be an enabling factor to more widespread use,' says Meier. 'It offers customers some protection in terms of their investment, as they have more choice of products and cost-savings through simplified integration.'
Matrix Vision is based in Oppenweiler, close to Stuttgart, Germany 
Meier holds one of two general manager roles at Matrix Vision. He joined the company in 2010 as business manager, having spent many years in the IT and automation industry. 'That was a very crowded industry,' he says. 'I was looking for a change, and the machine vision industry was attractive as it is innovation-led. Matrix Vision in particular was ideal, because of its independence.'
Meier became general manager of the business side of Matrix Vision in 2011, while Uwe Furtner holds a similar role on the technical side. The two original founders are also still involved in the business, but are moving gradually towards retirement from operational duties.
Last year, the company achieved sales of €14.7 million, which was a 20 per cent increase on the previous year, and Meier forecasts that this year will see a similar level of growth. The primary markets for Matrix Vision are Germany, Austria and Switzerland, which are handled in-house from a sales perspective, as are France, Italy and India. Around a dozen additional countries throughout the world are handled via distribution.
'We are still growing strongly in our primary markets,' says Meier. 'Many of our customers are introducing new products, and we are very happy to be a part of those developments. However, internationalisation is a key growth driver for us. We have somewhat neglected those opportunities in the past, but that's definitely something we want to exploit in the future.
'In terms of technology, we want to keep refining our existing product portfolio, particularly in the smart camera business. One of the challenges here is to improve ease of use, and that's something we're really focused on, in order to bring down engineering costs for application development.
'Another promising area is that of 3D vision. Currently, that market is limited in terms of application areas because it lacks the speed and accuracy required, and also suffers from a relatively high price compared to 2D. We have identified some ways to overcome these challenges, and plan to introduce products in that area within the next couple of years.'
As well as being focused on geographical growth, Meier is keen for Matrix Vision to be 'more agile and even more customer-oriented' in the future. 'We are in the process of focusing on selected markets, where we can provide more value through better suited products,' he concludes.