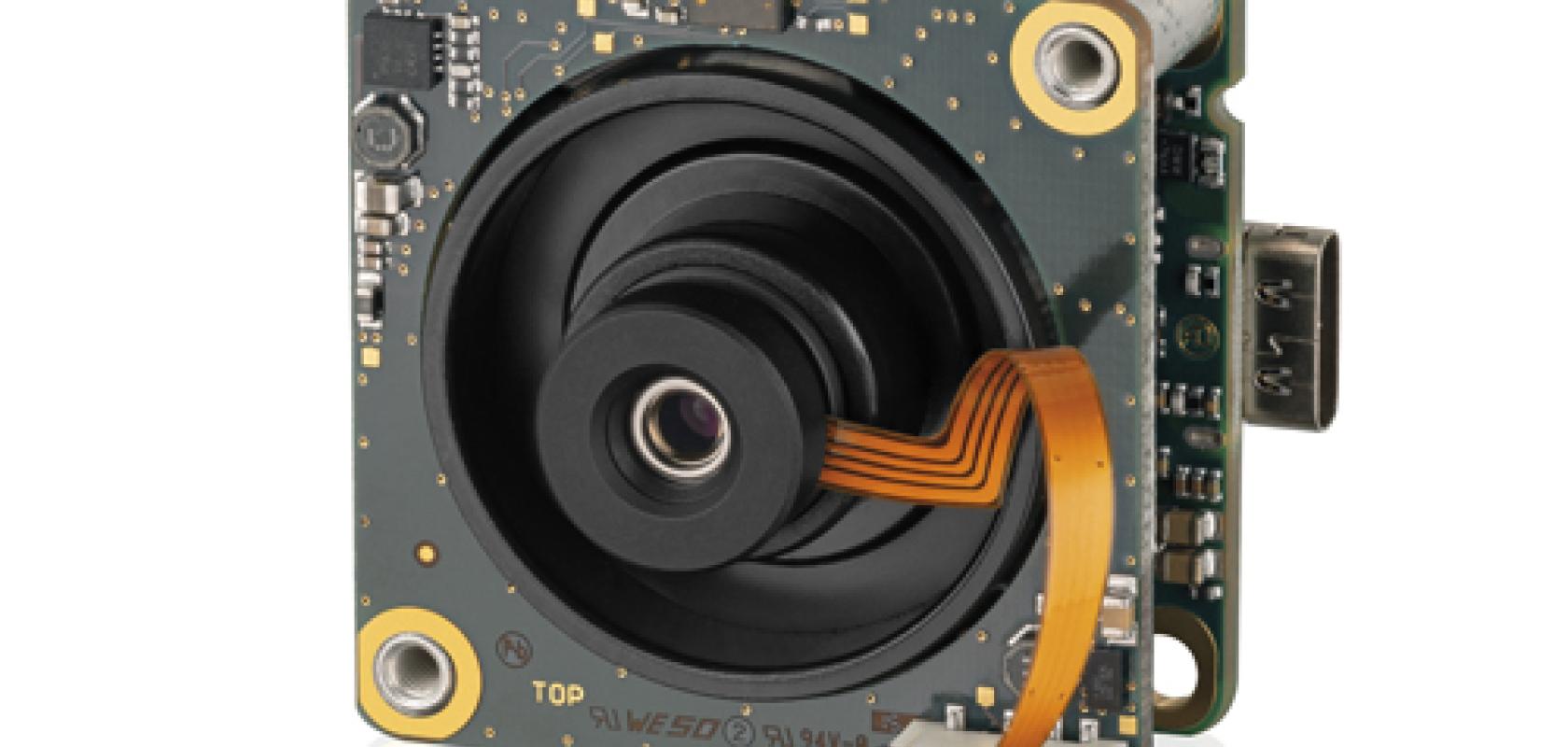 Caption: IDS's uEye LE camera family integrates Corning Varioptic's liquid lenses
The benefits of liquid lenses and a lenses resistant to shock and vibration were highlighted at the Vision trade fair in Stuttgart in November.
Fujifilm's Fujinon anti-shock and vibration technology was shortlisted for the Vision Award, a prize recognising innovation in machine vision, while IDS and Baumer were among those displaying cameras able to control autofocus liquid lenses.
Nick Sischka, senior vision solutions engineer at Edmund Optics, told Imaging and Machine Vision Europe at the show, that the barrier to entry of liquid lenses has in the past been too high. Edmund Optics worked with IDS to build Corning Varioptic's liquid lenses into IDS's uEye LE board-level cameras, to make the lenses a reliable part of the camera module. Edmund Optics supplies liquid lenses from Varioptic, now owned by Corning.
Liquid lenses are able to focus on different object distances in milliseconds. They don't contain mechanical moving parts, but form a lens from the film between two immiscible fluids. The liquid interface can be expanded or contracted by applying an electrical charge, a process called electrowetting.
The lenses excel in applications where object distances can change rapidly requiring fast autofocus, such as when inspecting 2D codes on packages of different heights.
Both IDS's uEye LE camera family and Baumer's LX series 10 GigE cameras are able to control autofocus on Corning Varioptic's liquid lenses. The uEye LE cameras are equipped with S-mount or CS-/C-mount, along with 6.4-megapixel IMX178 rolling shutter colour or mono sensor from Sony, or the 18.1-megapixel AR1820HS rolling shutter colour sensor from On Semiconductor (models with global shutter sensors are planned). Baumer's LX series contains shading correction to correct lens and lighting artefacts.
Shockwaves
Equipment installed in factories often has to be able to withstand tough working conditions, which includes being subjected to shock and vibration. Fujifilm investigated the impact of shock and vibration on industrial fixed focal length lenses, and found that the lens optical axis can shift, which is not acceptable for calibrated vision systems.
Fujifilm first applied 10G shocks to lenses from six different directions orthogonal to the optical axis. This was followed by exposure to various sinusoidal vibrations according to IEC 60068-2-6, up to 500Hz and 100m/s². The shock test was then repeated.
Fujifilm's investigations showed that the position of the optical axis shifted by up to 26μm on conventional lenses. That corresponds to a change of approximately seven pixels for second generation Sony Pregius sensors with a pixel size of 3.45μm.
The work led Fujifilm to develop a new mechanical design for lenses, the Fujinon Anti-Shock and Vibration technology, which was shortlisted for the Vision Award. Fujifilm used elastic fixation to secure the glass elements inside its anti-shock lenses, which minimises the adhesives that would otherwise fix glass elements within conventional camera lenses. Adhesives are unable to withstand shock and vibration over time, according to Fujifilm, causing the glass elements inside the lens to loosen and the resolution and mechanical stability to degrade.
The elastic fixation used in anti-shock lenses gives a better performance over time; the shift in optical axis is reduced to between 4μm and 10μm in Fujinon Anti-Shock and Vibration machine vision lenses. The resolving power also remained stable during and after the vibration test, and the resolution degradation is minimised across the image.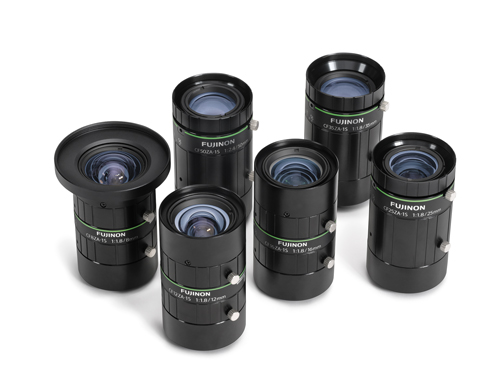 Fujifilm's CF-ZA-1S lens series
Fujifilm's latest CF-ZA-1S lens series uses the anti-shock and vibration technology. These lenses are designed for C-mount machine vision cameras, with an image sensor of up to 1.1-inch optical format and pixel pitches from 2.5µm, which equals up to 23 megapixels. The minimum object distance is 100mm to 200mm, and the maximum chief ray angle is 4.9°. The series has six different lens models with focal lengths from 8mm to 50mm.
Resolving power
One trend taking place in machine vision is the move to larger sensor formats to increase resolution. Sischka at Edmund Optics explained during Vision 2018 that the normal way to increase sensor resolution is to fabricate smaller pixels and fit more into a certain area, but that now sensor manufacturers are struggling to shrink pixel sizes further, so larger sensors are being released. Sony's IMX342 31.4-megapixel global shutter CMOS sensor, for example, measures 27.9mm across the diagonal, which is too big for C-mount lenses – Lucid Vision Labs' new Atlas camera uses the IMX342 sensor.
Edmund Optics recommends the M35 mount, also known as the TFL mount, for these larger sensors, which is between C-mount and F-mount in size. Sischka commented that the shift to larger sensor formats could have significant implications for the machine vision industry, because lens mounts like TFL are not widely used in industrial cameras. Lucid Vision's Atlas camera does employ a TFL lens mount.
Infrared imaging
Another topic apparent at Vision Stuttgart was imaging in the shortwave infrared, the cameras for which require dedicated optics. Sill Optics was presenting telecentric objectives for the SWIR band, along with telecentric lenses with coaxial light injection and a liquid lens. Meanwhile, Midwest Optical Systems was showing its new SWIR filters, designed to enhance the image quality of InGaAs cameras operating between 900nm and 2,300nm. MidOpt was also displaying wire-grid polarisers, which are effective from 400nm to 2,000nm.
Both Schneider-Kreuznach and Resolve Optics have recently released lenses for SWIR cameras. Schneider-Kreuznach's Swiron 2.8/50 lens has a 50mm focal length and is fitted with a C- or V-mount. The lens is suitable for high-resolution sensors with a pixel size of up to 12.4µm and a 25.6mm image circle. Designed for working distances from 0.25m to 2.5m and with a distortion of less than one per cent, the lens is ideal for applications in pharmaceutical inspection, solar panel inspection and hyperspectral imaging. Resolve Optics' model 363 lens is a 16mm diameter SWIR lens for inspection and material sorting applications. It operates at f/1.4 with less than two per cent geometric distortion, and produces a 12.8mm diameter image at 25mm focal length.
Cameras that can image from the visible into the SWIR range are now available, such as those from Princeton Infrared Technologies or Raptor Photonics.
From a lens standpoint, Sischka remarked that maximising the optical setup for such a wide wavelength range presents some unique challenges for optics providers.

Edmund Optics: Featured product
Machine vision applications often involve fast moving objects, different distances or different heights. Liquid lenses are small cells containing optical-grade liquid that change shape when a current or voltage is applied. By integrating this technology into imaging assemblies it has become possible to produce powerful lenses that combine precision and flexibility.
The new Liquid Lens M12 Lenses from Edmund Optics are the latest in a range of new imaging lenses using this principle. With a high resolution f/2.4 design they provide high light throughput, while the liquid lens allows the focus to be changed within milliseconds. The optical design has been optimized to account for the liquid lens allowing it to offer high image quality on sensor formats as large as 1/2" or even 1/1.8" depending on focal length.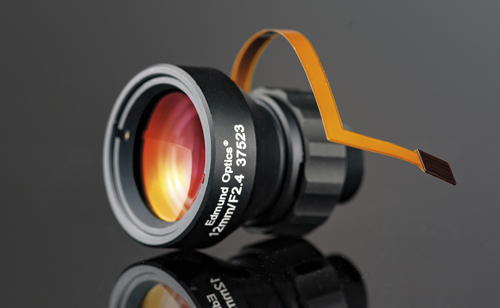 This innovative imaging product recently won second place in the vision category of the 2019 Inspect Awards.