Warren Clark maps the next generation of camera
interfaces and more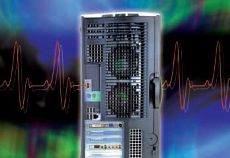 The rapid development of several concurrent standards has left many potential customers confused. And with more revisions on the way, there is no sign of that confusion clearing.
10GigE
It seems only a very short time since GigE Vision was formally ratified by the AIA, but already there are significant whispers surrounding the introduction of its successor, 10GigE.
'GigE is picking up nicely,' says Dwayne Crawford of Matrox Imaging, 'and 10GigE is the next step in the evolution of the standard. From a software perspective, this transition is seamless.  Essentially, 10GigE widens the data pipe, but the first question has to be "why?" Around 80 per cent of existing applications can be comfortably addressed with GigE – and we believe this will be the case for some time to come, whether the source camera is VGA or 16 Megapixel.'
'10GigE is still quite a new technology for machine vision,' says Geoffrey MacGillivray, product manager at Pleora Technologies. 'It is well established in the telecoms and network industries, though. It's on our radar, certainly, and we have seen definite signs of interest from our customers.
There is demand for data transmission at greater bandwidth than GigE. Our challenge is to translate the technology of GigE into something we can deliver at 10GigE.'
'No change is required to the GigE Vision specification 1.0 to cover 10GigE,' adds Eric Carey, smart products manager for Dalsa. 'Therefore, camera vendors can currently design products around 10GigE. They tend to dissipate much more power than their 1G counterparts. This creates a challenge for camera design.'
So, 10GigE is certainly possible, but what advantages can it bring – and what potential drawbacks come with it?
'When it comes to colour images,' says Matrox's Crawford, 'something that is still rare in the machine vision market – 10GigE would allow bayer-converted colour images (YUV, RGB, etc.) to be transmitted instead of sending raw bayer or packed formats that require conversion on the host. While this sounds like an advantage, host loading manages Ethernet traffic and is a function of data rate, so sending colour images places a significant load on the host. 10GigE chipset manufacturers are working to reduce the impact on host loading and also the size of the chips used for 10GigE – which are currently too large to fit in some popular cameras.'
'Power is an issue with 10GigE,' says Pleora's MacGillivray, 'particularly over copper cable, where anything from 6 to 10W may be required just for the PHY alone. This has an impact on the power budget as well as creating various tricky engineering issues. The host computer will also need to be able to cope with 10GigE, including having a 10GigE NIC card, for example.
'It's also important to realise that 10GigE is the maximum speed, and that you wouldn't necessarily have to transmit at full10GigE rates. For those applications that require more than 1GigE – even if it is only 2 or 3GigE – then 10GigE is a good solution.
'We do expect 10GigE to gain acceptance and would hope to have prototype models available within a year or so.'
Dalsa's Carey agrees with the power load concerns and the need for a suitable NIC. 'The main benefit of 10GigE is obviously the speed of transmission (10 times faster than current Gigabit Ethernet),' he says. 'This will allow GigE Vision cameras to be in the same range as Camera Link. But supporting these bandwidths will put additional stress on the CPU to decode incoming packets. Fortunately, multi-core machines are going mainstream these days. This will help alleviate the bandwidth problem to some extent.
'10GigE is still pretty new and not many NIC are available to support it. I expect the 10GigE standard will get more traction in 2009 as more products become available. But it remains to be seen if the rate of penetration of 10GigE will be fast, since this is not technology for your typical desktop PC. So product cost will be high initially. 10GigE cameras based on GigE Vision might slowly follow in 2010 if price and thermal dissipation can be harnessed. But this will be a tough sell against cheaper and well established Camera Link solutions. So the cable length advantage of Ethernet will have to be a critical factor.'
1394
1394 is keeping up with GigE at the moment in terms of market share,' says Matrox's Crawford, 'but there is an issue with host support. Microsoft removed support for S800 in service pack 2 for XP and omitted it completely from Vista. This is expected to be rectified in a future service pack for Vista, but at the moment this is hitting FireWire adoption, as a bespoke software package is required for it to work with Windows in addition to the IIDC specific driver. The S3200 speed, announced in December last year, is the next evolutionary step and will help to keep 1394 competitive.'
Arnaud Destruels of Sony, a company that is firmly in favour of 1394, says: 'There is ongoing work by the 1394 working group to improve the standard, and this includes addressing issues such as bandwidth and cable length. It is our belief that FireWire is more than adequate for  mono or multi-camera operations.'
Camera Link
'There is a lot happening in Camera Link too,' says Crawford, 'with possible changes to enable cost reductions on the horizon. Power over Camera Link is ensuring the protocol has plenty more life in it yet, and the medium and full versions of PoCL will follow on fairly quickly. There is also talk of a Camera Link "lite", a version with fewer capabilities and lower bandwidth, but that may be more appropriate for lower bandwidth and small physical size applications.
There are also very early discussions to succeed Camera Link with another vision-specific standard offering very high data rates.' 'With Camera Link, the development of a mini connector will enable the use of smaller-size cameras,' adds Destruels, 'and the advantages of Power over Camera Link are now being felt in Europe and Asia, where reducing the number of cables in a project is often very important.'
PCIe
'An interesting development is PCIe over cable,' says Crawford, 'which is emerging as a genuine contender in the protocol market. It is low cost and operates at a higher speed than Ethernet, but like Camera Link has limited cable lengths.
Though there is no specified cable length as part of this standard, the performance data it generates suggests a maximum cable length of around 5 to 7 metres, whereas the average requirement for most applications is 15 to 25m. GenICam
Martin Wany, who coordinated the development of the EMVAs GenICam standard, has no doubts about the importance of standards for the development of the machine vision industry. 'As soon as you have standards, business starts to grow,' he says.
He draws an analogy with the differing commercial strategies of IBM/Microsoft on the one hand and Apple on the other. IBM originated the hardware for the PC with Microsoft providing the operating system. But both companies allowed hardware and software that they had not created to be connected to or run on the system.
In contrast, Apple tried to keep everything in its own hands. The result was a massive expansion of the PC and PC-compatible market, whereas Apple did not experience anything like the same growth.
Martin Wany believes that both customers and suppliers benefit from standards. 'It makes it an easier decision to buy a camera,' he says. Customers are re-assured that they are not being tied to one company's products, so they do not need to spend a lot of time on checking that that particular vendor and its products are future-proof.
But in practice, once it has opted for one vendor's cameras, the customer is unlikely to change. It is a false fear that standards will make customers fickle. If they are happy with the product and the vendor then they will stick with them, in Wany's view. 'It's a hassle to change,' he said. The machine vision industry is still a relatively small one, he said, and standards are one way of helping it grow.
'We are cautiously optimistic about the future for GenICam,' says Pleora's MacGillivray, 'and believe that the interoperability that it promotes will only serve to increase the overall market size for machine vision.'
For all the debate, there seems to be plenty of life left in each of the main camera interfaces. GigE is almost certainly growing the fastest, but Camera Link and 1394 are both working hard to maintain market share, and continuing to develop to keep pace with market demands. GenICam will help customers chop and change various items of GigEcompliant equipment, and JIIA, the Japanese equivalent of the EMVA, is currently working on a new version of the IIDC standard, which is the equivalent of GenICam, but for 1394 cameras.
Love them or hate them, standards are an essential part of the vision industry.
SONY WHITE PAPER PITCHES 1394 AGAINST GIGE
Sony has published a White Paper containing the results of a third-party investigation into the true capabilities of both GigE and FireWire. 'The technical reasons behind standards can sometimes be flawed,' says Arnaud Destruels, product marketing manager for Sony's Image Sensing Solutions division. 'We wanted to have some hard technical facts about these two standards.'
'We wanted to educate the market,' says Stephane Clauss, technical support engineer at Sony. 'The White Paper provides a clear understanding of each protocol and ensures that users will have realistic expectations too.'
The independent investigation was carried out by the Fraunhofer Institute for Photonic Microsystems (IPMS) and set out to look at various key system attributes, both theoretically, and in the context of a practical implementation of a machine vision system.
The study concluded that while GigE Vision does indeed have higher data rates and longer transmission distances than 1394b, it still lacks ome features. Being so new, there is no guarantee of true interoperability, and data from a camera can only be acquired by one computer, as no camera manufacturer has successfully tacked UDP multicast functionality.
Further revelations in the study suggest that GigE Vision has no real guarantees of quality of service, and that frame rates suffer when bandwidth is near capacity. Fraunhofer IPMS also expressed concern that in spite of GenICam, there was still a significant level of dependence on vendor-specific drivers and software for configuration of optimum performance.
To achieve optimum performance, said the study, GigE Vision requires the PC to have a NIC capable of coping with jumbo framing, and the switch itself must also support this. The issue of CPU loading can be minimised by having these elements in place.
The study concludes that GigE Vision is a new standard with a great theoretical premise, but that systems may not, in practice, deliver all of the benefits and performance that designers expect.