Warren Clark charts the progress of GigE Vision to date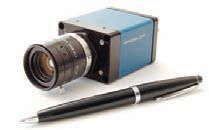 Sufficient time has passed since the formal ratification of the GigE Vision camera interface standard for compliant products to be finding their way into the market. Overseen by the Automated Imaging Association (AIA), GigE Vision allows cameras to use the Gigabit Ethernet communication protocol – i.e. to take advantage of low-cost, standard cables for the transmission of images. The GigE Vision standard ensures that hardware and software vendors from different companies can interoperate without conflict over GigE networks.
The standard was developed specifically for the machine vision industry by a group of companies (see panel), and its ongoing development is monitored and administered by the AIA.
So, how has GigE Vision fared in its first year or so of being ratified? 'We have seen GigE Vision products evolve over the past year,' says Dwayne Crawford of Matrox Imaging. 'It has taken quite a while for products from different camera vendors to be on the same plane with respect to the completeness of their implementation of the standard; with many camera vendors supplying their own drivers, interoperation of the standard differed slightly, resulting in compatibility issues among vendors' products. For the most part, this issue has been resolved and we, as a community, are approaching true interoperability.'
GigE cameras, such as these from Basler, have opened up many new applications.
Customer acceptance
If achieving true interoperability was the first step, then customer education and acceptance was surely the next hurdle that needed to be tackled.
Opinion on this is divided. 'GigE Vision has taken time to trickle down through the various levels of the market,' says Geoff MacGillivray of Pleora. 'First the standard had to be developed and ratified. Then manufacturers had to make GigE Vision-compliant cameras. Customers then had to be told that there was such a thing as GigE Vision and what it meant, and only then can it be designed into vision system plans. Even now there is still a lot of customer education going on, but Pleora is seeing more and more customers moving to design and production with GigE.'
For this reason, MacGillivray believes that the adoption of GigE Vision has been slower than many had anticipated. 'Market forces dictate that if customers have a working solution, then there will be less of a drive for change, even though GigE offers advantages over existing solutions,' he says. 'It's easier to drive change in an area where the existing solution is not working.'
Many other suppliers believe that take-up has been quick. Henning Tiarks of Basler adds: 'We had always thought that GigE Vision would eventually become the dominant interface, but we were surprised by how quickly it took off, especially when one compares it to the introduction of FireWire, which had a much slower rate of take-up when it was first introduced.
Already, we have an installed base of several thousand GigE cameras. Just about all of our new customers have GigE on their technical roadmap.' Marty Furse of Prosilica, which was one of the first companies to have a GigE-compliant camera that met the then draft standard, says: 'We anticipated the popularity that GigE is now enjoying, largely because customers are so familiar with Ethernet. We focused our product development on GigE Vision products, and now have one of the widest ranges of GigE Visioncompliant cameras in the industry.'
Firstsight Vision's Mark Williamson says: 'It's worth noting that it is only now that the main bulk of GigE Vision cameras are actually hitting the market, and we are sure it will become very popular in the near future.'
Applications
Without doubt, the most significant advantage for users is the fact the GigE Vision offers the flexibility of long cable runs, which opens up significant markets when compared to those for FireWire or Camera Link alternatives.
'The real interest for GigE Vision is in the low and mid-level linescan cameras segment,' says Christophe Robinet, strategic marketing manager for machine vision for e2v. 'These cameras are often dedicated in web inspection systems, requiring long cable distance.'
Pleora's MacGillivray adds: 'We find that our customers come up with more than we could ever think of – GigE really does open that many doors. One area that has seen rapid early growth is the military, where the use of digital imaging is on the increase. GigE Vision has been particularly helpful here, as military forces tend to want to use open, widely-adopted technologies rather than proprietary options that may be incompatible or obsolete.
'Geographically, Europe has demonstrated a much quicker uptake of GigE Vision than anywhere else in the world. The US has been steady, and the Asian market is still developing. While there has been some transfer to GigE from existing users of vision systems, it appears that new users of vision are almost always opting for a GigEbased system.
'There are those who had previously considered the switch from analogue to digital to be prohibitively expensive,' says Basler's Tiarks. 'GigE Vision makes that switch affordable, whereas with FireWire it was never possible financially or indeed technically, because FireWire does not offer switches.
'The decision for those using Camera Link is somewhat tougher to take, as there are various investigations that the customer has to undertake before deciding whether GigE or Camera Link is the best option. For some customers, latency is an issue. If a customer wants latency of under 1ms, then GigE cannot really cope above one camera per port so, for those with extreme real-time needs, Camera Link remains the interface of choice for the time being.'
Firstsight's Williamson says: 'If installed correctly – and this requires a mix of machine vision knowledge and networking expertise – GigE Vision is an enormously versatile protocol. For example, we have one project involving 243 cameras all taking an image simultaneously – something that just would not have been possible before GigE Vision.'
Prosilica was one of the first companies to develop GigE Vision-compliant cameras.
Objections
Inevitably, no one communication protocol will offer the answer to every single problem, and there are still certain application areas that are unsuitable for GigE. 'In many multi-camera or linescan environments where a large volume of data is generated, GigE Vision introduces problems with protocol loading and bandwidth limitations,' says Matrox's Crawford. 'This is especially prominent with Bayer colour images. In many cases it is not possible to send the decoded Bayer images via GigE due to bandwidth limitations, so the raw image must be sent – since Bayer decoding with a generic NIC uses significant processing power on the host, little is left over for image processing and analysis. Camera Link provides much more bandwidth to allow the larger colour images to be passed directly from the camera or frame grabber.'
Basler's Tiarks, however, doesn't believe that CPU load is a major concern. 'Even now, one camera only takes up about three per cent of the load of an average CPU,' he says. 'As CPU speeds increase, this will become even less of an issue, so we don't see this as being a problem in the future.'
Tiarks agrees there are some drawbacks though: 'You still need a separate power cable, which you do not need with FireWire. GigE Vision-compliant cameras are also slightly more expensive to build than their FireWire or Camera Link counterparts, but we still believe GigE will become the dominant interface. Camera Link will still have a place, but only for those very few applications requiring very high data rates. GigE will also dominate the FireWire space, largely due to the familiarity that most customers have with Ethernet.'
On this particular point, Firstsight's Williamson makes the point that GigE requires more than standard networking. 'In the majority of cases, the data generated by a vision system sends "jumbo packets" down the cable – and standard GigE switches cannot cope with jumbo packets,' he says. 'Also, vision systems require Cat 6 cable, something that is not necessarily the case in legacy networks. At Stemmer Imaging, we have invested in a testing system that allows us to test a network for its suitability to a GigE Vision system before we begin the installation.'
Pleora's MacGillivray echoes Williamson's concerns: 'The only drawback might be that GigE is not truly plug-and-play at the moment since the standard is not fully mature.'
The future 'GigE Vision has been easier for camera vendors to get into, when compared to other protocols thanks to third-party protocol engines,' says Matrox's Crawford. 'This means a lot of competition, as many vendors have introduced their own GigE Vision cameras. That is obviously good news for customers, as it drives down prices. Lower prices open up new applications and so on, which means more and more people are considering vision as an option.
'In terms of customer take-up, we are still seeing more analogue sales than anything else, as analogue offers low cost and sufficient data rates for a lot of applications. Within the digital camera market, we still feel there is a long way to go in the GigE/1394 FireWire battle, with neither emerging as particularly dominant.
'The future for GigE Vision is bright. The Ethernet market is pretty stable, so we don't anticipate any major reduction in component pricing, but in broader terms there may be some market consolidation among the companies offering GigE solutions. There is talk of 10GigE, but we're not sure just how popular that will be, as more than 80 per cent of the market is happy with the bandwidth offered by GigE without incurring the higher costs of 10GigE.'
Prosilica's Furse says: 'There is also the possibility that Power over Ethernet may evolve, but there are several technical and cost issues that need to be resolved before that becomes a reality.'
Pleora's MacGillivray concludes: 'GigE Vision is well and truly settled as a standard now. There will always be polishes and refinements, but we are now very much in the customer education stage, so we expect the installed base to grow.'
GigE VISION GROUNDBREAKERS
The first 12 companies involved in developing the GigE Vision standard are listed below. A further 50 or so companies provided additional input and participation into its development.
Adimec
Atmel
Basler AG
CyberOptics
Dalsa
JAI A/S
JAI Pulnix
Matrox
National Instruments
Photonfocus
Pleora Technologies
Stemmer Imaging
GigE validation framework brings products to market
Using a new validation framework, 17 camera, software and frame grabber manufacturers have developed or are developing GigE Vision products that can publicly test the interoperability of their products.
A new Validation Framework for testing the compliancy of products implementing GigE Vision was first used at the GigE Vision Plug Fest, held during the Vision 2007 trade fair in Stuttgart, Germany in November.
The tests resulted in complete compliancy for all vendors, yielding more true plug-and-play products for the machine vision marketplace.
The AIA will continue to hold GigE Vision Plug Fests to help manufacturers get products to market faster. A GigE Vision Plug Fest was also held in December in Yokohama, Japan during The International Technical Exhibition (ITE) and future dates include 12 June 2008 in Boston, Massachusetts during The Vision Show.