Warren Clark explores the history of Microscan, a leader in barcode scanning technology for 30 years, and now making serious moves into machine vision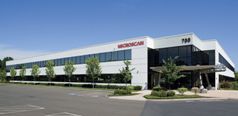 Microscan is celebrating 30 years of operation this year. For three decades, the company has been leading the way in laser diode barcode scanning technology, and its acquisition of the Siemens machine vision business three years ago has placed it at the heart of the machine vision industry as well – and it has made quite an impact in that short space of time.
Microscan was formed by entrepreneur Mike Mertel in 1982, and was the first company to produce a laser diode barcode scanner. It built its reputation in the Auto-ID market over the following decade, and caught the eye of Spectris, which acquired Microscan in 1995 to join its portfolio of high-tech companies.
Siemens had acquired a machine vision business when it bought RVSI and Acuity in 2005. However, its involvement in the sector was relatively short-lived, and when the business unit was put up for sale in 2008, Microscan was ready to step in.
'The acquisition of the Siemens business unit allowed us to get into the world of machine vision,' says Scott Summerville, who joined Microscan as CEO last year, having spent a large chunk of his career at Rockwell Automation. 'We had seen the need for convergence among customers, who wanted to do more with less. Prior to the acquisition, we had worked on a strategy for our business, which identified this trend, so when the Siemens opportunity came along, it fit the strategy perfectly.'
'Microscan had already begun producing camera-based code readers,' adds Andy Zosel, VP of marketing. 'The other player in that market was RVSI, so the opportunity to acquire that former business was too good to miss. We had also developed some very basic, application-specific machine vision products by that point, but the acquisition really opened up the toolbox in terms of serving the machine vision market.
'Having made that acquisition, our first step was to integrate and take the best of our technology and that which we'd acquired. We introduced three new products very quickly: the Mini-Hawk, the Mobile Hawk and the QX Hawk, which are all camera-based readers with integrated advanced lighting (which came from Nerlight, another business we picked up in the acquisition).'
The benefits of that acquisition are emerging all the time, and Autovision, which was launched last year, is a convergence of both machine vision and Auto-ID technology. The family includes the Vision Hawk camera-based reader featuring Ethernet connectivity, and the Vision Mini, which is aimed at OEMs and has an RS232 interface. Both share the Autovision software interface. 'The models have the advantage of miniaturisation, and benefit from the ease of use of the Autovision interface,' says Summerville. 'Customers can do a multitude of applications with a single interface. We're not the first to do this, but we believe we're doing it better. The system can be used for OCR, 1D/2D barcodes and a variety of machine vision applications. The products also feature integrated lighting and an integrated liquid lens.'
Microscan has given Autovision a huge marketing push since its launch last summer, and Summerville says this has provided it with 'a large pipeline of opportunities'. 'We believe Autovision will help create some demand,' he continues, 'because of simplifying the configuration and set-up process, and because of the price/performance ratio. We think that customers who had previously just been using barcode reading in their processes may now see the benefits of adding the greater capabilities of machine vision and optical inspection. Our upgrade path is also seamless, offering customers scalability without having to change software. So miniaturisation, ease of use, and scalability are the three core benefits of our technology that we choose to focus on.'
Scott Summerville, CEO, Microscan
As a company, Microscan focuses on three core verticals – factory automation/packaging, electronics assembly, and clinical diagnostics. 'We have teams of people developing products and pursuing opportunities in each of those markets,' says Summerville. 'Although we have a mass marketing approach, we're trying to stay focused on those verticals when we go out and speak to customers.'
For the most part, Microscan uses third-party channels to distribute its products worldwide, but in the specialised clinical market, it tends to go direct. 'Our field sales teams often do both – they'll work direct with the customer in the clinical space, but will work with the channel in other markets,' says Summerville.
The laser diode barcode reading market is still vibrant, particularly in high-speed markets, where the laser remains the optimal method. 'We don't see that market going away,' says Summerville. 'It's still a very attractive market, and we continue to be a leader in that space.'
As part of the Spectris group, Microscan doesn't publish its revenue figures or number of employees separately, but Summerville is proud of the fact that the company does about 60 per cent of its business outside of the US. 'This is pretty evenly split between Asia and EMEA,' he says, 'and we have a very good presence in China, relatively speaking.'
Microscan's corporate HQ is in Seattle, Washington, with an R&D centre in Nashua, New Hampshire, which came as part of the Siemens acquisition. Its European base is in Amsterdam, while its Asian office is in Singapore. 'One of the benefits of being part of a larger organisation like Spectris is that we can use their offices all around the world,' says Summerville. 'For example, we have people in five offices throughout China. A company of our size would not normally be able to do that, but because of Spectris, we can.'
One of the key features of the past three years has been the pace of growth at Microscan since it acquired the machine vision business from Siemens (a transaction that happened the day after the Lehman Brothers crash). 'Timing was not the greatest in that regard,' reflects Zosel. 'But we took the opportunity to invest in R&D and product development, as well as take time to really integrate the two businesses together.
'Out of the downturn of 2009, we've grown around 25 per cent year-on-year since. The market for automation and machine vision has grown in that time too, but we believe we've taken market share from competitors in that time too.
'We have a number of open positions, so we're actively looking to recruit in a major way. We're definitely in a growth mode and are optimistic for a strong 2012.'